Are you thinking about redesigning your office this year? Perhaps you have no idea where to begin with this particular project? It's worth starting by saying that the office design is important. You need to make sure that the right pieces are in place here. With a great office design, you can boost productivity, improve customer perception and ensure that your company is ready to take the market by storm. The only question is, what design choices are going to help ensure that you reach these goals. There are a few possibilities to keep in mind here. If you take this advice on board, your office will be the perfect home hub for future success.
The Right Sound
You should start by thinking about the sound of the office. Gone are the days where it's acceptable or indeed necessary to have an office which sounds like a bustling, busy train station. Times have moved on and even a train station doesn't sound as loud as it used to anymore. This is due to particular design choices such as the suspended ceilings that are available from companies like Rockfon. If you explore brands like this, you will discover that they do provide stunning designs that will keep sound levels at a minimum. You won't hear the rushing feed overhead and sound won't carry as much through the office either. This means that people will be able to concentrate and remain productive, even when they are all part of the same connected space.
Bringing The Outside In
It's also important to consider how you can make sure that the office is a greener space. This means that you should be thinking about the concept of biophilic design. If you haven't heard of this, it's all about how to ensure that you introduce natural elements into the modern workspace. The benefit of doing this, according to research, is that the natural world is good for mental and physical well being. Various studies show that the right biophilic design will improve everything from breathing to stress levels. So, the question becomes, how do you introduce these types of design concepts into the modern office space?
There are lots of possibilities to consider here. For instance, you can think about using furniture made from natural materials or at least that resembles it. For instance, you can choose desks where you can clearly see the lines of the wood. You might also want to consider decorating the walls with living art. Beautiful, moss art is the perfect option to ensure that the walls look visually incredible while also providing benefits by reminding people of the natural world.
The Right Colours And Shades
Next, you do need to think about what colours or shades to use in modern office design. You might notice that a lot of concept art for the modern office typically shows off a beautiful white environment that looks almost futuristic. This isn't necessarily a bad concept to aim for. After all, it's certainly going to guarantee that your office looks modern and it will impress potential customers or clients. However, you are going to need to make sure that you invest in the right cleaning services. An office that is mainly made of white materials and designs will quickly look dirty. Once it looks dirty the perception changes because it seems old or outdated.
Of course, white office design has another advantage because it makes the area look expensive. This is another great way to ensure that buyers are going to be impressed.
But you also need to think about the psychological impact that certain colours and shades can create. It's true to say that the right colour can be a positive or negative presence. For instance, colours such as green have been shown to trigger creativity and innovation. This is one of the reasons why if you ever take a peek into the Google offices you'll see that there are a lot of green shades. Other colours such as a pastel yellow can be soothing. This can be useful for keeping stress levels low.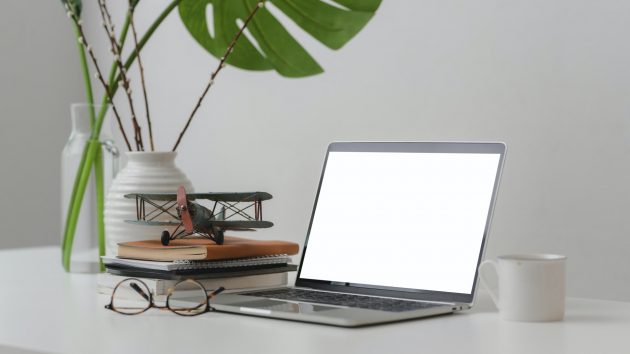 Layout
Next, we need to think about the layout of the modern office. Open-plan office space is a very attractive idea but it does have drawbacks. If the office is the open plan then the sound is going to carry more. We have already talked about the importance of sound and it's crucial that you don't forget about this factor. So, instead, you should be exploring ways that you can create the illusion of an open-plan office. That way, you can get the benefits of this perception without the drawbacks. People will still have private spaces to work and focus where they won't be distracted. Glass walls are a great way to achieve this. Everyone can see each other and it does create a sense of engagement but spaces are also kept suitably closed off. Of course, you may want some areas for group workers. Large desks that people can share are perfect for this type of need. It provides an area where people can brainstorm together and it can lead to some great examples of innovation.
Of course, when you're thinking about the layout of your office, you also need areas where people can relax and unwind. This is another concept that you will see alive and well if you wander around Silicon Valley. Indeed, the thinkers there believe that giving people a chance to break the right way will actually increase drive. This is another chance to add green designs into your office space and ensure that you do benefit from a biophilic decor that everyone will enjoy.
We hope this helps you understand some of the most important features and design choices that you need for your modern office. Don't forget that if you make the right decisions, you are going to find that your office is the perfect place for your employees, your clients and your business as a whole to thrive, grow and evolve over time.