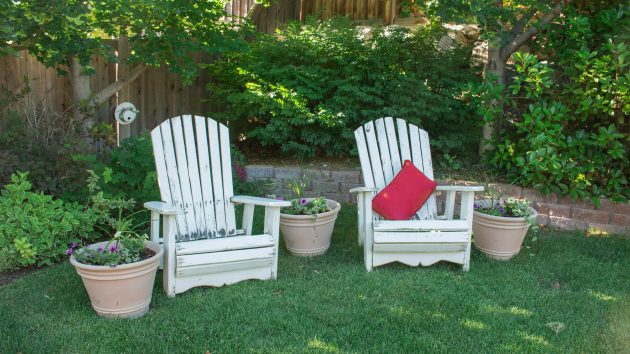 https://pixabay.com/photos/backyard-chairs-leisure-garden-1474128/
The outdoor area of your home is almost as important as the indoor area. If you are someone who loves to relax in your outdoor living area, you want to make sure that the furniture is comfortable. If you invite and entertain friends in your outdoor space, you want to make sure that the furniture is not just comfortable but trendy too. Here, we will briefly discuss some of the latest outdoor furniture trends and ideas that will make you proud of your backyard.
Wicker Outdoor Furniture
We all know that that wicker outdoor furniture is timeless, but the styles are often updated from time to time. In 2021, we expect to see more wicker chairs designed for outdoor comfort. You really need a few of them to make your outdoor living space look as great as possible. Consider buying a set that comes with a matching table.
Sectional Couch for the Outdoor Environment
The outdoor sectional couch has been around for a while but became a lot more popular in the last couple of years. It is the perfect furniture for individuals who have larger patios or decks. It is important, however, that you measure your outdoor space and ascertain that it will fit perfectly where you want to keep it. Remember, they cannot be taken apart, so make plans about how to protect them from weather elements.
Outdoor Day Beds
For the ultimate relaxation experience in your outdoor space, an outdoor day bed is something you should consider seriously. It can easily turn your space into a blissful haven for reading, meditation, and relaxation. Daybeds come in various styles so you can choose what soothes your taste. It is also important that you go for a daybed that is weather resistant. This is the only way to be certain that it will last long.
Table Umbrellas
Table umbrellas are essential for comfortable outdoor relaxation. The weather cannot always be cool. In fact, sunny days are the perfect time to relax outdoors, and you will certainly need some sort of shade to prevent direct sunlight, which can cause sunburn and other problems. There are fanciful table and patio umbrellas that pair perfectly with most outdoor furniture, and you should get a decent one for yourself.
Outdoor Trending Color
We need to talk about the colors that are trending this year in the outdoor furniture market. Blue happens to be what most people are going for in 2020. Different shades of fabrics, ranging from muted gray to classic navy, are being used for furniture and pillows for the outdoor space. This doesn't mean you should limit your choices to blue furniture: choose what suits you.
Endnote
To make your outdoor space look great at all times, investing in the perfect furniture is very important. It is also important for you to stay updated with trends and make your outdoor space look as trendy as that of others. From wicker outdoor furniture to sectional couch, outdoor day beds, table umbrellas, and more, there are lots of sophisticated outdoor furniture ideas to try out. Any of these trends are guaranteed to transform your outdoor living space from simple to classy.