A kid's creativity is their biggest asset. People who are able to nourish their creative instincts can often find themselves in a better situation in life, with a better job, better grades and even higher salaries than people who stifled that creativity in their young days. Creative people are also likely to lead more fulfilled lives.
There are a lot of ways to get your kids to express their creative side. The one I'm going to talk about today is decorating the house. As a kid, I used to love moving furniture about, whether it was to build a fort in the kitchen, or plucking flowers from my mom's window ledge to decorate the refrigerator's handle. As much as I used to be chided for it, those moments were where I exercised my overflowing creative energy, and so my parents redecorated one room or the other with me.
Redoing the living room or even the bathroom need not be a costly affair, though you are definitely excused if you abandon restraint once in a while. Just some craft supplies can be enough to keep your child occupied and enchanted.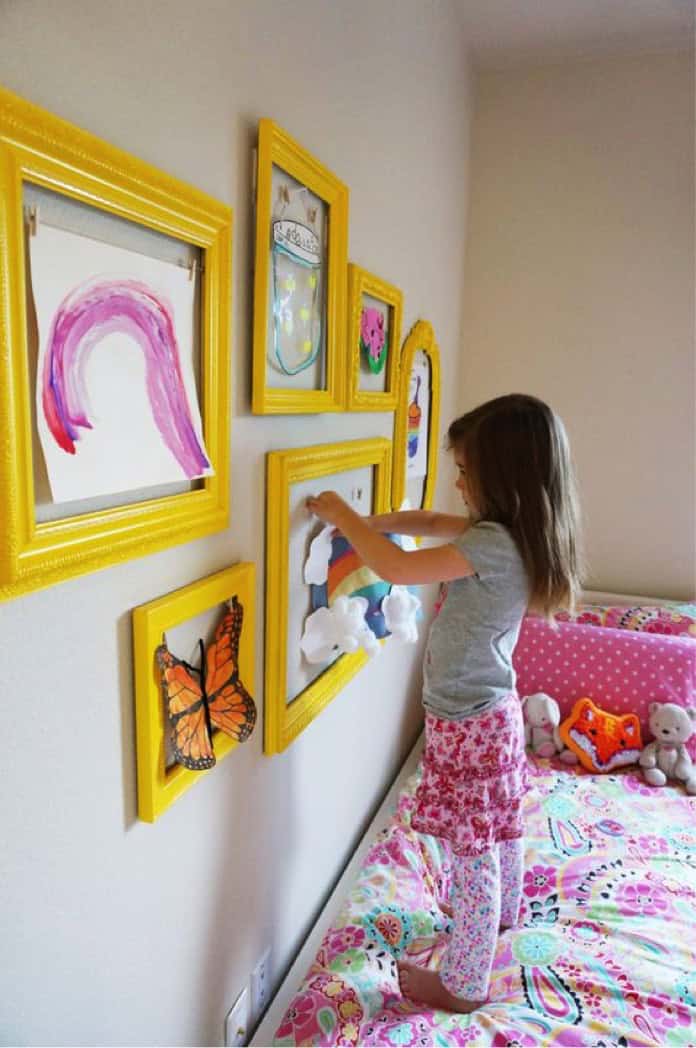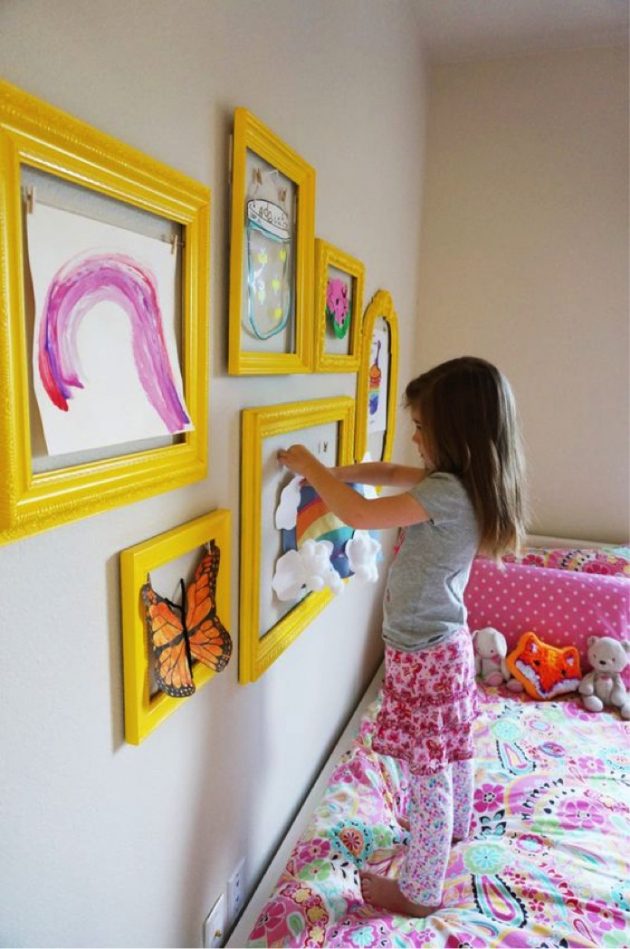 Before I begin listing some ideas, here are some tips to read through and implement as you deem fit.
Don't get too critical of your kids' attempts at decoration. Unless they break the oven or something, chances are your kid didn't intend to do it. Instead, firmly tell them this is not good behavior and they should do better. Being too vocally critical can stunt their will to express themselves.
Show them how they can use different things. Show them a few YouTube videos the first few times (if you're into doing this one room at a time) or some Pinterest boards so they don't just end up hot gluing silly string to the cabinet with some paper bits. Give them only a nudge in the right direction, and let them figure out things by themselves.
It goes without saying that you need to be careful and attentive. Don't let them handle needles, scissors, curling irons, stoves or matches, or anything else they might injure themselves with. Almost every art supply these days is a choking hazard, so be extra cautious.
With that covered, let's get onto the ideas I have for you today.
Paint some pots
A lot of my mom's old china was assigned to grow plants in. A lot of china is white or dull in colour. But you can paint a kettle with your kids too, and then pop a stalk on devil's ivy in. The same can be done with metal containers, and old vases, of course. Even if you think a color doesn't suit a container, trust your toddler and you'll see the magic a lemon yellow gravy boat can weave.
Bring in some plants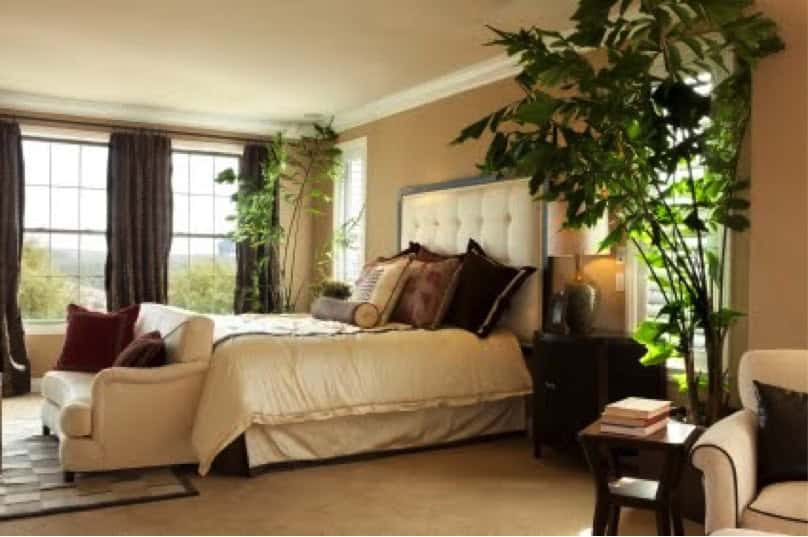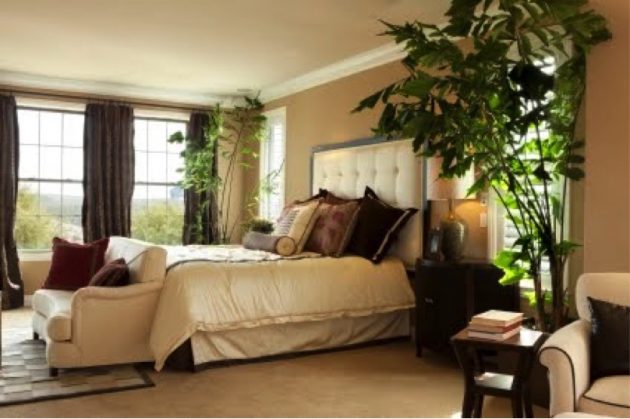 If you're not fond of propping a stalk of creeper into a small holder, try bringing in a grown plant. Or several plants! You can put them in the centre of your living room, or devote a small, sunny corner of your living room to some neat looking plants. Let your kid choose his favorite plants from the nursery, and help him arrange them so they all get sunlight. Telling your kids to water them every 3 days can make them learn responsibility and punctuality. You can also get them to make small plant ornaments from their craft supplies, and help them hang one on each.
Let them play
Children are the most significant part of a lot of households. The easiest way to represent that is to put a few toys on the counter. This is better for when your kids are toddlers. For parents who have older kids, you can get wall decals of cartoon characters, or picture frames, posters or anything else the kids fancy. Take them to the store and let them pick their favorite stickers, and paste them on a DIY frame you made out of cereal boxes after painting it white!
Use their artwork
There's no better way of encouraging kids to be creative than showing them how proud their art makes you. It can be tough to make head and tale of their artwork at times. So if you're not too keen about putting them up on the fridge, ask them to make a frame with a cereal box like in the previous step, and decorate it with their favorite tidbits lying around the house and some glue (my friend's son once glued a dead bug to the frame; make sure that doesn't happen). The scribbles can go inside the frame, and you can put a name tag somewhere as well.
Bring in some string lights
String lights are loved by all children. They feel christmassy and can be used to brighten almost anything, be it an old bed frame, an old fireplace or even your garden (it doesn't have to be christmas for plants to be lit up, you know). Get some tinsel out as well and decorate some more, and your kids should be mighty pleased.
Improvise a sofa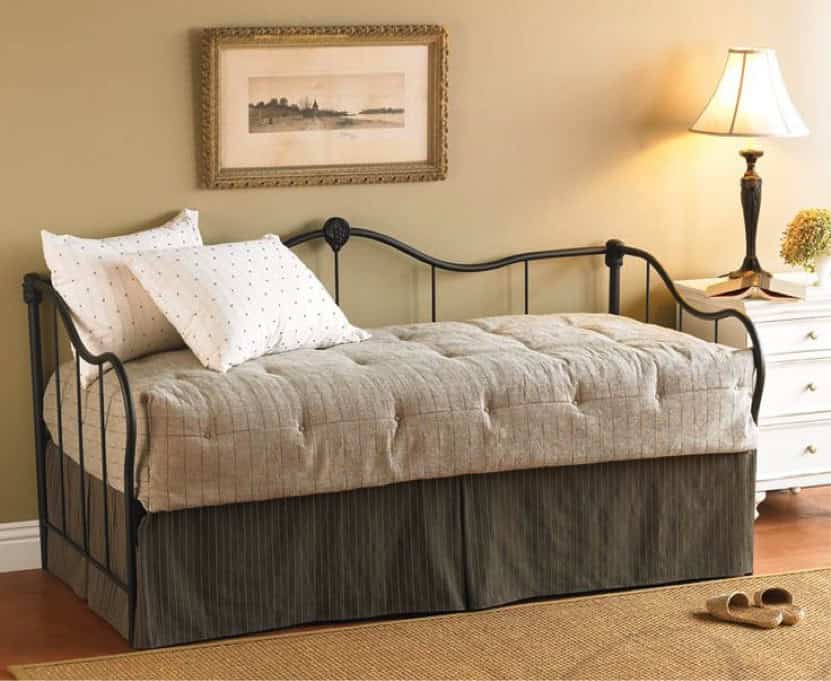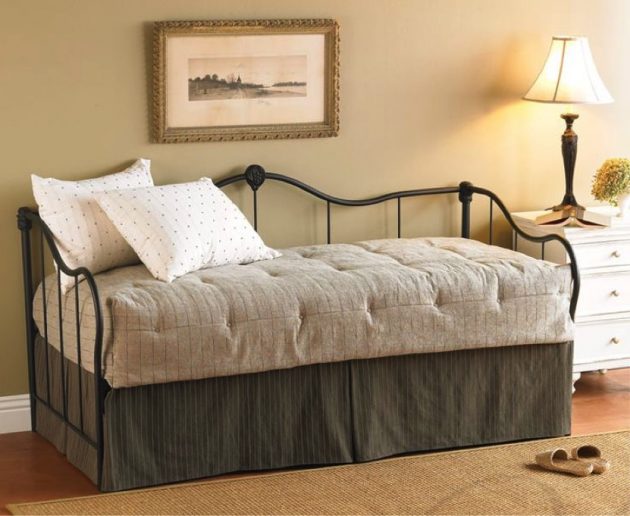 When it's time to replace a mattress (like moving from a twin mattress to a full size one) the old one can often have a lot of substance in it. I know several people prop it of top of wooden lawn laying chairs or pool chairs like a futon. You can also make a small sofa by folding and stitching it into an L Shape. Or, mark the mattress's length into three equal parts, prop one vertically to make the back on the chair and fold in the other two third part from the middle to make a nice fluffy cushion! Most importantly, your kids need special mattresses for sleep. You can refer to Mattressify's recommendation for kids mattress to read the complete guide on it. Your kids will be more than happy to help you by sitting on the plump folded mattress while you stitch it in place.
Get festive
There are several holidays we have round the year. And decorating the house can be a great way to get the kids excited (or channel their excitement, in most cases) while also teaching them about the significance or motives of those festivals. So this 4th of July, get some red, white and blue ribbons and let them get creative with the space, and then you can put white stars around too! Or, on St Patrick's Day, you can ask your kids to pick clovers from the garden (or just some grass, if you don't have clovers), and you can paste it on some clear duct tape and hang it on the windows!
Mason Jars are the new paper origami
Every hobby website you look at will have at least 10 posts where they get artsy with mason jars. Let your kids try their hands as well! They can plop in some glitter, ribbons and tinsel, and you can add some potpourri or even some glow sticks and watch as it shimmers. If you have older kids, you can put some glue on the inner surface, and let them cover it with whatever they like, and you can have your very own fancy light by plopping a heat-safe light in. LED bulbs can work great. This idea can even interest teenagers. Fill the jar with pebbles, planters and some bamboo from an online feng shui store, or just fill it with crayons, pens and sharpies.
Kids love glitter!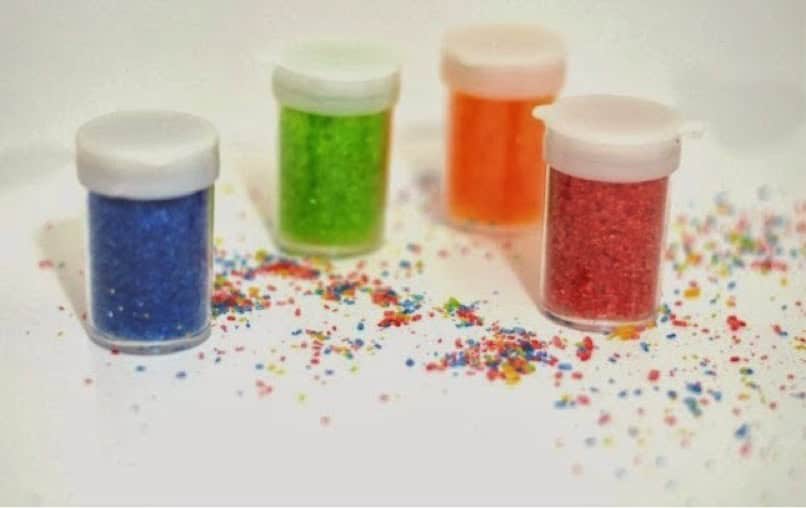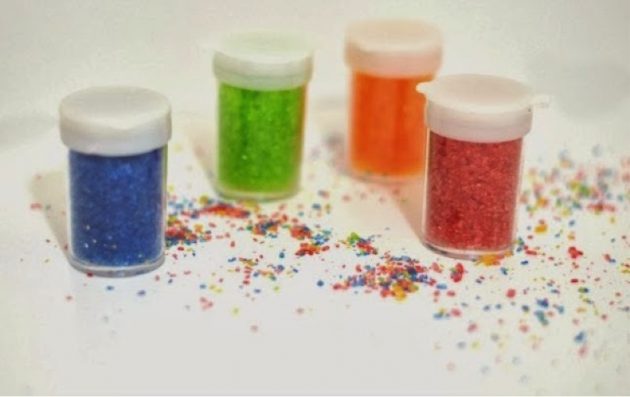 Everything looks better to a kid when it has glitter on it. So if you're bored with an old vase, or when they break a toy, put some glitter in a bit of glue and let them coat it. Give them the liberty to choose their own colors or mix a few together, and they can even paint something on it. When they're done, put a plain artificial flower and you have a brand new mantlepiece ready. Or something to use as a wall hanging in their room!
Use some chemistry!
Put some cheap vinegar in a long glass, and pop in some raisins. Dissolve some baking soda in water till no more dissolves. Add it to the long glass, and let your kids enjoy the raisins go up and down for hours. It's a great way to teach your kids about science, provided they're big enough for it. If they aren't, they can just enjoy the sight. You can also try adding other things instead of raisins, and teach your kids about experimentation.
So there you have it! There are unlimited ways to get your kids to explore their creativity. Which one are you going to try out?