Your beautiful home comes with a view. Beyond the living room and the patio, a swath of luscious tropical greenery or a picturesque ocean view spills into your backyard. Or, perhaps, you've just placed the finishing touches on a garden pergola or airy solarium. Whatever your view, it is a view worth celebrating, and you want to welcome it into your home more readily than ever before.
You may have encountered breezy, panoramic entrances during a previous hotel escape or alfresco dining experience. At the time, it felt like a lovely marriage between architecture, design, and the outdoors, something both photogenic and memorable. Though you may have never considered it before, you can certainly replicate that luxurious open-air feeling in the comfort of your own home. Replacing a fixed wall with moving glass parts can achieve that grand, atmospheric experience, effectively making it a part of your daily life.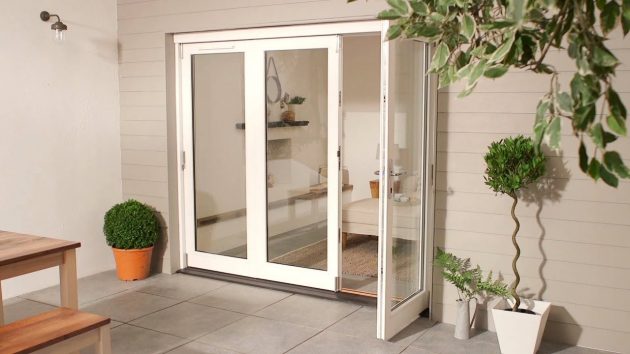 A transformative and interactive home feature
Offered in a sleek and elegant glass, folding patio doors can provide an unexpected touch to your home experience, especially in the presence of guests. What may at first glance appear to be wall-to-wall window panels can slide open and make for easy, unfettered access between the veranda, kitchen, and bar. They can also showcase a relaxing pool area or well-manicured garden, highlighting every thoughtful architectural decision that went into your home and framing the postcard-worthy landscape just beyond your property. This wall solution can easily become the wow factor for your home, allowing you to control the look and feel of it on a whim.
Design that can withstand the elements
The precise, accordion glass design can offer a smart, modern touch to your home while also ushering in more natural light and air. However, the panels are formulated to be as practical as they are aesthetically pleasing, making for a wall solution that is both weather-resistant and made to last. Each folding door system, as a baseline, will protect your home from a breadth of climates and storm systems; their strength can even be tailored to coastal areas susceptible to hurricane seasons, where increased resilience is necessary. You may even choose to layer glass if residing in extremely cold weather climates.
When closed, they may also be sound-proof to varying degrees, be it from falling rain or a successful hostess party taking place in the courtyard. Because of this, these professional-grade wall systems have found popularity among commercial environments, both in restaurants and corporate offices. However, as someone in a residential community, you may view this as an added benefit if privacy and tranquility are tenets you hold dear.
With so many durable grades available, you will not sacrifice insulation, safety, or security when you widen your home's scope of the outdoors.
A solution suitable for every style
Folding patio doors are entirely customizeable, allowing you to choose a wall system befitting of any space or decor. From the color palette to frame material, panels can complement any homeowner's style or taste. Sealed, solid wood construction comes in an array of finishes including pine, mahogany, and spruce, to name a few. Because wood often lends a warm and rustic language to space, a wall system framed in it may be the finishing touch to a room. When matched to existing decor, it can allow for an installation that seamlessly blends the indoors with the outdoors.
You may also opt for aluminum clad panels, a trim option that marries wood and metal for optimum strength and performance. On its own, however, aluminum can be adjusted to varying metallic finishes or receive powder coating to achieve any desired shade. It can be as subtle or as loud of a design touch as you desire; whichever color you land on, expect a contemporary look to be achieved when you outfit your folding wall system in gleaming aluminum.
By transforming one exterior wall, you can completely redefine your living space. When you go beyond the ordinary home improvement projects (such as exchanging drawer pulls or upgrading sink accessories), you can truly enhance the atmosphere simply by inviting the outdoors in. The thrill and novelty of folding glass doors can go beyond commercial real estate and you can experience that small luxury for yourself in your day-to-day life. Being able to slide open your doors for the ultimate relaxation and to appreciate the scenic view, can change the way you feel about your home.