Whether your dream vacations include utmost luxury, wild partying, an unbeatably vibrant night scene, arresting views, cobalt waters, sandy shores, profound natural landscapes, or lots of island hopping, Mykonos is definitely atop every list. Being one of the most popular tourist destinations, especially among celebs, Hollywood stars, world-famous athletes, and a-lists, it has a unique appeal and an arresting way to meet all of your requirements. Dazzling with its traditional Cycladic charm, the cubic-shaped whitewashed houses, the maze-like cobblestone streets, the flower-filled balconies, the impressive Mykonos architecture, and an irresistible party sensation, to name just a few, you have every reason to fall in love with the Queen of the Cyclades.
To ensure your next Mykonos vacations have the quality required so that you can enjoy the most of this admittedly exciting experience, it is critical that you select the right villa. However, with so many options available, this could be a challenging task. For that reason, we will try to clear things up a bit for you by giving you a list of 4 key questions to answer when choosing a Mykonos mansion.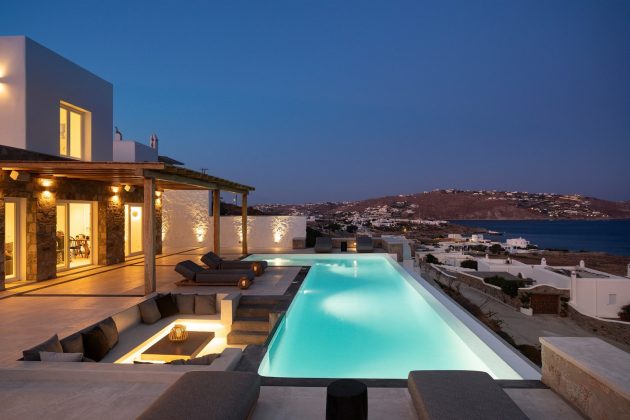 1.Where should it be located?
Think about the experience you want to have during your Mykonos holidays. Does your idea of the perfect vacations include spending lots of time lying on sugary shores and enjoying the crystalline waters of the Aegean Sea? Then, you need a property that is either beachfront or close to a beach that serves your needs the most. For instance, Paradise and Paranga are both popular party shores and very well organised. Agios Ioannis and Agios Stefanos beaches are great kid-friendly options with calm waters. Agrari and Agios Sostis are perfect for nudists. Fokos and Choulakia are ideal choices if you prefer isolation and more privacy. Platis Gialos is a superb beach for water sports enthusiasts. And so on.
Or, you may want to be in the bustling heart of the island and close to all the popular sights and the vivid nightlife Mykonos is so legendary for. In this case, a lux villa on the outskirts of Mykonos Town is an excellent pick.
Many Mykonos visitors also prefer to stay in exclusive properties that are quite secluded and far from the bustling crowds and the crazy parties. So, whatever the case, you will find a residence to accommodate your requirements, should you know exactly what you are looking for location-wise.
2.Is having magnificent views important to you?
Do you live for the moment you will be treated with heart-stopping vistas of the glorious sun as it takes its place in the cloudless Mediterranean welkin? Fancy spending romantic times with your partner under the start-lit sky while overlooking the coastline? Have your morning cup of coffee with views of Delos Island right across you? If the view plays a vital role for you, then do search for properties that provide exactly the landscapes you desire. Luckily, there is a plethora of elegant villas in Mykonos situated on privileged locations across the island that will tick all your boxes and please you in every possible way.
Now, if you care for nothing more than finding a place that is close enough to tourist facilities and Mykonos attractions, then selecting any of the available accommodation options inside Mykonos Town or its outskirts is probably your best pick.
3.How big does it need to be?
There is no point staying at a chic Mykonos villa that counts 1,300 square meters if it will be just you and your partner, right? Likewise, sharing a 500m2 mansion with 12 more people will make you feel one on top of the other. The key here is to ensure you are provided with plenty of room to enjoy your privacy without it being too much to make you feel isolated and cut out from the others. You might be holidaymaking with two more families with your kids and all. Or a large group of friends. Or three more couples. Whatever the case, it is paramount to feel relaxed and have personal space. As you look through the available mansions, you will definitely find from cute villas to gracious mansions and combos that feature things like private guest houses, private balconies, terraces, and more.
4.What must-have services & amenities do you need?
Those seeking VIP services and wish for a royal-like lifestyle during their Mykonos holidays will find villas that provide a wide range of services and amenities. Among these could be private pools, well-appointed ensuite bedrooms, lavish living quarters, built-in BBQs, fully equipped kitchens, staff rooms, theatres, wine cellars, indoor gyms, Jacuzzis, and more.
For the most complete list of luxury services and experiences, you could consider using concierge services. In this case, you can expect to be catered for with things like private chefs, personal chauffeurs, babysitters, VIP reservations, and transportation, private helicopter rides, and more. Needless to say, if you would rather keep a low profile and enjoy more cost-effective vacations, you can certainly make a list of what services are essential to you, without being too extravagant.