A house might be the biggest purchase a person could make in their life that's why it is ideal that when you purchase a home it requires little to no fixing needed. At least nothing major that would cost you to spend more than you intended. Going over the budget can be avoided by preparing a checklist so that you can be thorough with the viewing and inspection. It is definitely daunting to buy a house especially if it is your first time because of the fear that you might make wrong decisions or overlook things that are important but don't worry an intelligent mortgage might just be the thing to help you out. Also, a little bit of organization and your way to purchasing a home can be a smooth sailing process.
BUDGET
Repairs are investments so before any repairs are planned, the first thing you do is know and set your budget. You can do this by listing down regular expenses like credit card payments, loans, car payments, and other recurring expenses. Don't forget to add house related expenses to your list. This can include mortgage, property taxes, homeowners insurance, and mortgage insurance.
Now the fun part, only if you make it fun, the repairs. The repairs you can do depends heavily on your budget. So this part might be different for each and everyone.
Here are repair ideas for your newly purchased home:
PAINT
The cheapest repair job that makes the biggest difference. The fact that you can do this yourself makes it really cheap. It is also a job that is hard to mess up. Just make sure to watch or read a few tutorials to brief yourself if it's your first time. Either way, if you're not feeling too comfortable you could always hire a professional.
This makes a huge difference because the color of your walls can affect your mood and how the house appeals to you. You don't want a house that doesn't make you feel at home. Changing the paint to a color that you like can and will affect your mood positively which can result in making you more comfortable.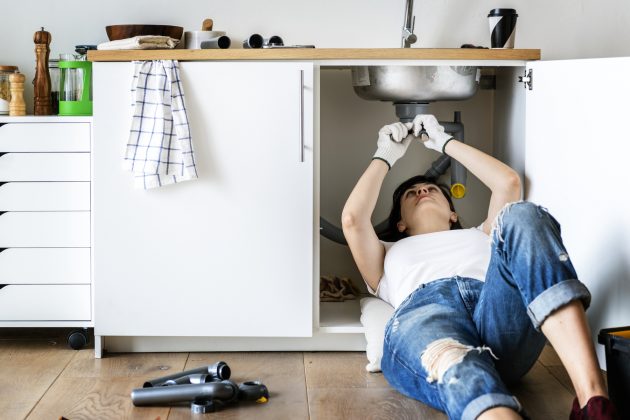 Kitchen
You know the saying, the kitchen is the heart of the home. If you're one of the people who stays in the kitchen a lot, whether it's because you like to cook or it, then I say it's worth upgrading. Even if you don't spend time in the kitchen a lot, at least do a repair if there are any issues.
Fixtures, countertops, cabinetry, and appliances are the most common things that can be fixed or upgraded. Check out for stains on the countertops, it can be a sign of unhygienic usage. Check out for poor performing or malfunctioning appliances you might need a repair or to buy a new one. Also check out for rotting in the cabinetry because that is a sign for repairs. Good materials can be a little expensive but it can be a good investment if you're planning to stay in that house for a really long time.