Project: Nidapark Küçükyalı Flat
Interior Designer: Gönye Proje Tasarım
Location: Istanbul, Turkey
Photographs by: Courtesy of Gönye Proje Tasarım
Gönye Proje Tasarım, an Istanbul based interior design studio, has enriched the modern design line with well-qualified material selections and fine details, giving priority to functionality as well as visual richness in Nidapark Kucukyali flat.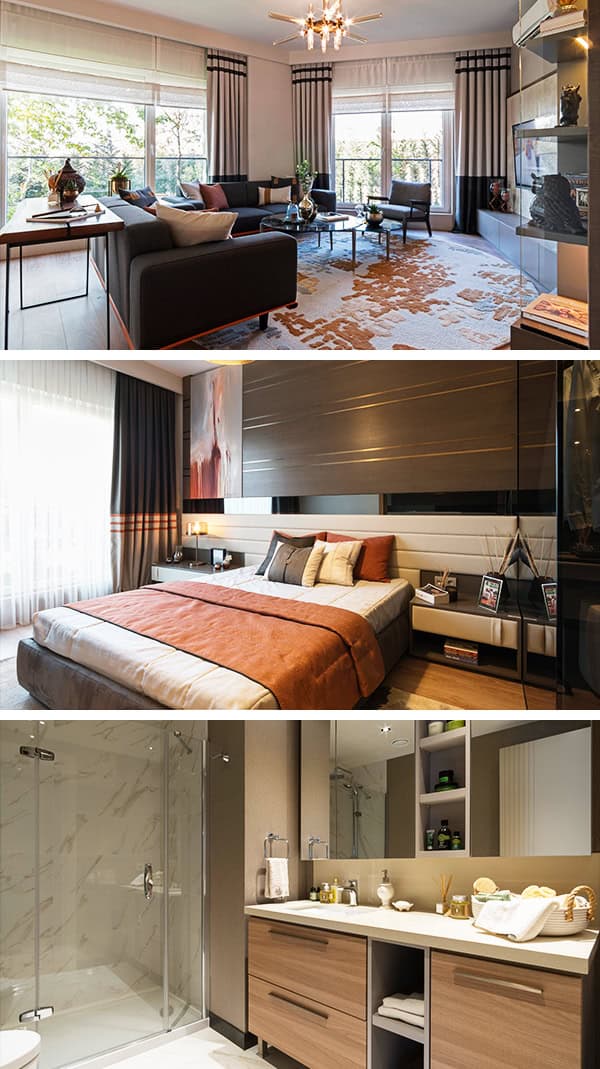 Since the Nidapark Kucukyali flat is located in one of the most prestigious neighborhoods on the Anatolian side of Istanbul, the main idea of the interior design was to enrich the visual design with a selection of materials and intricate details. The design features the use of ceramics with natural stone looks in order to provide a warm effect in areas such as the bathrooms, where the floor could be wet occasionally. The entire interior design of this flat has a modern and elegant touch to it. This style is reflected from the living rooms, all the way to the bedrooms.
Nidapark Kucukyali flat, which is located in in Küçükyalı, one of the most prestigious regions on the Anatolian side, has been designed by Gonye Proje Tasarim, an Istanbul based interior design studio. The design team gave priority to the functionality along with the richness of visual design, by enriching the modern design line with selection of materials and delicate details.
The number of cupboards and storage areas in the bathroom, in the kitchen and in the entrance area have been specially designed for the flat where parquet has been used from the entrance to the rooms, creating a warm homely feeling right from the first step.
Gonye Proje Tasarim used ceramics with natural stone look and wall papers in the floorings and walls of the bathrooms in a balanced manner, in order to provide a warm effect in the wet ground areas; and again used wooden-like cupboard doors in the furniture and mirrors with cupboards so as to increase the storage area in the bathrooms.
Elegant leather details on the sofas in living areas are complement the specially designed leather detailing pillows.The rugs used on the floor have also been specially designed and produced taking into account the colors of the furniture. Natural marble was preferred for the television table and for the dinner table.
The modern and elegant style in the living rooms of the flat have also been reflected in the bedrooms. The dressing part of the master bedroom is separated by a smoky glass separator and this section gets natural sun light. Elegant bronze metal details have been used on the large wooden panels in the bedhead.
All oil paintings used in Nidapark Kucukyali flat were specially executed for this project by Painter Esra Yılmaz.