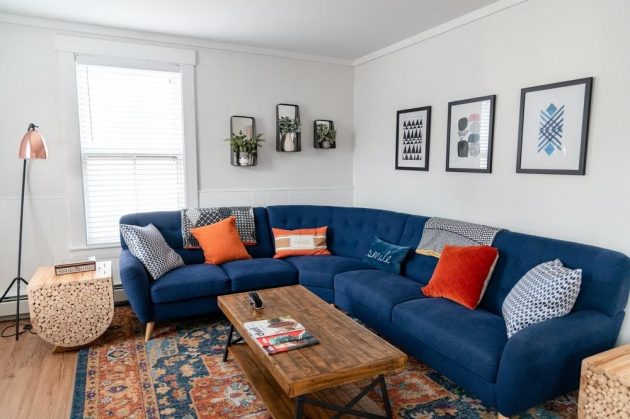 When you come home from a hectic day at work, you want to relax in a cozy spot where you don't have to worry about anything. Unfortunately, adults in the United States report that they experience more stress now than they have in decades. That makes it even more important for you to try these four ways to bring a cozy, lived-in feel to your home.
1. Find the Perfect Furniture for You
Your furniture plays a central role in comfort and relaxation. Luckily, you can choose a plush sectional that works for just about any budget. When you come home, you can sink into your favorite spot to enjoy reading a book, watching TV, listening to music, or just zoning out for a while.
Not surprisingly, one of the most comfortable sofas comes from La-Z-Boy. The Trouper Sectional has reclining seats and built-in cup holders.
Joybird also makes an amazingly plush sectional called the Bryant L. Just looking at it will make you want to take a nap.
Explore your options to find a plush sectional couch that matches your home and budget. You'll be glad you did the next time you have to fight a traffic jam on the way home.
2. Choose Lighting That Adjusts to Your Needs
Lighting also plays an important role in making a cozy space and a comfy home. Smart lights have given homeowners a whole new way to control their living environments. When you want to relax, you can turn down the lights to enjoy a quiet evening. You can even change the color to match your mood – or help get you out of a funk.
Most people agree that Hue makes the best smart lightbulbs, but other options are worth exploring, including lights from Sengled, Wyze, and Ring.
Smart lights come in a range of prices, and some can communicate with specific mobile devices and hubs. The abundance of choices can make your decision seem intimidating at first. Really, though, it only takes a few minutes to narrow in on a few bulbs that suit your home.
3. Rethink Your Approach to Cozy
Have you ever considered the possibility that you're taking the wrong approach to creating a comfortable space? Perhaps a big-screen TV and smart lights aren't your style. In fact, you might get better results from the opposite choices. Maybe you need a minimalist space without the distractions of today's technology.
To rethink your approach, turn to other cultures to find styles that appeal to you. A Middle Eastern style, for example, uses a lot of neutral colors and soft textures to create intimate spaces where you feel comfortable spending time with family and friends.
Before you commit to a new style for your home, look at what cultures from all over the world consider comfortable. You might connect to a concept you never considered before.
4. Follow Your Instincts
People have unique ideas about what cozy and live-in looks like. It wouldn't hurt to consider what people say. Some of them may have informed opinions that inspire you to redecorate your living spaces. When it comes down to it, though, only you can decide what works for your home. Your family lives there, not the experts who encourage you to buy items you don't truly enjoy.
Follow your instincts to find what feels good for you and your family. It's the only way you can choose items that give you an atmosphere that feels recuperative and lived-in.