Tips To Decorate Your First College Dormitory Room
Congratulations! You did it, you made it to college and now you are standing at the threshold of new life – and of a cheerless half empty room at the dorm. This view effectively discourages the most inspired student who was all focused and concentrated back in safety of cozy home. But this is different; the place is remote and soulless. Not the best spot to take your time to get accustomed to the new environment and make friends.
But fear not. Your dorm room can be transformed into a nice place where you feel at home – and that you can customize to your own taste, not to your parents'! If you live with a roommate, have an improvised powwow first and work out a strategy of your room overhaul together. It will help to account for tastes of both of you, and get along with each other. Nothing brings people together better (and makes them argue more fiercely) than good old room redecoration work.
To score a big win in this undertaking, make a little plan of what is essential and what can be put off till better days. Then decide upon sequence of actions, do the necessary shopping and then set to moving furniture and revamping the space. Here are our suggestions on how to tackle it all and make a snug shelter with minimal casualties.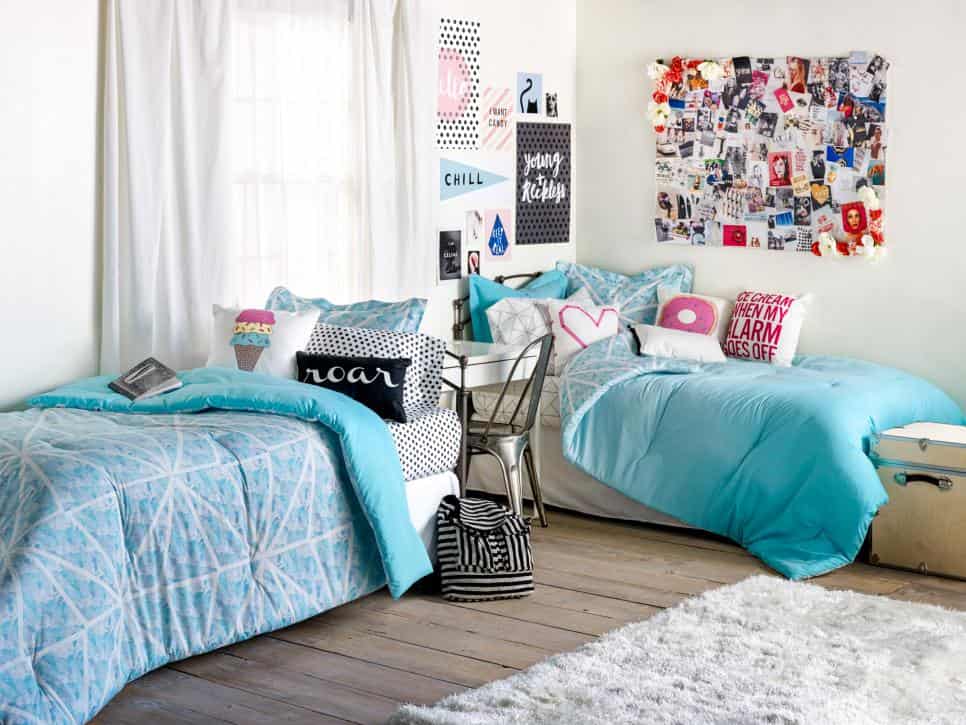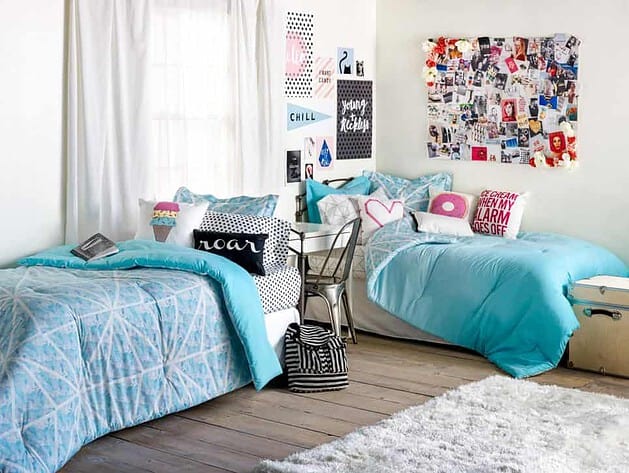 Furniture
A bed, a table, a chair and maybe some shelves – that's what you usually start out at college with. Most probably they are already provided in the room but it does not mean you cannot change anything.
Sleeping headquarters
Give your bed a rise with bed raisers and get the space to store plenty of things beneath it. Decide where you want to move the bed if you can, whether it will get closer to the window or move away to provide privacy.
Bedding means a lot. You can brighten up your room immediately with fancy and vibrant colors. The bed will be your everything – a study hall, snack bar, lounging place and conference room. So choose fabrics that are easy to wash and have multicolored pattern to hide possible casualties of dining in bed.
Sitting pretty
A chair can be fluffed up in a myriad of ways – get changeable covers, add cushions, throw a large boho shawl or a soft plaid over it and make your seat a unique one. Butterfly chairs are especially popular with students for its comfort and usability, so if the room is not equipped with a chair go and get one like that. If there is a free corner, get a beanbag chair for additional seating unit and comfort.
Setting the table
The same relates to a table: if it is not featured in the room choose the one with a round glass top. It will not consume much of such valuable space but will provide a reliable surface for studying, dining or doing some hobby for relaxation.
Lighting
It is an essential part of design since it creates proper environment for study and leisure. Usually ceiling fixtures are pre-installed in dorm rooms, but they are harsh and not suitable for students' needs. You can use a variety of illumination tools to ensure even lighting in the room and give it personalized mood (these are only few examples of endless varieties of them):
A basic wall lamp of any design imaginable. Clip it to the wall or bed headboard and enjoy the convenient and compact light source.
A floor lamp with long mount can be moved around and its shade offers one more opportunity of customizing.
Globe string lights can be placed along the ceiling perimeter or arranged on one wall, thus providing even or focused lighting.
LED light box with letters is both a lamp and a décor object. Again it is easy to move around and change the room layout when interior seems boring.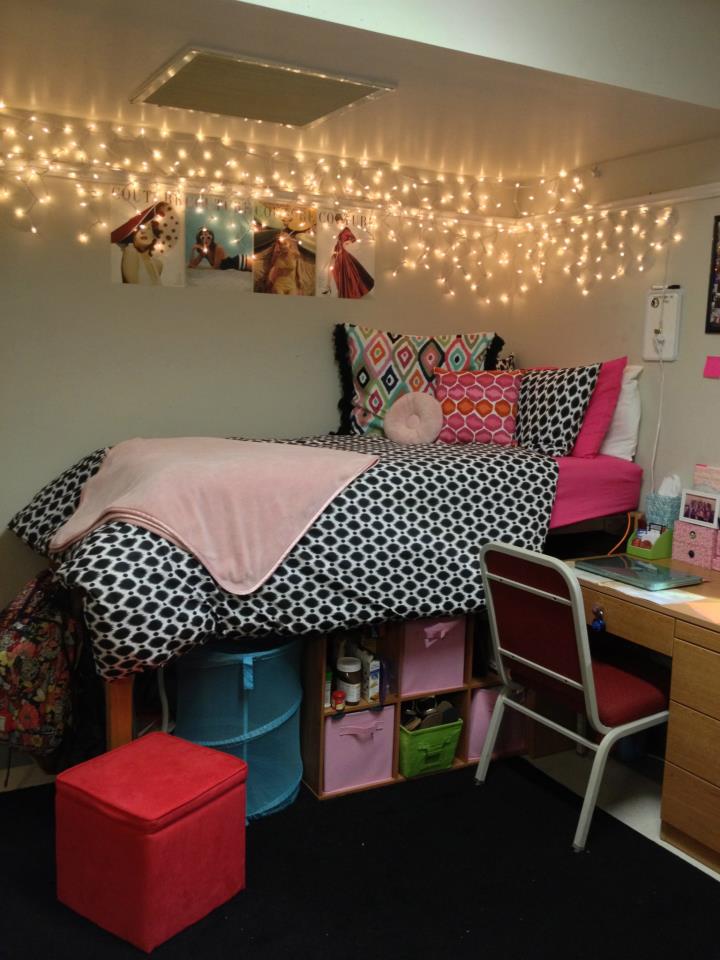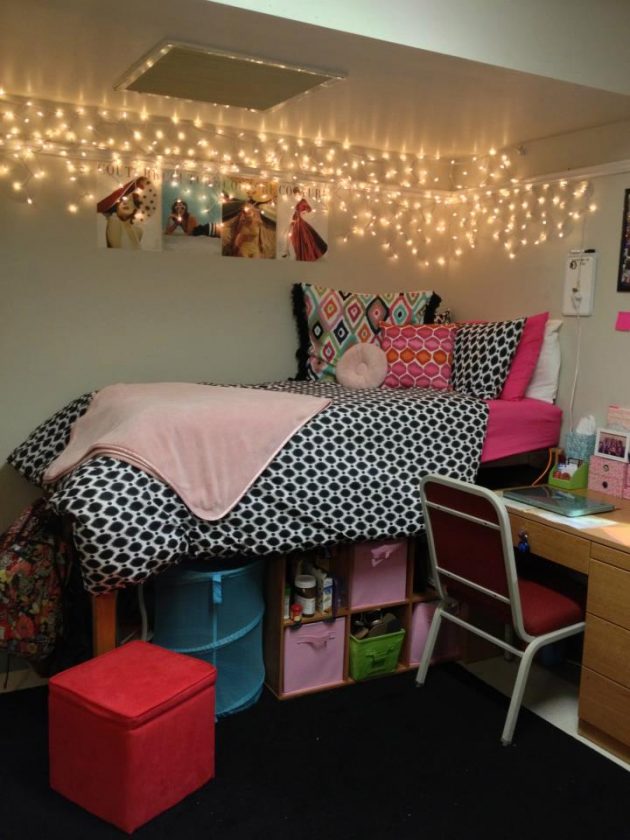 Storage
Dorm rooms are usually small and students tend to have lots of stuff including textbooks and clothing. Use every corner and space under bed to store things in containers, boxes and collapsible dressers. Attach wall mounts and wall shelves if permitted, they are lifesavers in limited spaces like yours. Create vertical storage options instead of eating up floor space.
If you have an inbuilt wardrobe, add a second railing below to hang smaller clothing items. If no, get an inexpensive or used free stand rack and use it to hang and store everything you can (fabric foldable shelves are priceless in this case).
Wall décor
Concrete walls or aged wallpaper are not that much exciting. Consider using hangings of any sort you like (from Grandma's quilts to exotic textiles from thrift shops) to cover those walls and add individual flavor to the room. Removable wallpapers are also a way to fresh the space up (if allowed by the rules). Otherwise use walls as organizing space with posters, cork pin boards to attach learning materials that need to be kept in view.
Windows and floors
These are a must, do not skip this step. At home you may got used to elegant sheers, shades or shutters, but here you need to use what's allowed (and what assures more privacy to this communal space). Anyway, put heads together with the roommate and settle on the options that suit you both (since the window is a shared asset).
The same relates to floor cover. It is truly irreplaceable in making the place homey, so select a large rug or carpet that you both like and throw it triumphantly on the cold tiles. Voila. That's pretty different now.
Décor elements
Still have some place left? Add items that simply give you joy. Pictures, art objects, photos, rustic things, collections you love – they all make you feel at home and inspire you to go on when you feel drained.
And remember – we cannot turn your dorm room into a perfect copy of your family house, but we can significantly facilitate your study burden, which is also great. So whenever you need college essay help, contact Tutoriage.com and then just get this much needed rest on the cozy comforter that you lovingly selected.