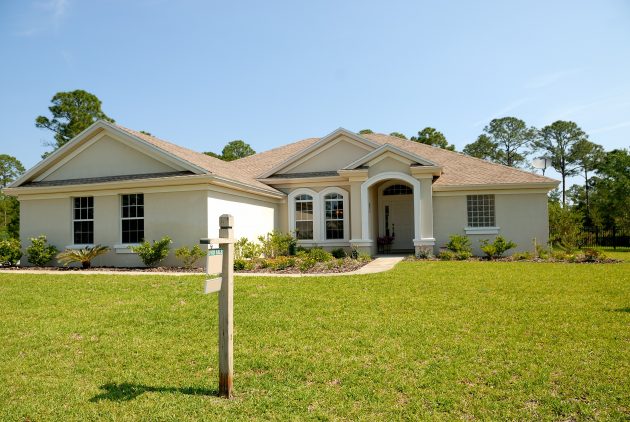 https://www.pexels.com/photo/white-and-brown-concrete-bungalow-under-clear-blue-sky-210617/
Before putting a house on the market, you have to depersonalize it. It's one of the oldest tricks in the book when it comes to successful home viewings. However, homeowners often misinterpret this tip, and assume that, in order to sell a house, you need to remove everything from it before the first viewing. Granted, removing family photos, posters, and highly specific decorations helps potential buyers picture themselves better in the house, but that doesn't necessarily mean the house must be totally empty. In some cases, that can have the complete opposite effect and leave the visitors unimpressed.
If you watch the shows on HGTV, you've probably noticed that after remodeling properties, experts pay for a home staging company to come in and add all sorts of furniture and decorations. This process is designed to make the property more appealing to potential buyers and sell it quicker and for more money. Home staging should be done carefully, depending on the property's design and the target audience you want to attract. If you don't have the budget for a home staging company, that doesn't mean you can't use clever tips to make your house more esthetically pleasing to interested buyers. Here are six affordable yet impactful changes that can transform your property and keep the offers running.
1.Start with a clean base.
Before thinking of adding anything to spice up your home, make sure you have a clean base – literally. No matter how many fancy decorations you add, if the house looks and smells dirty, it won't make a good impression. So, dust everything, including the corners you usually ignore (a lot of home buyers check behind cupboards!), remove all the stains, mow the lawn, remove weeds from your garden, and get rid of all the clutter. Don't skip any details because this will need to be the most extensive cleaning you've done in your life. If you have pets, you want to leave them someplace else during the viewing. Not all buyers are ok with pets, plus you don't want to risk any accidents.
2.Replace old rugs
If you've had the same old carpet in the living room for ten years and it looks like it needs some TLC, now may be a good time to replace it. It might sound counterproductive, buying a carpet when you're moving out, but old and stained carpets with outdated designs can really make your house look unflattering. A good carpet doesn't have to be expensive, but it can make your property look more appealing.
3.Add mirrors
If there's something that all home buyers look for, it's space. And while you can't change your property's square footage, you can at least make sure it doesn't appear smaller than it is. By adding mirrors that reflect light, you can create the illusion of a bright, open, and welcoming space. This trick is especially useful for small rooms, such as bathrooms, guest bedrooms, and hallways.
4.Accents should be subtle yet elegant.
Adding decorations to a house before selling it can be tricky because these decorations shouldn't feel too personal. When viewing a property, potential buyers should picture themselves there and not feel like they're invading another family's personal space. Decorations shouldn't be distracting and overly personal; instead, add elegant accents that tie the whole place together without being too obvious:
Keep white towels in the bathroom; they give the impression of comfort and luxury
Bathroom accents matter; get elegant soap dispensers and other bathroom accessories and if you have old and outdated fixtures such as taps and knobs, replace them with new and shiny ones. They're inexpensive, but they can breathe new life into a room.
Plants are the most versatile home accessory. A few potted plants, placed around the house can make it feel fresher and more welcoming. Just try not to go overboard – guests don't want to feel as if they're walking into a greenhouse – and make sure the plants are allergy-friendly. Dracaenas, bamboo palms, azaleas, and cacti are safe for people with allergies.
5.Good lighting is essential.
Good lighting is an underrated perk when buying a house and if your home happens to have a good placement or big windows, use this to your advantage. Before the buyers come in, make sure the curtains are drawn and that the sources of natural light aren't covered by large pieces of furniture. If the viewing takes place in the late afternoon or in the evening, you'll have to use artificial lights, so make sure you have high-quality bulbs and a few spares too. Good lighting is essential when inspecting a property, so buyers might think there's something off if the space is too dark.
6.Make sure your décor translates well in digital format.
COVID-19 may have changed the way home viewings are organized for good. To comply with social distancing guidelines and prevent the spread of the virus, most real estate agents have started to plan virtual home viewings, buyers only coming down in person for the properties that really have potential. And the trend isn't expected to go away after the pandemic; because virtual home viewings are so convenient and time-saving, they will continue to be used in the future. However, not all those décor tricks that look amazing in person come off great on camera, or they might not be enough. Apart from good camera quality, which is non-negotiable during home viewings, you should also consider using music for real estate videos, which sets the mood and makes the footage feel more personal and polished.
7.Home fragrance: yes or no?
This is one of the details that can make or break the home viewing, and you have to be very careful to not go too far. While a subtle scent of cookies or fresh cotton, achieved with the help of a fragranced candle or reed diffuser, can make the house feel cozy and welcoming, an intense-smelling plug-in diffuser can be a red flag. Some sellers use heavy fragrances to hide smells that point to a serious problem (mold, mildew, pests, plumbing issues), and buyers have become quite skeptical of this cheap trick.