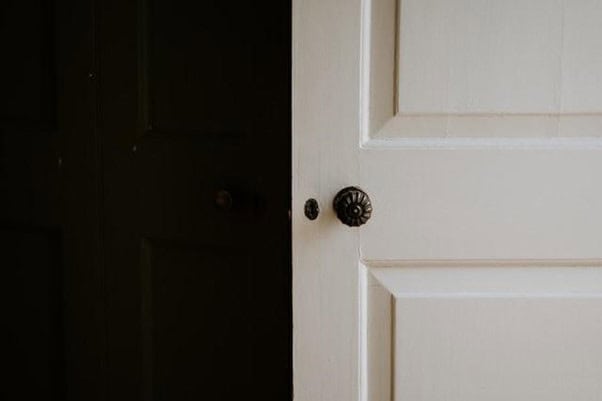 Every item of design or furniture in our houses influences how we see our living area. Surprisingly, interior doors have a significant influence on the appearance of your rooms. Their size, shape, color, and material may all contribute to a distinct sense of comfort and warmth in your house. When it comes to interior doors, there are several variables to consider.
We will tell you about different types and styles of interior doors. We hope it will help you make the right choice when furnishing your home.
Main Types of Interior Doors
Kit
Slab Doors
Classical enthusiasts frequently select this kind. They look good in any decor, so you can never go wrong if you choose them.
These doors are frequently constructed of solid wood, but you may also discover choices made of composite materials. You may choose whether to make a single panel or numerous little panels based on your preferences.
Prehung Doors
In contrast to the first option, you can buy them in a store with a door frame for convenient installation. You will also receive pre-installed hinges, making installation even faster. Prehung doors are frequently the chosen option for persons moving into a new flat or house where no doors have previously been fitted.
Opening System
Sliding Doors
Pocket
If you don't want your doors to take up too much room in your apartment or house, consider sliding doors, which come in a variety of styles. Pocket doors, which vanish into the walls with the help of specific fittings, are one of the most basic. It is a good option for tiny houses and apartments.
Installing them may not be that easy as they require special parts. If you buy interior doors online, you will get all the components and you won't have to worry about anything.
Bypass
This solution is ideal for wall-mounted wardrobes. There can be two or more panels. Their only disadvantage may be that you can only reach a section of the closet. They come in a variety of forms and patterns. You can always discover the ideal complement for your space.
Barn
Previously, such doors belonged to rustic or rural chic, but now many people install them as interior doors. Their only drawback is that they can compromise privacy as there is a gap between the wall.
Special rollers keep the panels in place on the higher rails. The act of opening and closing the doors is straightforward.
Folding doors
Bi-fold
It is an excellent space-saving alternative that allows you to easily open up the area. Even if they are made of heavy materials, their design allows them to be easily opened.
Many individuals purchase bi-fold doors to use as room dividers. You may buy doors that open to the left and right, as well as both sides.
Tri-fold
Choosing a door that folds 3 times in the form of an accordion is worth it for rooms with large doorways. Depending on your preferences, you can choose both glazed doors and wooden or metal ones. They are ideal for spaces where you would like to be able to fully open them, such as from the kitchen to the dining room.
Swinging Doors
Unlike regular types, this choice is substantially larger and can open in both directions. In this regard, homeowners install them as a room partition for the kitchen, which creates a unique atmosphere. You can often see them in cafes, but today many come to such a decision as interior doors.
Core
Solid Wood Doors
They can be made from pine, maple, mahogany, or other woods. The choice of the type of material affects the weight of the doors, as well as their structure and color. Their main advantage is a high level of sound insulation. Such doors should not be installed in rooms with high-temperature fluctuations, as this may cause their deformation.
Solid Core Doors
They are significantly heavier, which helps to achieve a high level of noise and sound insulation. Their distinctive property is durability, as well as a high level of fire resistance. You can choose between smooth and textured finishes.
Hollow Core Doors
Unlike the previous two types, this is a lightweight and also a much cheaper option. They are distinguished by their versatility. They will not be able to offer you a high level of soundproofing, nor are they highly fire resistant.
Design
Panel Doors
This type is a common design choice among homeowners because they come with a variety of panels. 6-panel doors are the most typical option.
Flush Doors
They are the exact opposite of the first option since they do not have any panels. These doors are smooth and easy to paint if you want to redesign them.
French doors
These doors have several glass inserts along their entire length. They do not have a high level of privacy, but they transmit light well. Many homeowners prefer them for their elegance.
Louvered Doors
This design is perfect for bi-fold and tri-fold doors. You can adjust the louver-like slats to find the ideal angle for the light to pass through. Such slats can be installed along the entire length of the doors, or only on some of them.
Doors with Glass
By choosing doors with glass inserts, you can add more light to the rooms and also make the space feel more open. Often, they are chosen for an installation in the kitchen or the lounge. The number of glass panels depends only on your choice.
Doors with Mirror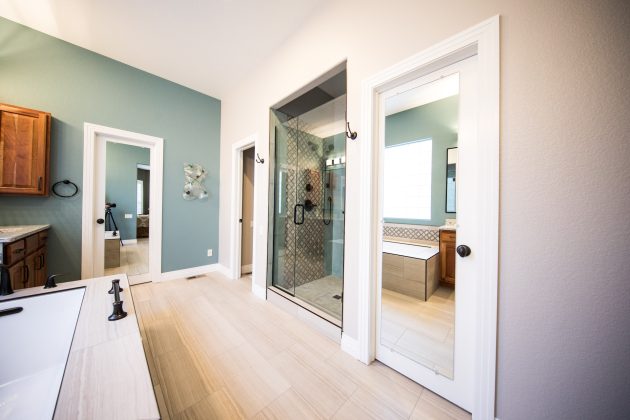 Doors with mirrors will be an interesting solution for any home. Most homeowners choose these doors for built-in wardrobes, eliminating the need to install a mirror in the room. Mirrors can be installed both in the entire length of the door and on a certain part of them.
Conclusion
In modern days, homeowners have a huge selection of interior doors. They differ in installation method, design, core as well as opening systems. Depending on your preferences, you will be able to choose doors that will perfectly fit into the design of your home, as well as create a cozy atmosphere.