There are a ton of captivating interior design styles that make people want to apply them to their house – industrial, traditional, eclectic, and many more. Because of the broad spectrum of styles available, it's quite difficult to choose the right concept to use for one's dream house. In any case, there's one particular design style that brings out the best from simple and minimalist design, a concept that's recognized worldwide and something you simply cannot overlook. With its clean lines, minimalist approach to furniture, and the ability to play with textures, it's really no surprise that the Scandinavian concept is quite popular with the masses.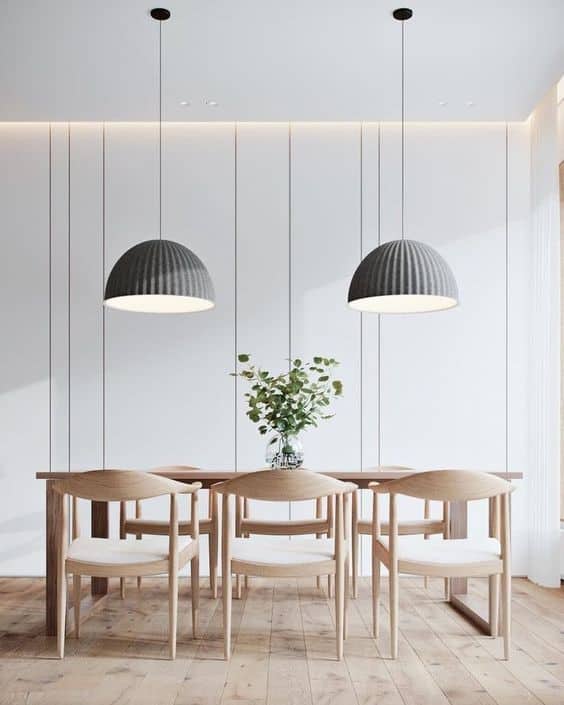 Photo from Pinterest
The focal point of this interior design style is to put fewer things on display and make the room as simple as possible. The main characteristics of the Scandinavian concept are the use of white color and natural materials. Speaking of natural materials, wood and leather are quite popular choices when designing your interior this way. Such materials bring muted colors and calm feelings making the rooms appear bright and spacious, a quite important interior decorating tip for recreating the original Nordic ambiance. Another important tip to take from the mentioned style is to let the natural lighting fill up the room as much as possible. In the following part of this article, we're going to show you some easy ways to help you create the perfect Scandinavian dining room to wow your guests, whatever the occasion may be.
Scandinavian Colors
In order to make the environment look clean and bright, a palette of soft and light colors such as white, gray, and pastel are most commonly used as the main colors. These neutral colors are usually included in the paintwork of the walls of your room. If the area of your dining room is shared, you can unify the focal points od the room using color and then decorating the walls with wooden shelves or pictures with clean-looking frames.
Once you've chosen the main color(s), accent colors are a must as well, because without one the entire dining room will look lifeless or arid. You can animate the environment with colors like red, forest green, and even yellow. You can also go with black or brown. We encourage you to include more than one color for decorative accessories in geometric patterns for curtains, carpets, paintings, and works of art.
Wood As The Main Material
As we can see it in most of the typical Scandinavian interior design practices, it's quite common to find wood as the predominantly used material because of the warmth it gives to the environment. The color is usually natural or painted white for the floor area. A very important thing to consider is your choice of wood finish. It's not pretty common to see dark woods in Scandi design as they are known for sticking to light oak tree tones. Opt for a lighter-colored wood for your dining table, shelves, flooring, and anything else you have in the dining room that requires wood as a material.
Scandinavian Furniture
Scandinavian furniture style is also dominated by natural wooden surfaces, that have functional geometrical basic shapes. With Scandinavian winters being long and dark, this style uses light wood such as spruce, pine, or birch. With the bright friendly colors and light, the Scandinavian furniture style creates a lot of warmth in every room. It catches the eye with its simplicity and the friendly pastel colors.
Your dining space should be practical, but that doesn't mean it has to be dull. Contemporary furniture will optimize the floor space, making a small room look bigger and will bring a sense of harmony to your home. A mid-century inspired wooden dining table with bold cuts, with a classic set of Nordic chairs, will fit well in any modern dining area. As of the chairs, you can go with the classic Wishbone Dining Chair as its notoriously Scandi in style and offers a great level of comfort while sitting on it. If you want to give your dining room a less formal, more youthful vibe, you can even mix different chairs such as Panton chairs and Beetle chairs altogether.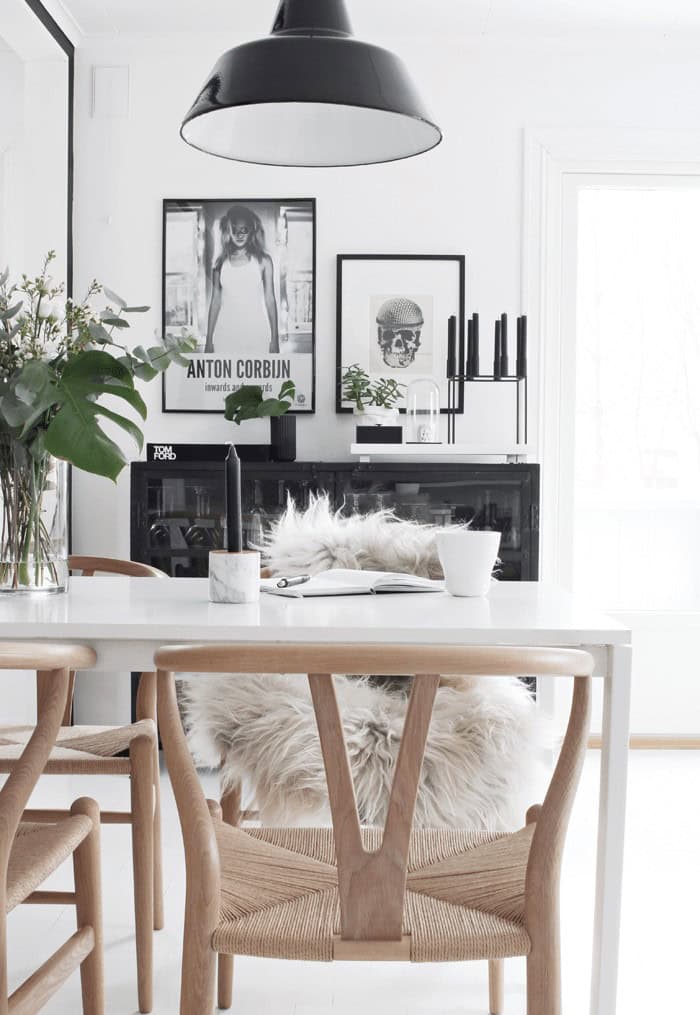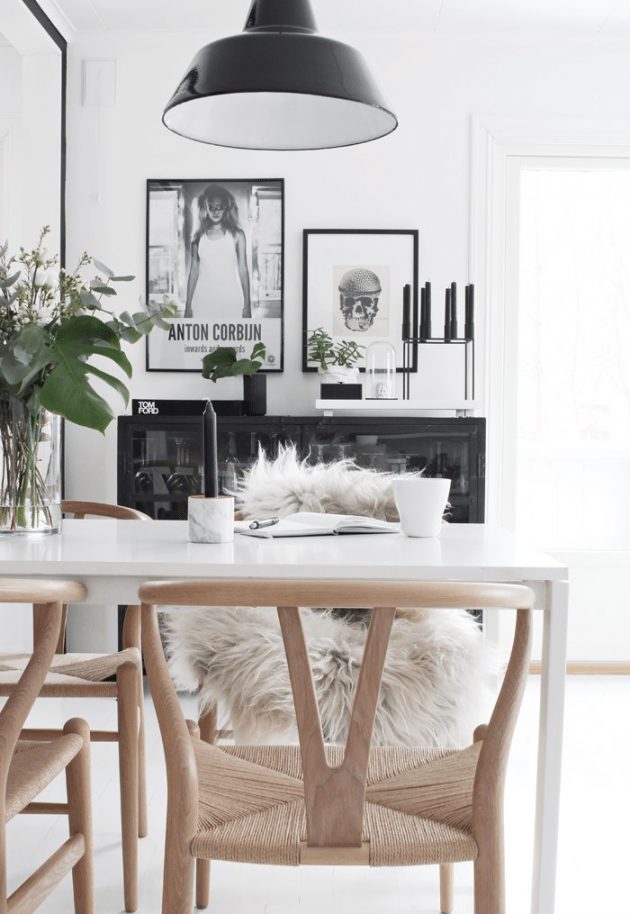 Photo from Pinterest
Go With Light Colored Flooring
Scandinavian design is really not known for wall-to-wall carpeting. In most cases, the flooring is usually made from light hardwood materials, either in its natural color or painted white. Laminated light flooring is a nice solution for your Scandinavian-designed dining room. Such flooring will make the whole space look brighter and more spacious while exuding an even more inviting and welcoming atmosphere.
Proper Lighting Is Key
The majority of Scandinavian houses enjoy daylight in as little as seven hours a day. Thus, the manner in which lighting is used is very important as it's considered a life source and should have different forms to provide adequate illumination of the entire space. Modern lighting sets with industrial design such as wall scones will fit fine in any Scandinavian-themed dining room. Plus, as the dining room will probably also be used for serving snacks and long wine sessions with your family and friends, candle lights and candelabras can make the dining room feel warmer, cozier, and more romantic.
Choose Simple Decorative Accents
Following the "less is more" mantra, the Scandinavian interior design is all about simplicity. When it comes to decorating your dining room, always choose decorative accents that have simple designs. You can go with beautiful paintings with black and white phrases or works of art in fun and bold colors. As for the dining table, a large and elegant ceramic vase will fit perfectly in the middle of the table.
A Game Of Textures
Besides wood, you can pick other materials, too, for fabrics, ornaments, and furniture that will help you create a unique and cozy atmosphere in the dining room. Diverse natural fabrics such as wool, leather, or cotton can be used for upholstery of chairs, carpets, and curtains.
Plants And Fresh Flowers
Experienced interior designers suggest adding natural elements to your Scandinavian dining room in order to have a living element of color and beauty in your interior. Plants and fresh flowers are a necessity in every Nordic traditional and modern house. In the Scandinavian regions, streets are filled with sidewalk florists selling tulips and other fresh flowers in every color. Therefore, your dining room should include floral elements and fresh flowers.