When it comes to home design, there's no shortage of possibilities for creative ways to incorporate clocks into a home. From hanging them as decorative pieces to using them as functional elements — architects and designers can include them in various ways to create a cohesive look.
The best part is that clocks are easy to find. The designer just has to find a piece of artwork that the homeowner will love for a lifetime. From mantle to table clocks, here are some of the most creative ways to add timekeeping into a space.
1. Go for an Industrial Look
Using a large industrial-style clock in the home can be a great way to give the space a sense of personality. An enormous industrial clock is especially a good fit for an industrial-themed home — as it blends in with the colors of exposed brick and metal beams. Incorporating a larger style also makes a statement without being too overpowering since the overall look is seamless.
If incorporating an industrial-style clock into a small room, consider installing a wall clock with an open design, so it only takes up a little visual space.
On the other hand, designers and architects want to avoid installing a large wall clock by bringing more industrial elements into the home. They can achieve this by placing clocks around the house that match the style of the furniture and accessories.
This can give the space a cohesive look without making drastic changes or requiring extensive remodeling work.
2. Clock Furniture
Another great way to add a unique touch to any home is by using clocks as side tables, nightstands or end tables. For example, some people use clocks as plant stands. This allows them to display flowers on top of the clock. Or, they can place a vase of fresh-cut greenery inside the glass face of the clock.
Mixing plant life with a timepiece is a creative way to add visual flair to a home.
Another option is to use a wall-mounted clock with shelving. Homeowners can use these to display books and other items on top of it. A wall clock with shelves makes an ideal addition because it adds more storage space while providing extra style to any room.
The most important thing to consider when choosing a piece of clock furniture is the size of the room. The room's height will determine how large one can go with clock furniture. If there is plenty of space in a living room or dining room, it's safe to go big.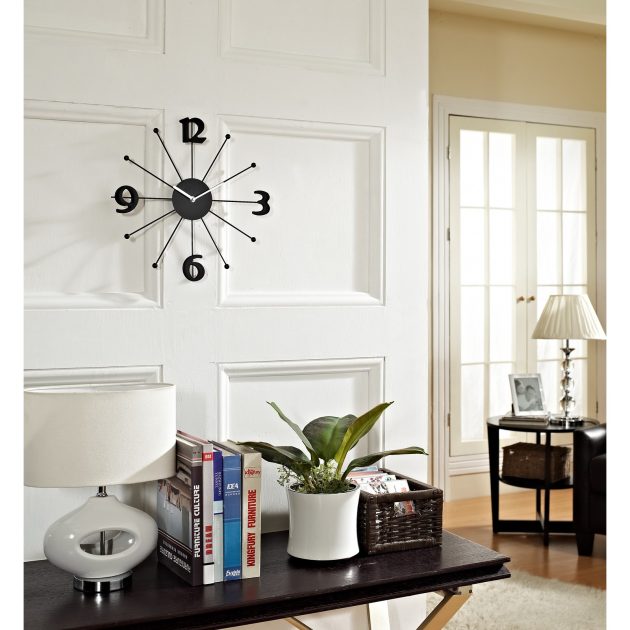 3. Clock Towers
When considering clock towers, the first thing people may think of is a retro design and a place for them to see the time as they walk by it. However, there's more to it than that.
Architects have been incorporating clock towers into modern architecture in an interesting way to create stunning homes. Incorporating a clock tower into a home design can make a focal point for the property and give the house character. It's also great for showcasing the homeowner's love for historical architecture.
The most common way that people incorporate clock towers into their homes is by adding them to their front porches. This gives the homeowner a unique way to welcome guests, who can see the time of day when they approach the door.
4. Window Clocks
When looking for ways to bring the outdoors in, consider incorporating a window clock into the home design. Window clocks can be a beautiful addition to any home — as they let light into a room while advertising the time to the person sitting in it. They add artful touches without investing in more expensive decor pieces.
When choosing a window clock, consider one that's simple but elegant. For instance, the window clock could have a white frame with black numbers. This will allow light in from outside while still being able to see the time clearly from inside. That way, the person inside the room doesn't have to turn on any lights to see it.
If there isn't enough natural light, another option would be to paint the frame with bright colors such as pink or orange. This will create a warm atmosphere and make the person entering the room feel joyful.
5. Garden Clock
One of the best ways to include a clock in a home design is by adding it to a garden. Gardens add color and life to the yard, and the homeowner can plant any flowers, plants and shrubs they desire.
When planning a garden bed, landscape architects will incorporate the clock into the design — and ensure the other items in the garden match the decorating style. A simple option would be an old-fashioned wind-up model that looks like it belongs on an antique shelf.
Another option is to go after something more modern — such as using a solar-powered clock made from recycled materials like wood or metal tubes filled with sand or water. That way, they can go without batteries and save the homeowners money over time.
Add Personality to Any Home Design
Clocks are a fun, easy way to incorporate time into a home's design. They're also a great way to add personality, functionality and style to any room of the house. With all the creative ways to integrate clocks into home design, it's impossible not to fall in love with these timeless design elements.