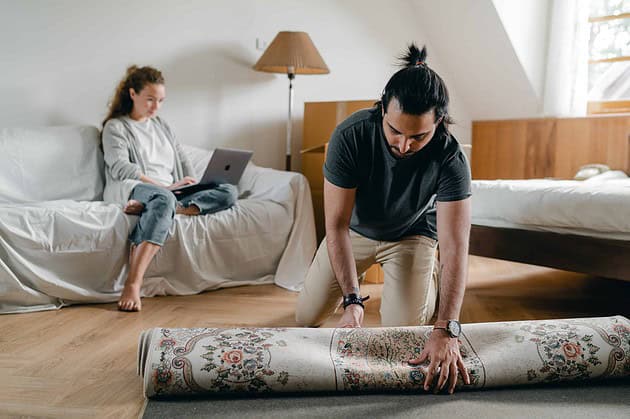 Image source: Pexels.com @Ketut Subiyanto
The new year is just around the corner. Dressing up your homes and properties with fresh interiors and exteriors is an excellent way to welcome the new year. Your starting point is to revamp the floors.
This is the keystone to your creativity. Change needs to begin on a sturdy foundation. Rising in popularity in the industry today is seamless epoxy floors. It is the most wanted among industrial spaces. Now you can start the new year with an innovative area in your homes, too!
To get ahead of your friends and colleagues on the trends that will surface everywhere, read this article. Reopen your properties as you welcome the year with the freshest ideas!
1.Throw a Shade of Gray
Resurfacing of concrete floors for the last decades made the color grey a breakthrough for most modern architecture and design. You think that the cold, bare pavement looks too outdated. But with a touch of innovation, dozens of possibilities breathe into your floors.
So, don't doubt. Throw that shade of grey onto the floor. A bare concrete will enhance when coated and sealed. Also, do not hesitate to get help from expert flooring contractors to add epoxy sealers and acrylic-based coating, giving the floors a seamless, shiny surface.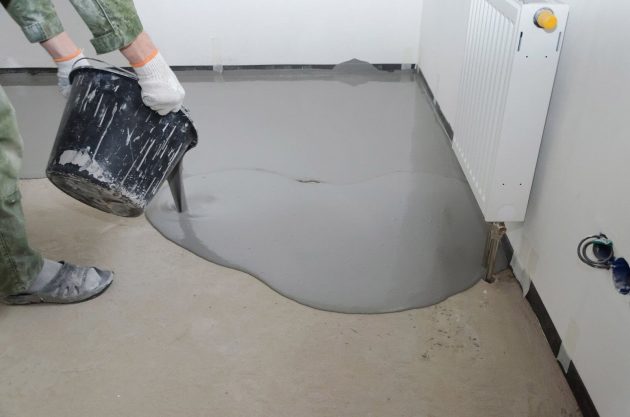 Image source: Unsplash.com
The neutral concrete color adapts easily to any design and pattern. The next on this list will give you the color theme for 2021.
2.Chrome on Gray
Yellow and grey are hailed as this year's color couple. Artnews.com shared that Pantone Pandemic color represents the collective experiences of people around the world. Dealing with a pandemic got everyone to stay curled up under the "gray."
Gray becomes now a symbol that anyone can relate to. This color can mean the heavy clouds wrapped around people's emotions or the color of the blanket or sofa they slept on while stuck at home. It is also the familiar concrete floors that accompany us every day at home or everywhere we go.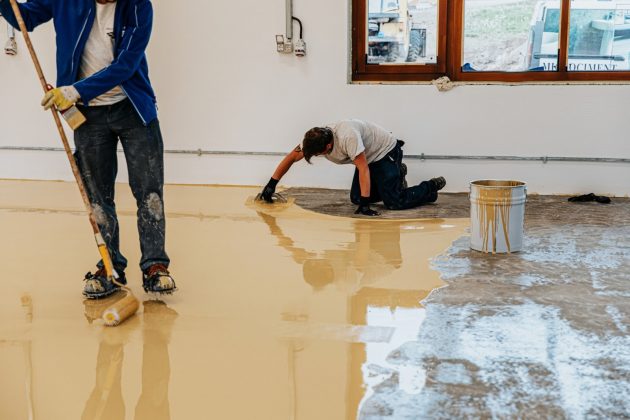 Image source: Unsplash.com
The familiar feeling of gray is then cast with some light from the lemony yellow. The bright shade it squeezed over the neutral, dull palette creates a balance.
Yellow markings on the floor are common sites along the roadside or streets. Now you can adapt this style to update the look of your properties! Pour on yellow dyes over your concrete floor. A cool way to add a bright accent to a raw cement slab is with stained concrete.
Or, get an expert flooring contractor to help you plan a DIY 3D epoxy floor that bears the pattern of marbled gray and chrome designs over the floor's surface.
The shades of chrome also remind you of freedom and celebration! This is an excellent way to start the year.
3.Cool Tones
There is no other way to feel and see something fresh, incorporating cool color tones into your floors. If you are going to resurface your properties with any materials, choose from the extreme side of the color wheel.
Light shades of blue, green, and purple are trending. It was rare to find cool colored floors for fear of making them prone to stain. Achieve this with contrite sealers to protect the surfaces of your floors.
Tiled flooring will also go well with these themes. Tiles and concrete are suitable materials for your kitchens or bathrooms. Create a reminiscent of the ocean inside your residential or office spaces since going out to travel to the sea seems limited these days.
4.White and Washed for Calm
Design your floors with themes and patterns that help calm the mind. Whitewashed materials such as tiles, vinyl, and stained concrete flooring make a delicate texture to flooring surfaces. Trending today is creating clear and peace-inducing spaces.
Creating subtle texture will go well with these light-based surfacings. Blonde colored tiles or vinyl mats redesigning your office or bedrooms fantastically. White spaces invite you to relax with having nothing to think about.
Eliminate clutter by changing the pigments on your floors. Then, finish it with clear coatings for an appealing look. Or you can also DIY a concrete floor in your properties.
Acid-stained concrete floor produces a matted, white stained surface. It emerges a marbled-like pattern that accents the concrete surface.
To turn-up the floors with a clean and calming design, you need to empty your space. This is the perfect time for you to clear up your rooms. Throw away old stuff that only adds to your worries and inner noise. No better way to welcome a new start than this.
5.Extreme Contrasts and High Variations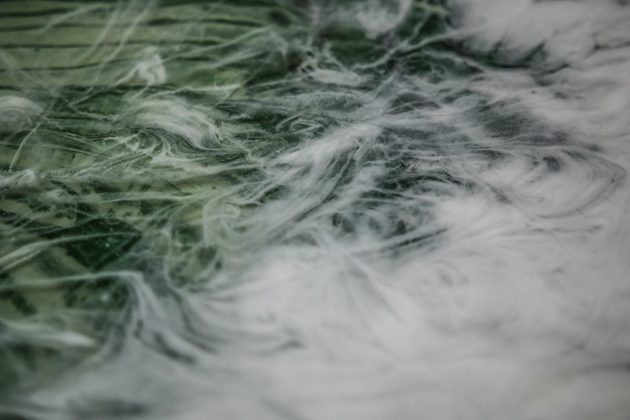 Image source: Unsplash.com
As mentioned in list #1, coupling two shades from opposite sides of the color spectrum is trending. Flooring materials like wood or composite wood make great patterns to reflect deep contrasts. Another concept is going for black and white.
Remember the optical illusion floors? Brace yourself for how these 3D patterns will emerge from the floors. Combining varieties of contrasting is epoxy's expertise. You can create dual tones of metallic flooring. Or, replicate the marble patterns when you splatter two pigments while letting an epoxy flooring cure.
Chessboard patterns or checkered floors are also trending. You can incorporate this in your tiles or 3D print an image for epoxy flooring's design coat.
6.Natural and Straightforward Look
The first five listed above focused on playing and incorporating color themes. Now, expand your flooring ideas with looks and textures.
Natural stone-look is coming this new year, to your floors. Cement's creases and cracks are now a fashion. Interiors with concrete surfacing will significantly benefit from this idea. Flooringinc listed that for this 2021 trending designs will be the stone look, marble look, and wooden look.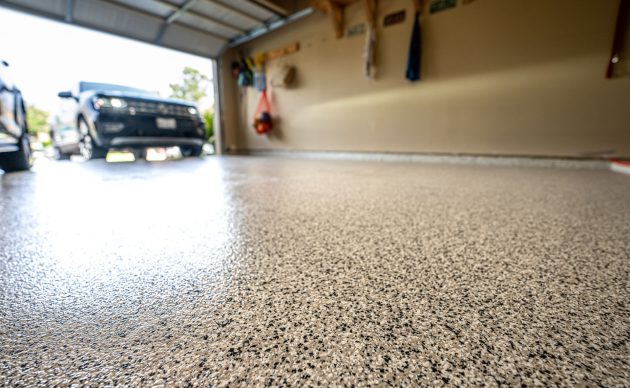 Image Source: https://www.kansascityepoxyfloors.com/
These are natural materials that make their pure appearance as a decorative accent. For textures, there are now varieties of flooring patterns that you can experiment with. Have you heard of distressed, hand-scraped, and frieze?
If you have materials such as tiles, wooden floors, and concrete, you can apply this unique and modern finishing to your properties' surface. These designs incorporate innovative technologies to produce distinct layers over the footings that you walk on.
These finishing applications are made to work with various durable flooring solutions. They create simple, straightforward textures that do not require intricate patterns to serve as a decorative surfacing. There is no way you'll make a lousy start when choosing concrete floors for remodeling your properties.
7.Linear Formats and Patterns
Now, let your attention turn to the exterior extensions. Linear and solid lines will look appealing for the patios, facades, entryways, or driveways. If you got exterior concrete in your residential or commercial properties stamping or scoring the top of the cemented steps is a quick way to revamp their look.
Adding bold solid lines adds a clean perspective. It will only turn the heads of guests or visitors for stunning clear cut outlines of the front steps. The driveways will also be a structure of luxury if you pay attention to designing them.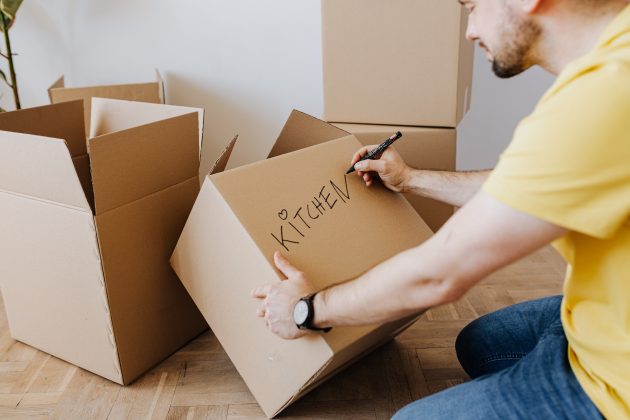 Image source: Pexels.com @ Karolina Grabowska
Final Note
If you notice, a common theme resonates in the list above. To start fresh this year, you need to flip around your old styles and give way to designs that encourage clarity, organize space, and live in peace and simplicity. If you've embraced these concepts well after reading this, then you're good to go! Step out and welcome the coming new year!