Your house is supposed to be your retreat from the stress of the world. But if you're living in cramped quarters with the rest of your family, it can feel anything but carefree.
Thankfully, there are numerous space-saving features you can use to create breathing room.
Clever Space-Saving Ideas
If your house is feeling cramped and crowded, you really have four different options to choose from:
Live with it. You don't technically have to do anything about it. You can just suck it up and deal with the fact that you're cramped. After all, by historical standards, you probably have more square footage per person than almost anyone that came before you in your family line.
Sell the house. The second option is to sell the house and buy something that offers more space and a better layout for your family. This is definitely the most expensive option, though.
Add on. The third option is to add on and remodel. Whether it's reconfiguring the existing layout or building an additional room, there are typically ways to create more space without having to sell your current home.
Work with what you've got. The least expensive, fastest, and most reasonable option for most families is simply working with what you've got and integrating clever space-saving features into the property.
If you want to deal with it, sell your house, or invest in a remodel or addition, there are plenty of resources out there to help you accomplish your goals. However, in this article, we're going to focus on the fourth option of working with what you've got and integrating space-saving features into your existing layout.
Depending on your budget, style, and needs, here are some different ideas to consider:
1.Functional Furniture
Furniture typically serves a visual purpose, but it doesn't always get used. You probably have a favorite sofa or chair, but most of your furniture is just there for looks. What if you could give it some more functionality and create more space in the process?
Shop around for coffee tables that double as storage compartments, nesting tables, nesting dining room chairs, and other versatile pieces. This will save you space and allow your home to feel less crowded.
2.Murphy Beds
If you have a growing family, you're probably trying to figure out ways to be creative with bedrooms. One option is to install a Murphy cabinet bed.
While most traditional Murphy beds pull down from the wall, the Murphy cabinet bed pulls out from a cabinet. It's perfect for creating a versatile space that functions as a living room or office in the daytime and a bedroom at night.
3.Lofted Bedrooms
In tight bedrooms, consider lofting your child's bed. This helps reclaim square footage and gives you the flexibility to utilize the space that was previously taken by the bed. Whether it's a desk, play area, or space for a dresser, a lofted space like this can make even the smallest room feel large.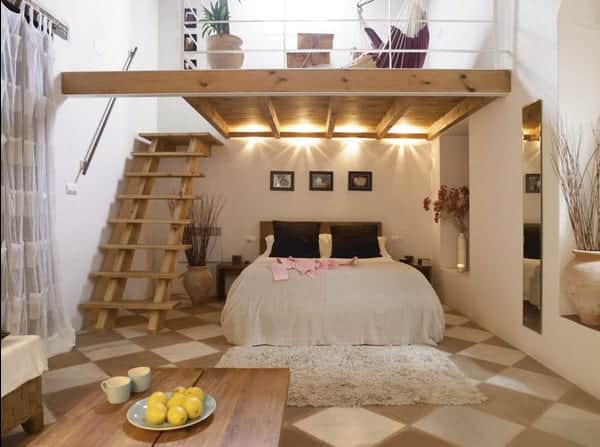 4.Clever Kitchen Storage
Declutter your kitchen by using clever storage options. For example, you can install spacious sliding drawers inside of your cabinets to make room on your countertops. This may include pullout storage for wine and liquor, cooking essentials, or even a garbage can.
5.The Illusion of Space
Sometimes you just feel cramped. In other words, there's plenty of physical space for everyone. It just seems like it's small and crowded. In these cases, creating the illusion of more space can do wonders. Here are some ideas:
Install more mirrors throughout the home. Mirrors not only reflect light, but they create a sense of depth, making the space feel larger.
Paint walls white or a very light pastel. Light colors reflect light and make a space feel bigger.
Use furniture and wall decor to stretch the eyes up. Vertical mirrors or tall chests help stretch the room, whereas horizontal wall decor and long furniture keep all of the focus at eye level.
Keep flooring the same from room to room to establish a sense of visual continuity.
Adding it All Up
It doesn't matter if you have a 900-square-foot loft or a 4,000-square-foot estate. Integrating space-saving features such as these into your home can help you create more room for your family. Try a couple and let us know what you think!