Only true-blooded book lovers like you will know how satisfying it is to have the perfect spot at home just for turning pages. You surely look forward to every trip to the bookstore, knowing that you can get lost in every chapter on your make-believe world, as you snuggly curl up on your favorite corner of the house. If you're a bookworm and you still don't have a cozy reading nook in your space, you're missing half of your life.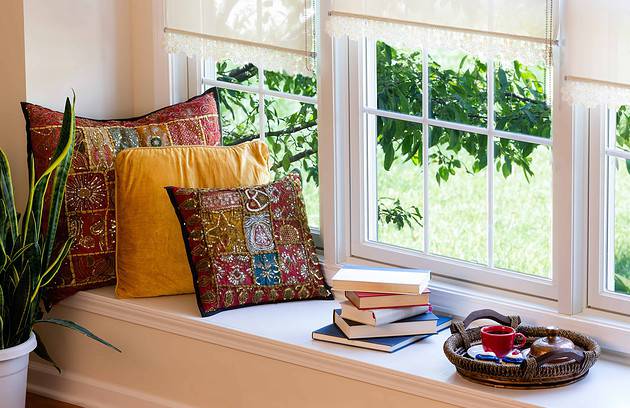 But don't worry, it's still not too late. You're lucky because there are more than enough references, tips, and inspiration you can find online to create an ultimate reading haven at home. So, get yourself busy and start working on this dream project that's been long overdue. The following tips should help you out in turning your vision into a reality:
1. Transform An Existing Space
Not everyone is lucky enough to have extra space at home for any purpose they want to use it for. If you don't have a spare room, that's okay because you can still turn to an existing space that you didn't know you had. It'll be a shame not to use what you have, especially when you know you can put that little abandoned corner into good use if you want to.
All it takes is a bit of creativity, a little elbow grease, and some good DIY-ing prowess to get the ball rolling. You can think of a theme you want to incorporate for your cozy nook and throw in all the essentials you need.
Start with a Neck Roll Pillow that'll make you more comfortable as you browse through the pages of your favorite novel. Don't forget to add enough lighting fixtures, such as a sturdy table or floor lamp by the corner. You can also add stylish decorative elements to the wall and ceiling if you want a homier feel.
If you like reading together with your significant other, make sure there's enough space for both of you. You don't want your partner or other family members to feel left behind when you're all done with the transformation of your quiet space. A loveseat could be the perfect addition to make it look more 'for two.' if you have a pretty big family, you can add more cushions, mini couches, and lamps to accommodate everyone.
2. Adopt A Theme
Whenever you think of a cozy reading nook, what do you have in mind? For sure, you want a comfortable and enchanting spot as you're hooked to whatever you're reading. If you wish to attract other family members to be into reading, why not adopt a theme that'll draw them in?
Perhaps you want your children to be just like you—a certified bookworm. If so, try and envision what theme would probably make them more interested to come inside the nook and spend a few minutes there. Before you know it, those few minutes are starting to turn into at least an hour.
Maybe they'll be more inclined to read if the nook presents itself as a castle from a faraway land. You can also design it as an enchanted forest full of mysteries and hidden messages. You can get as playful and creative as you want, whatever it takes to lure the young minds in. Put fresh flowers for a full-on forest appeal. You may also add scented candles to set the mood.
3. Throw In Lots Of Pillows And Cushions
Pillows aren't just made for sleeping. You can count on these small yet useful accessories to make your reading sessions comfier and more relaxed than ever. A Lavender Pillow, for example, is softer and more luxurious that you won't notice you've been spending hours turning the pages of your latest collections. You can also add a few pieces of throw pillows to make the couches and benches feel softer.
If you're like some people who read before bedtime to make them fall asleep easier, placing lots of pillows and cushions in your reading nook is a good tactic. Your kids can even join in on the fun, making the spot their favorite when it comes to reading bedtime stories. You might be surprised by how they'll find it easier to feel sleepy, especially if you have aromatherapy scented candles and pillows like Lavender, Chamomile, and Aloe Vera.
Lavender pillows, as mentioned, are softer, but what's more, they can also encourage relaxation and sometimes even alleviate migraine. If you want to learn more about this type of pillow, you can watch this video:
4. Turn The Playroom Into Something Book-Worthy
It's common for households to have a playroom, especially if you have more than two kids in the family. Your children may be enjoying what the play area has to offer, but it doesn't mean you can't add a little twist to that existing space. You can turn the playroom into something book-worthy by adding a few elements here and there that'll magically transform the spot into a mini-library.
You can put a small wooden table that's just enough for the kids to feel like they're just playing. Add enough wooden chairs that you can paint in vibrant colors to make the setting look more appealing to their curious minds. Then, you can install a mini shelf by the wall where you can display different books that you know will catch their attention. Doing this will instill a culture of reading in their young minds, and hopefully, they can get accustomed to the habit and adopt it as they grow up.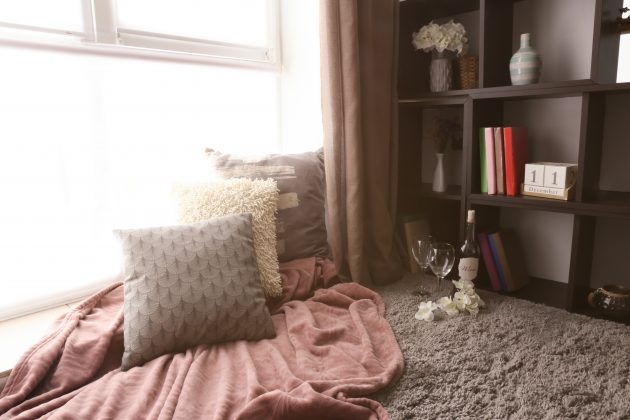 5. Hang A Hammock For The Ultimate Cozy Ambiance
Hammocks are quite notorious for making any given space feel instantly cozy. They're not even that expensive to begin with, which makes them the ultimate accessory to complete your reading nook. You can choose the design, color, pattern, and size depending on your preference and what theme you've decided to have for your custom corner.
Don't forget to incorporate soft textiles and materials if you want to put more emphasis on your hammock. Plush carpeting, soft couch covers, and velvety mats are some ideas you can try to achieve the ambiance you're yearning for. You may also add a pop of color depending on your personal preference. Some go for a pastel theme, while others like vintage and elegant styles for a more classic feel.
6. Make It Usable For Other Purposes Too
A reading nook can also be turned or used for other purposes, such as studying. If you have enough space, you might want to add a study table with several drawers and compartments where you can keep school stuff and accessories. Fill the cabinets and shelves with countless books to make you want to hop from one book to another when you're done with school work.
The same concept works for your kids too. Maybe they like to draw or write poems. They can use the nook whenever they feel the need to get their creative juices squeezing out. However, be sure to draw the line on what they can and can't do when inside the reading nook. For example, you may not want to allow them to play video games inside the spot, or else they might utilize it for that purpose and no longer for just reading or studying alone.
7. Add A Fireplace
There's nothing more inviting than a reading spot that's warm enough despite the freezing weather outside. If you want to keep on enjoying your books without any interruption, you might as well ensure there's enough heating source for you and your other book-loving family members. In this regard, adding a fireplace (even just a small one) could do wonders.
Better yet, if your bedroom or living room already has an existing fireplace, consider setting up the nook just right in that corner. All you need to add is maybe a cozy reading chair, couch, or ottoman that you can place by the fireplace. Don't forget to pile it up with plenty of pillows and thick blankets for a more picture-perfect afternoon or evening with your latest bookstore steals. And, of course, be sure you have a cup of hot cocoa, tea, or coffee just within your reach.
8. Get On The Floor
Sometimes, it's more inviting and cozier if you'll forego the sofa and sit or lay on the floor as you read. This trick works perfectly if your corner doesn't have a lot of space for furniture. You can simply add cozy carpeting details and, again, plenty of pillows and whatnots. You see, pillows are a deciding factor if you want to set up a cozy reading nook at home. They can be the missing piece of the puzzle if you're not sure what to add or put in the space.
Floor pillows would be more than enough to create a homey floor seating scenario for your reading area. Make sure they're soft enough to support your weight as you sit or lay on them. You may also consider adding bean bags that are stackable and easy to maintain. If you wish to add a pop of color, choose different shades and patterns for the pillows, carpet, and bean bags.
9. Don't Forget The Wall Situation
As you focus most of your effort on setting up the floor, lighting, furniture, and pillows, don't forget that you also need to take care of the wall situation in your reading nook. If there's empty wall space, you can very well use that to add more style and personality to your snuggly spot. Here are some ideas you can use to spruce up the wall of your reading nook:
Hang family photos
Create a collage of all your favorite books and authors
Frame some of your beloved book covers
Curate a gallery wall
Play with prints and colors using wallpaper
If you intend to gift the reading area to your kids or teens, you may also ask them to decorate the walls with you. Maybe a splash of color won't hurt, especially if you think that'll add more personality to the corner. You can let the kids draw, paint, or color the wall as they please. If they're into artwork, they may also hang their masterpieces. They'll feel more attached to the area if it features a touch of their preferences and personality.
10. Use Natural Lighting As Much As Possible
Do you notice how you tend to be more productive when there's natural light coming into a particular room? That kind of works the same when it comes to reading anything, be it a textbook, magazine, or paperback edition. If you can set up a reading nook where there'll be a constant source of natural light, don't hesitate to choose that spot. Aside from saving on electricity costs, there's also something about sunlight that makes you feel lighter and more interested in finishing what you're doing.
Attics and outdoor spaces are often perfect if you wish to create a reading haven that receives plenty of natural lighting. If your attic has been around since forever, but you still don't know what to use it for, this might be the answer. Your porch or gazebo may also be an excellent alternative if your attic is no longer available for such a purpose. Just make sure there's enough shade so you won't get easily irritated by too much sunlight, especially early in the day until mid-afternoon.
Final Words
When it comes to setting up a cozy reading nook at home, the sky's the limit and your imagination can take you anywhere you please. Play with colors, patterns, textures, furniture pieces, and so much more. You can always mix and match depending on how you want to corner to feel and look like.
Don't forget to include your family members when deciding on a specific theme or décor, especially if you want them to enjoy the space as much as you absolutely will. So, what are you waiting for? Gather your DIY kit and let the transformation commence.