Dubai is considered by many to be the jewel of the Middle East. Here golden beaches, deserts, and a truly modern city come together, all while preserving the natural environment. It's one of the region's major ports, its primary international trading center and one of the key tourist destinations in the region. Despite allowing a westernized and modern lifestyle, the city still preserves its traditional Arabic heritage and culture.
Dubai offers a high quality of life, with its exceptional facilities and amenities, as well as many types of properties that you can buy or rent for an affordable price. It offers very strong opportunities for investors, being a highly desirable place to live combined with strong economic growth and property value appreciation in the long term.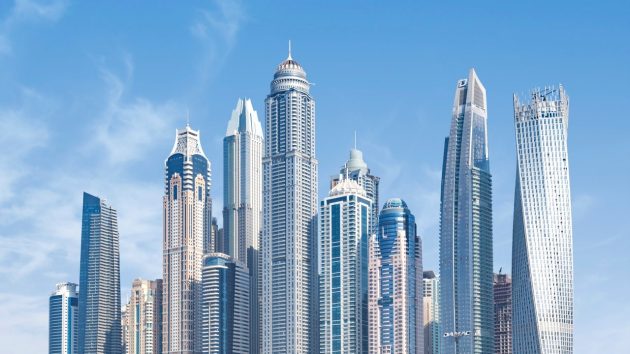 Different Property Types Found In Dubai
The main types of properties found in Dubai are:
Apartments – there are studio, 1-bed, and up to 6+bed apartments available and all basic facilities are available in each apartment. Other amenities and services, such as parking, ensuite bathrooms and building facilities depend on the price of the apartment.
Villas – there are 1-bed, 2-bed up to 6+ bed villas available in Dubai. These include a number of luxury villas with high levels of amenities. Middle Eastern and Mediterranean-style designs are common.
Townhouse – attached house with at least two floors. These are generally a higher price bracket than apartments in the same area.
Following a boom in through 2000s, prices overall in Dubai have plateaued in recent years. However, certain property types have continued to show growth in 2018 and into 2019, especially in particular areas. Studio apartments have seen increasing demand which has meant a rise in value for these kinds of properties across many neighborhoods. Equally, 5-bedroom villas have seen value increases recently in Downtown Dubai, Dubai Hills Estate, Jumeirah Park and Palm Jumeirah.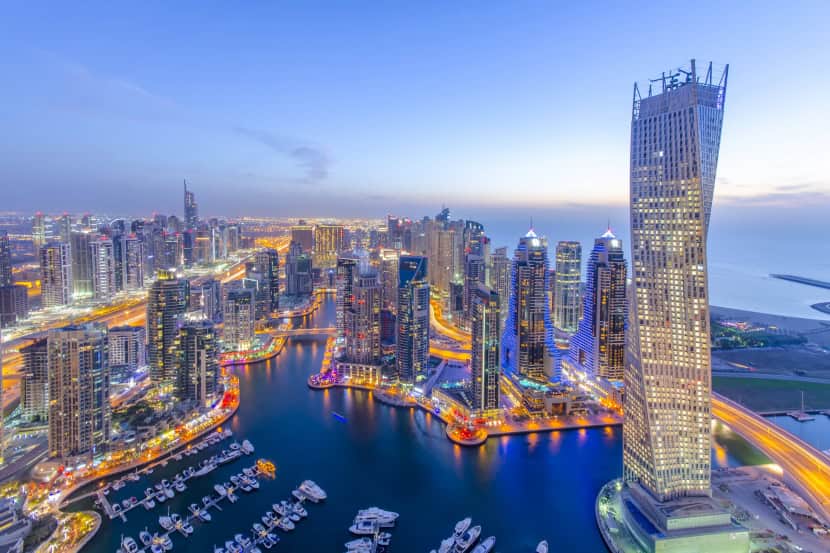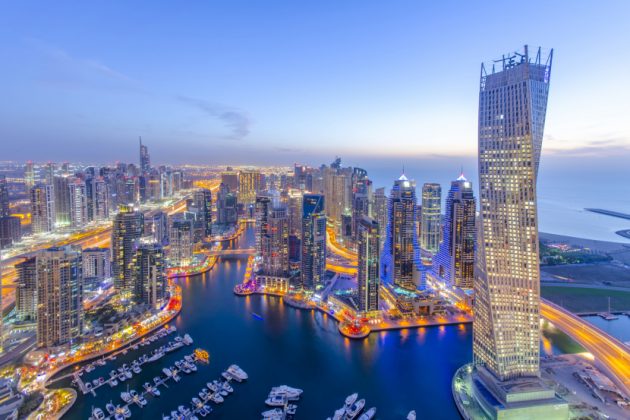 Best Areas For Property Investment
Bayut reports that Dubai Marina is the best place to invest in property in Dubai in 2019, with the highest potential for both rental returns and property value appreciation. Currently, investors see a return on investment (ROI) of 6.4% in this area.
The luxury high-rise apartments, serene villas, abundant dining outlets, and shopping malls have contributed to the growth in property values here in the last couple of years, as well as high rental demand. This is projected to continue throughout 2019 and beyond, particularly with major development projects due to be completed this.
Best Neighbourhoods to Live in Dubai
Dubai is a city of over three million people, which is spread out across a number of diverse neighborhoods. Because these various areas are quite different, it is important to research each to pick the neighborhood to live in which suits you the best. Below are some of the best areas both for quality of life and for investment.
Al Barsha is a residential area and is widely regarded as one of the best places to live in Dubai. All most every facility is available in this area, including many educational institutions, hospitals, and sports complexes.
Dubai Marina is also another good place for you to live, especially for young singles, couples and professionals. There are many luxurious apartments with waterfront views, shopping malls, and great restaurants.
Arabic Ranches is located in a suburb outside of the city. It offers a variety of villas at different prices, including some with beautifully landscaped gardens, generally at a higher price bracket. It's a calm neighborhood that is well maintained and the streets are full of trees. It consists of excellent schools, shopping complexes, a variety of restaurants and high quality hospitals.
Dubai sports city is a great area to live for people who engage in lots of sports and enjoy an outdoor lifestyle. A gymnasium, cricket stadium, golf course, and rugby park are some of the sports complexes. It's a quick drive to the Al Maktoum International Airport and it offers good living options at affordable prices.
Jumeirah lake towers (JLT) is located between Dubai Marina and Jumeirah Heights along the Sheikh Zayed Road. It consists of luxurious residential apartments, hotel apartments, and business buildings developed among 4 artificial lakes. Two metro stations, shopping malls, hotels, and excellent schools are some facilities available for residents.
On the other hand, Jumeirah village circle (JVC) consists of affordable apartments, villas and townhouses. Being neighbors to Emirates Hills and Al Barsha it attracts many home buyers and renters as residents because of the quality amenities it offers. The popular Safa Park and Jumeirah open beach are nearby.
Dubai offers a range of property types across its diverse neighborhoods, which are attractive not only for those wishing to live there, but also for property investors. A strong economy, projected growth, great facilities and high quality of life makes Dubai an ideal choice from both perspectives.