This stunning minimalist duplex penthouse is located in Netanya, a city in the Northern Central District of Israel. It occupies 3,200 square foot. The facility consists of a beautiful interior minimalist style with neutral and dark tones, and big glass walls allow light and relaxed atmosphere. The living room has a beautiful view of the sea, which is great for daily rest, and enjoy the night with a glass of wine. The main project is completed in 2011 by Architectural studio Domb Architects.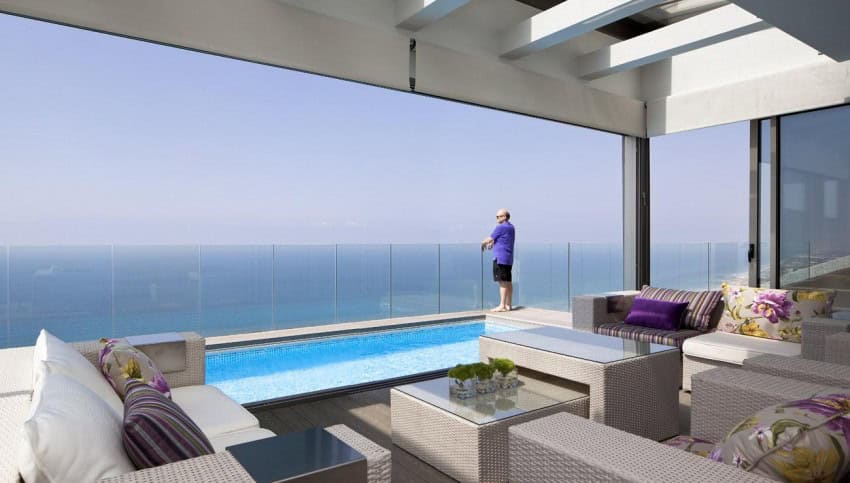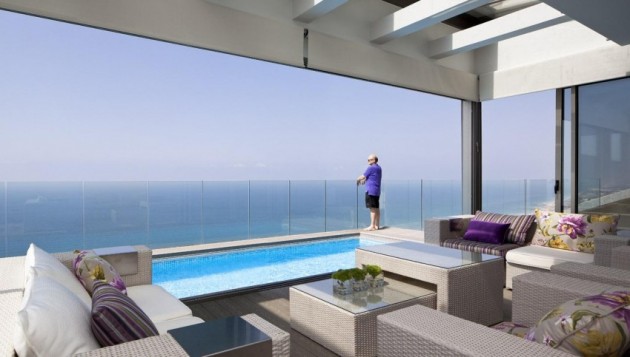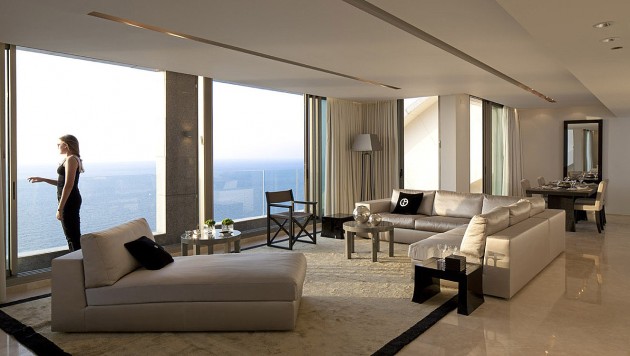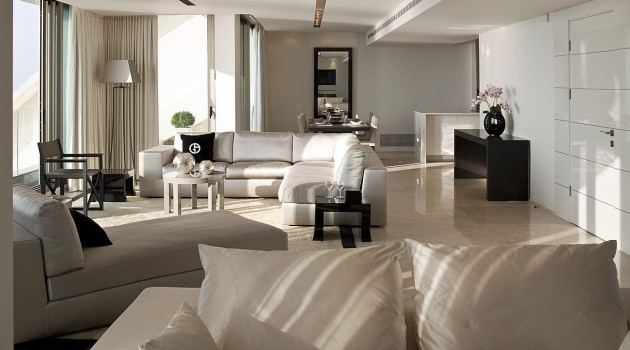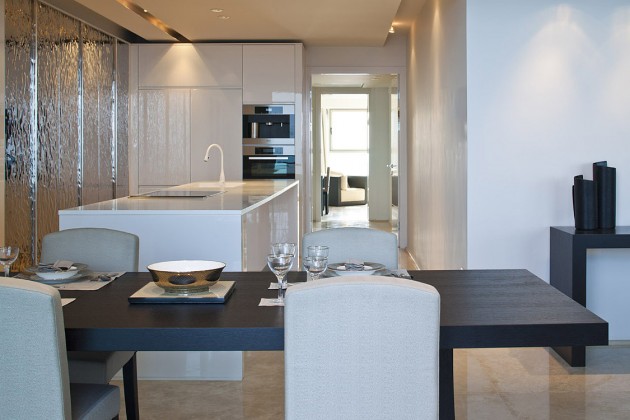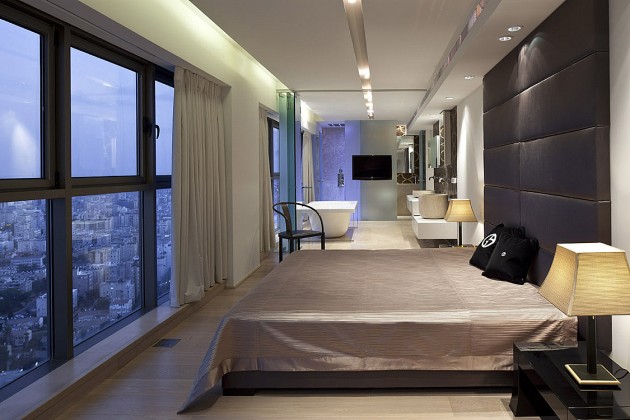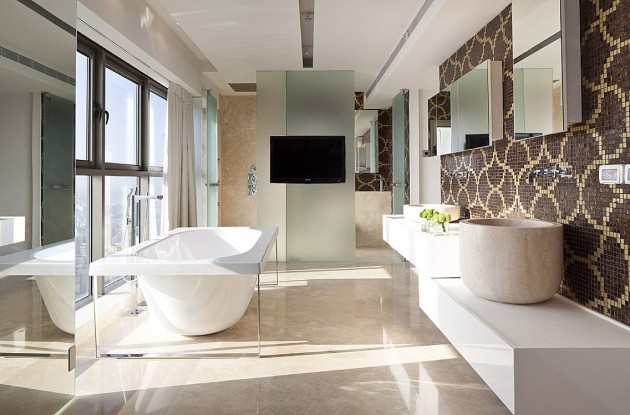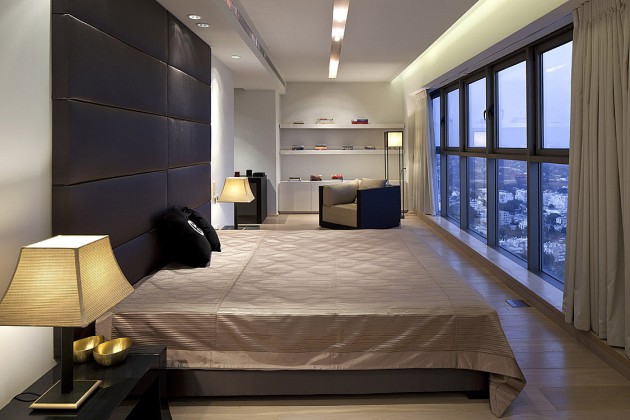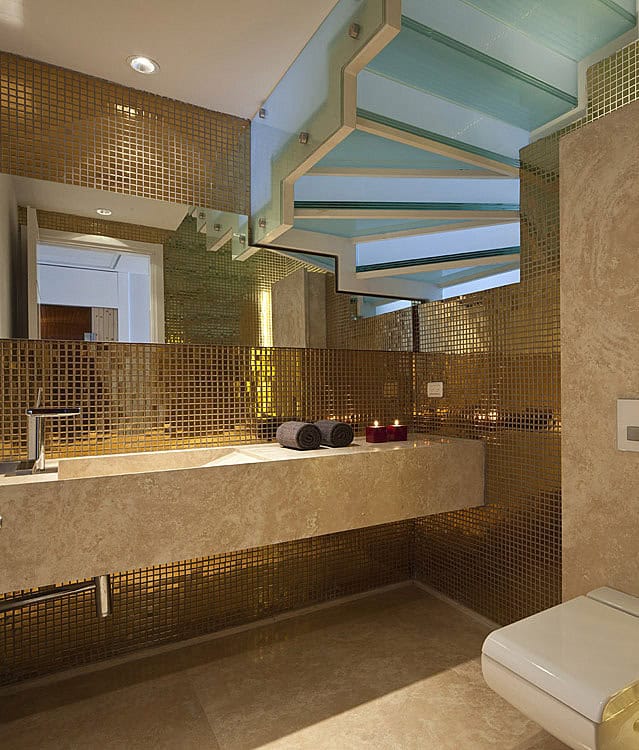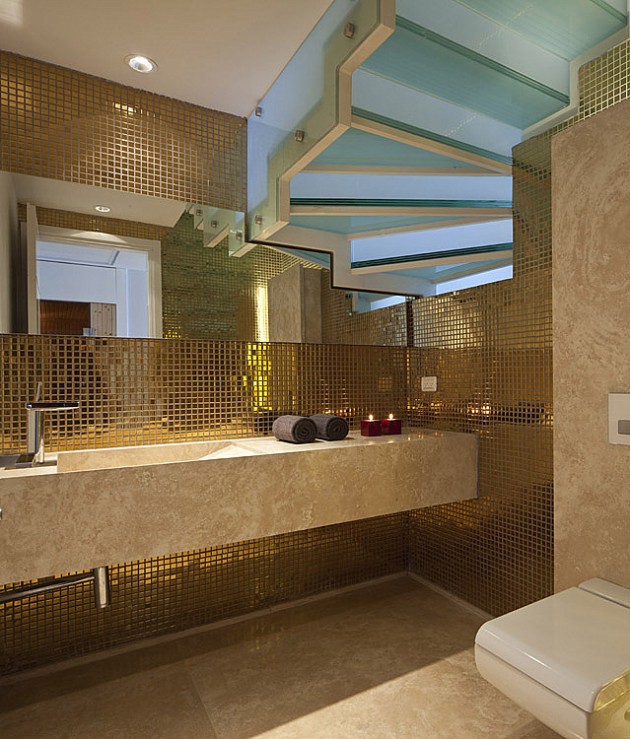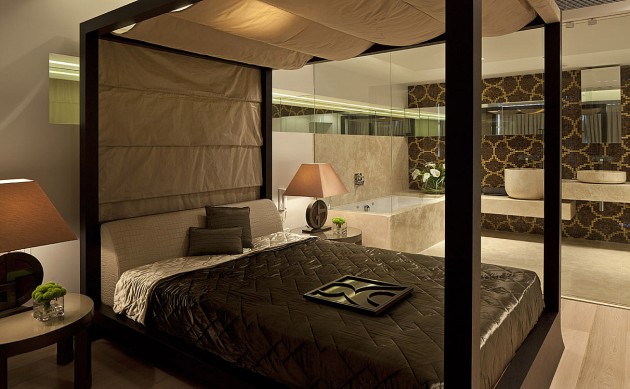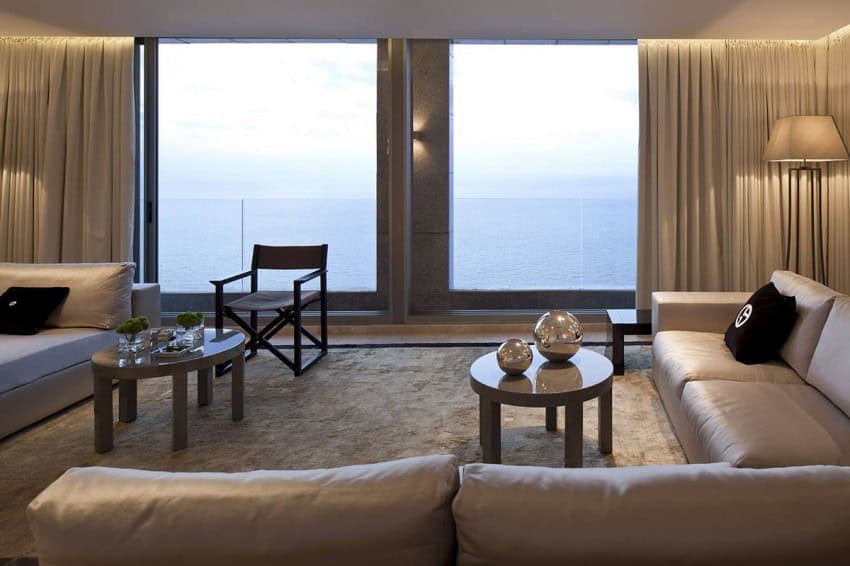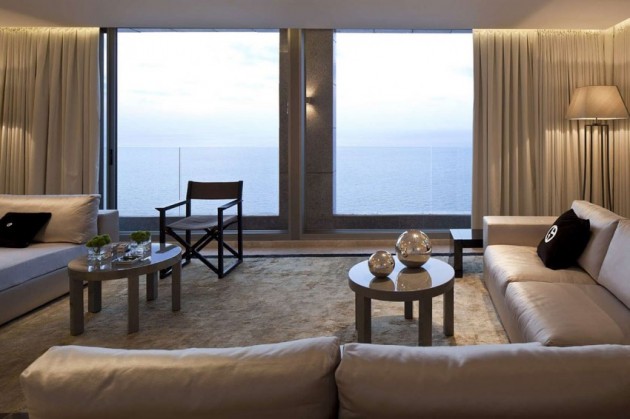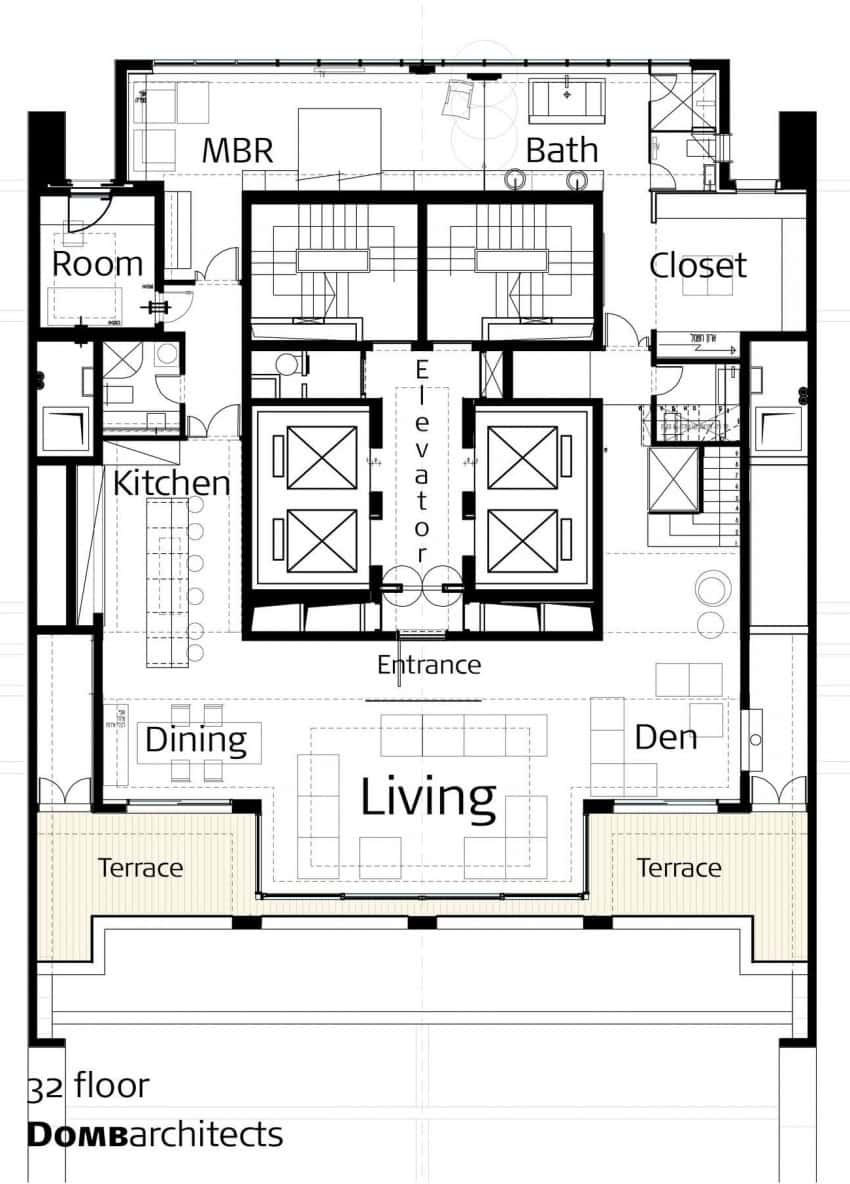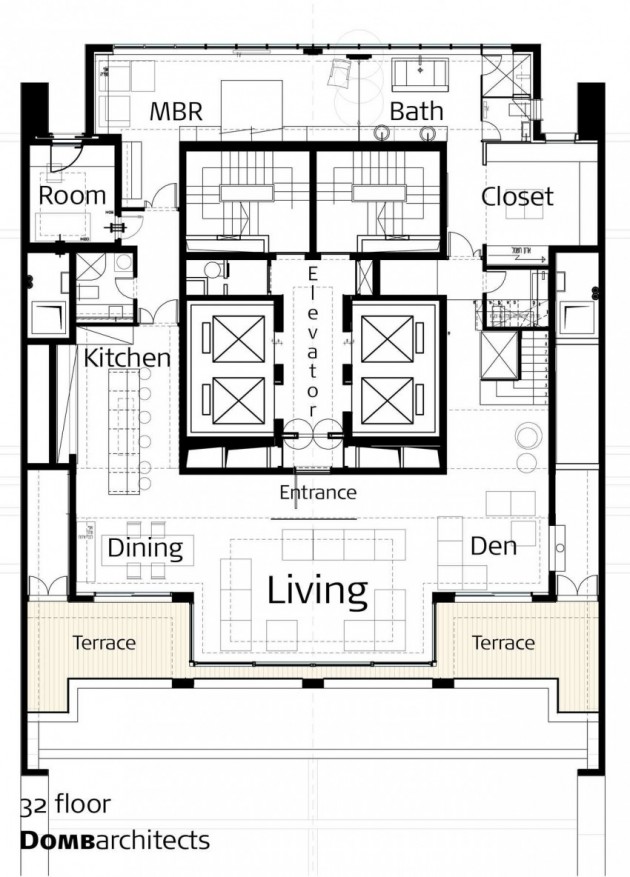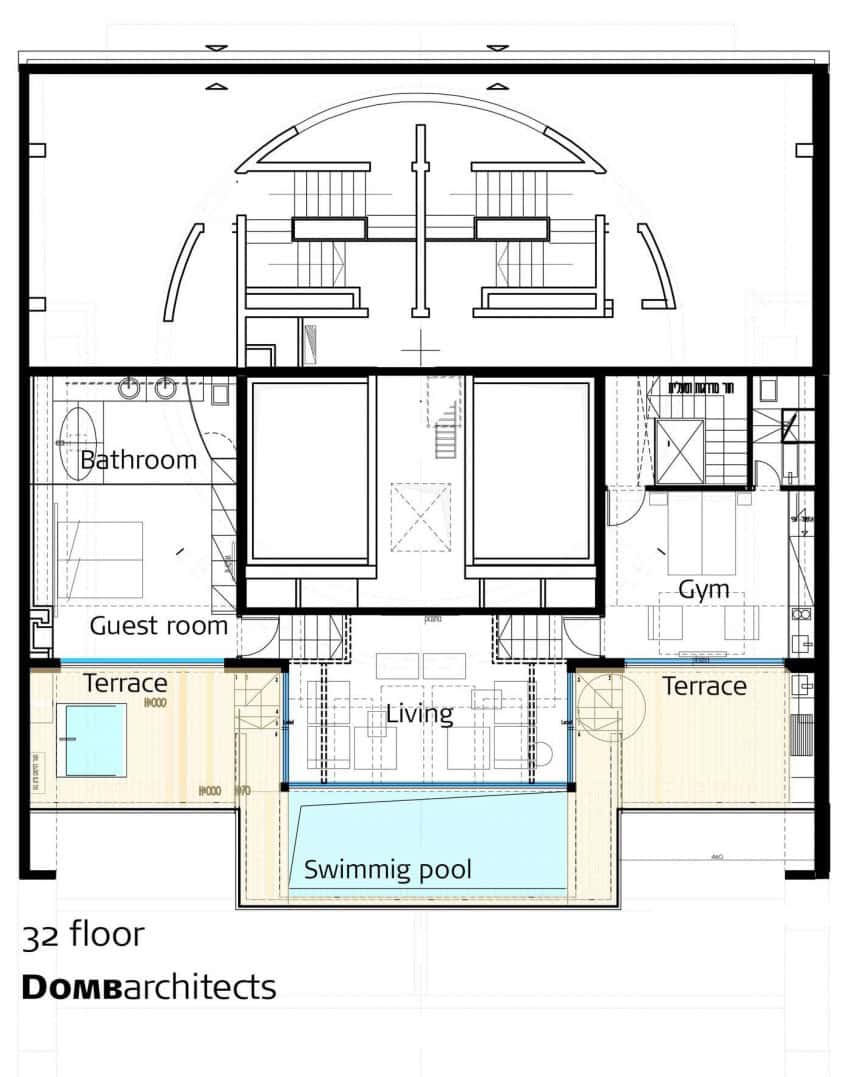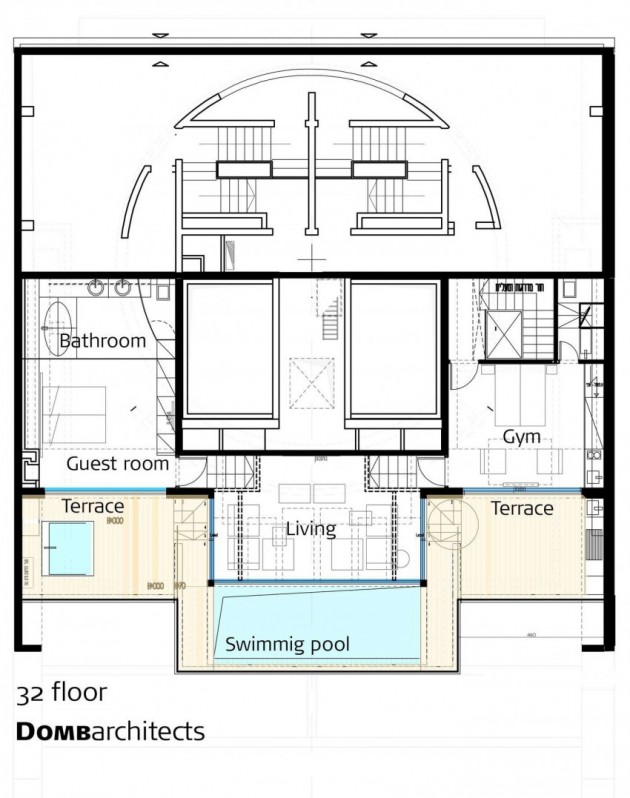 Opera Penthouse by Domb Architects:
"For the planning a unique Penthouse in "Opera On Sea" project in Netanya ISRAEL, was elected the office "Domb Architects" specializing in combined architectural and interior design using 3D software. A luxury residential tower located on a cliff facing the sea there is an exclusive penthouse on the 31st floor that creates a harmonious meeting point between sky and sea, overlooking the breathtaking Mediterranean Sea. Elevators bring you into a luxurious private lobby which does not imply a somewhat hidden behind the main door.

When opening the front door- reveals the amazing panoramic views of the sea. The building was designed centered on the public stairs and elevator shaft, and the apartment space -goes around it. The central space of the apartment has been designed as a large open space, facing west to the sea, and share the living room, family area, dining area and kitchen. The private area faces east. Two-ways entry allowing an easy access to it, cut off by doors to maintain privacy. The first entry goes into the kitchen area. Enter an intimate lobby that does not reveal what's hidden in the back. A luxurious sitting area welcomes the amazing suite which overlooks from the heights, the roofs of the city and the sea. The bathroom located on one side, as an integral space of the bedroom – but with a partition that allows disconnecting it- if necessary. The bath was placed freestanding- kissing the sky. Two marble sinks piece above bathroom furniture-is a work of art. Functions are designed for intimacy, with a large and luxurious shower room and independent services. A spacious walk-in closet located on the second exit of the room. Next to the closet designed intimate sauna room.

A Central transparent staircase with private elevator, leading to the roof – Floor 32. Entering into a spacious gym with kitchenette and bathroom. Dual purpose room can be used, when necessary, as additional suites. Another living area, on the higher level brings it overlooks the sea, Located at the poolside terrace, looking at skyline. A luxury guest suite with four-poster bed and luxurious bathroom- located aside the pool. The whole house was furnished by "Armani Casa" with an emphasis on the use of warm and soft tones-to keep the intimacy, and to emphasis blue shades of sea and sky. "
Photos courtesy of Domb Architects