It started a number of years ago, and while open plan living has seen a little bit of a stutter over more recent times, it's still an almightily popular choice amongst homeowners.
Suffice to say, there are slightly different rules when it comes to this way of living though. Through today's article, we will take a look at some of the so-called golden rules that your space must abide by if you have opted for the open-plan route.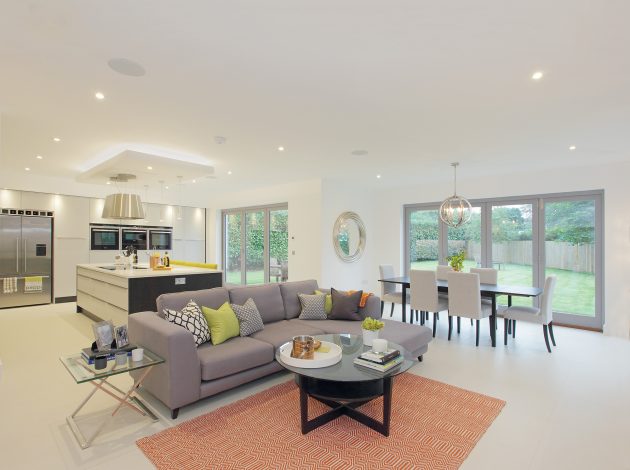 Be shrewd with zoning
The basis of open plan living is that walls are a thing of the past. Your dining room, living room and kitchen, or a combination of the above, are blended into one.
However, just because walls no longer exist, it doesn't mean to say that you can't create 'zones' by other means. After all, each of these rooms serves different purposes and in some ways, has different requirements. Ultimately, you shouldn't be concerned about creating more discreet zones, whether it's by using different color walls around each part of the room, or even turning to different flooring types.
You don't have to stop at color, either. Some people will use different texture to create these zones and achieve a similar effect.
Your lighting: this isn't one room
A common mistake we see time and time again with open plan living is treating it as one room. This could not be more wrong when it comes to the lighting. Resist the temptation to place the same spotlights everywhere; these are different spaces and have different lighting requirements.
For example, if you have an open plan kitchen-living room, understand that your kitchen is usually quite a functional space. You'll need task lighting; the type that will illuminate the surfaces you are about to work on. Then, when it comes to the living room, you'll probably turn to something more decorative.
Furniture proportion is key
You might have jumped on the open plan bandwagon, but there's one problem – your furniture doesn't work for the layout.
Quite often, furniture looks too small. It's been thrust into a much larger space and as such, it can feel utterly out of proportion.
This is where you need to take extra care with your furniture choices. Have a look at larger furniture, such as this dark wood dining table, as this will allow your room to feel much more in proportion.
Consider the sound
Something that a lot of people forget about is soundproofing. In a so-called traditional home, you'll tend to find people located in various rooms in the house. One person might be in the kitchen, another might be watching television in the living room, while another could be reading in a corner somewhere else.
In open plan living, everyone can be combined in the same space. This has obvious social benefits, but from a soundproofing point of view there can be a lot of noise. This is where it's crucial to think about a soft floor, and heavy curtains, which can absorb the sounds of people wandering through the room.