Dubai Marina is a vibrant tourist hub and a dynamic neighborhood with many unique residential properties. Located at the world's largest artificial marina and with the appropriate name, residences at Marina Gate in Dubai Marina, UAE, are one of the most outstanding real estate projects. Marina Gate consists of two residential towers and one hotel tower with serviced apartments. The developer of this project is Select Group, one of the leading development and investment companies in the United Arab Emirates (UAE).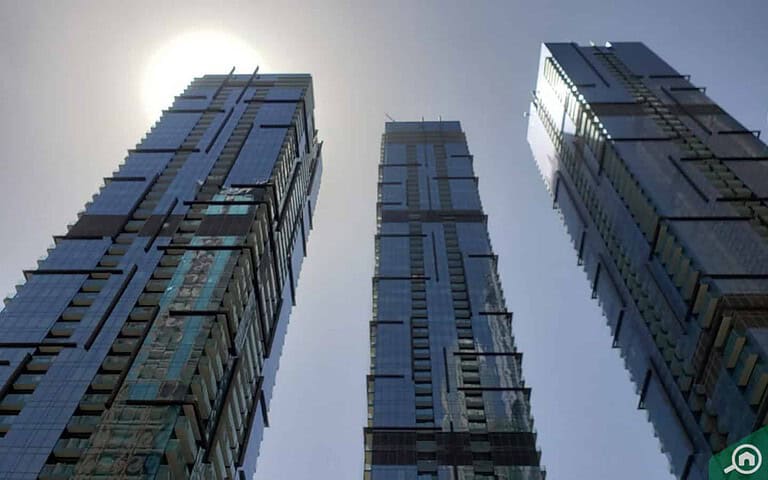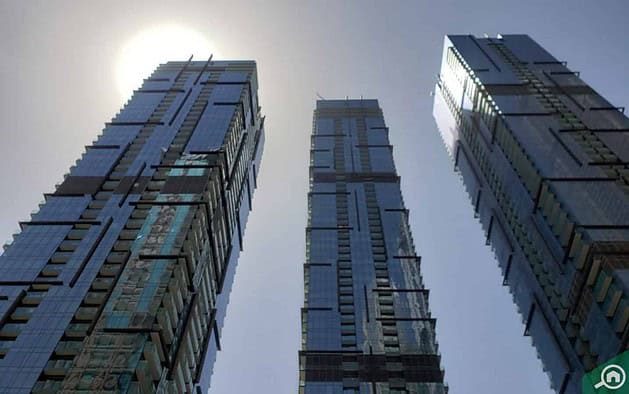 In a nutshell
A complex of buildings consisting of three towers;
It offers a wide selection of residential properties;
Tower 1 is 677 feet tall and contains 52 floors above ground;
Tower 2 is 846 feet tall and contains 64 floors above ground;
Tower 3 has a height of 736 feet and 56 floors;
8 elevators in Tower 1 and 9 elevators in Tower 2, includes a separate service elevator in each tower;
A picturesque podium with paths connecting the towers;
Commercial real estate is located on separate levels;
Houses with podium villas;
Jumeirah Living Marina Gate Hotel Apartments;
There is an infinity pool with controlled temperature;
Near The Walk in Jumeirah Beach Residence;
Near the Marina Towers transport stop;
Spacious parking for both residents and guests.
About Marina Gate, Dubai
Launched in 2014, these towers were divided into 3 stages.
The first phase included the construction of the 677-foot-tall Marina Gate 1 tower, which was completed in 2018. The second phase of construction began in 2016 and included the construction of Marina Gate 2 with a height of 846 feet, which is under construction. The final trio, the 736-foot-tall Jumeirah Living Marina Gate, is a new building run by Jumeirah Group International, an international luxury hotel chain.
The modern look of the complex is the construction and architecture of an international standard with advanced glass, steel and concrete forms. The architect of the iconic Marina Gate design is Aedas. The curtain walls/cladding of the buildings were provided by Cladtech International LLC (CTI), a well-known facade manufacturer.
The flagship Marina Gate residential project with 3 towers offers an impressive selection of properties for rent with ownership, such as studios, apartments with 1-5 bedrooms, serviced apartments, penthouses and villas.
The 3 towers are connected to each other by passages through a terraced and 8-level podium. A shopping center with about 50 retail outlets, a supermarket, salons, a gym and sports complexes will be located on several floors. There will also be over 1,400 villas and recreation areas decorated with trees on the podium.
The complex overlooks the Persian Gulf on one side and borders the picturesque marina on the other. Marina Gate is also located near the bridge connecting the mainland with the island development. It also gets access to one of the recently opened public transport stops.
Amenities at Marina Gate, Dubai
The complex is equipped with comfortable amenities for a high-end lifestyle.
Parking
Parking at Marina Gate does not become a problem for residents, as there is a vast territory for about 500 cars. Marina Gate also has GreenParking, a leading parking management system that provides parking guidance, reservation and valet services, as well as electric vehicle charging stations for both visitors and residents.
Elevators
Marina Gate 1 has 8 high-speed elevators and a special service elevator. Marina Gate 2 has 9 high-speed elevators and an additional service elevator. The whole complex is wheelchair accessible.
Security services, central air conditioning system and maintenance
Some indoor amenities are video surveillance and access with a key card. Marina Gate also offers paid cleaning services such as ironing, laundry and dry cleaning. The complex is non-smoking, but it also has a smoking area specifically dedicated to this.
Sports and fitness
The complex will have several recreational and wellness centers. This is a full-size basketball court and a state-of-the-art 2-level fitness center with the latest sports equipment, a hammam and sauna. There are well-lit squash and paddle tennis courts for the championships. On the podium, there is a well-maintained infinity pool and a separate pool for children. Marina Gate Hotel also has a children's playroom.
Leisure amenities
One of the best features of Marina Gate is the direct access to Marina Walk, one of the best holiday destinations in Dubai. Surrounded by the sea, this pedestrian promenade is filled with speedboats and luxury yachts throughout the day. Moreover, it has many restaurants and cafes. In addition to excellent outdoor food, residents can go for an evening walk, take a morning jog or ride a rented bicycle.
Concierge and guest services
Marina Gate provides concierge services 24 hours a day. Wireless internet access is available in each zone free of charge.
Layouts in Marina Gate
The residential units in Marina Gate have different layouts and configurations. These options are available to residents and guests of this apartment building:
Studio apartments consist of 2 different types.
1-bedroom apartments are presented in 5 different types.
2-bedroom apartments consist of 7 different types.
3-bedroom apartments of 4 different types are available for residents.
4-bedroom apartments are of only 1 type.
Types of apartments in Marina Gate, Dubai
The 52-story Tower 1 (Marina Gate 1) building with a height of 206 meters, including more than 800 ready-made apartments, was completed first. The total area of all residential properties in this tower is 1,139,500 sq. ft.
The tallest of the three, the 66-story Tower 2 (Marina Gate 2), has a height of 256 meters and has a total living area of 1,346,500 sq. ft. Of the 535 apartments, 511 are apartments, and eight are villas. The third of the towers, Jumeirah Living Marina Gate (Marina Gate 3), consists of 56 above-ground floors and rises to a height of 736 feet. The complex can offer 389 private residences, 104 hotel apartments and 15 villas.
The apartment has many details for a comfortable life, such as built-in wardrobes, hypoallergenic non-feather pillows, a clothes dryer, a clothes hanger, a flat-screen TV, a refrigerator, a coffee machine, and dishes.
Conclusion
Residences in Marina Gate are a combination of cutting-edge technologies and well-thought-out interior design. Everything here is created for a comfortable life, and the convenient location is ideal for living in beautiful Dubai.
Start picking up a property in Dubai
Development projects of new buildings and ready-to-move apartments are available at https://www.axcapital.ae/.