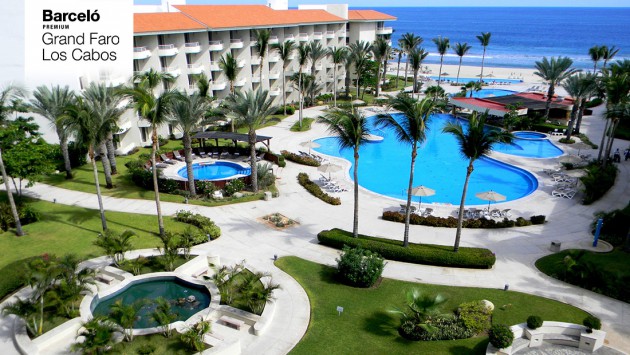 Los Cabos is situated at the Southern end of the Baja California Sur, Mexico, which covers an area of 3,750.93 km2. It encompasses of Cabo San Lucas, San José del Cabo and the Resort corridor in between the two. Los Cabos is famous for its beautiful climate and geography with sport fishing, luxurious all-inclusive resorts and golf, which makes it one of the prime destinations for honeymoon or family vacations. Read on for the best places in Los Cabos,
"Arch of Cabo San Lucas"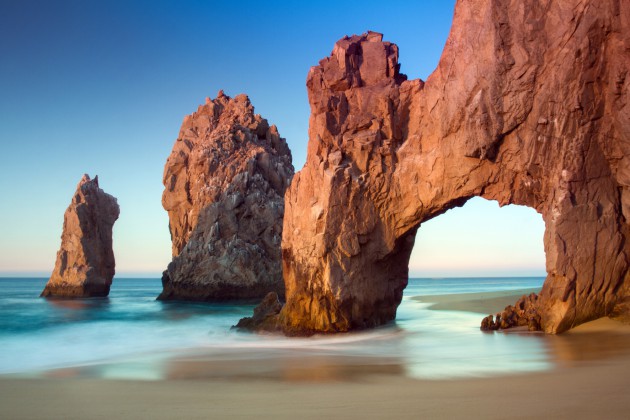 The Arch of Cabo San Lucas is a three stories tall distinctive rock formation which erupting out of the ocean likes an arch. It is located at the Southern tip of Cabo San Lucas which is locally famous as El Arco de Cabo San Lucas. This place is a tourist attractions and one of the important places to visit in Cabo San Lucas. To reach here you can hire a boat taxi from Cao San Lucas Marina, where in the journey, you can enjoy the view of the arch along the way. Tourists can also witness sea lions here, as this place is a popular gathering area for sea lions.
"Playa del Amour"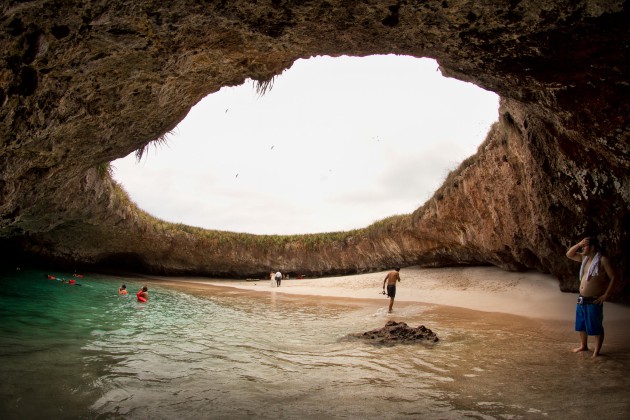 Playa del Amour which is also famous by the name of Lover's Beach, is an amazing beach situated several meters inland on Marieta Islands. The archaeology of Marieta Island is come into existence because of volcanic activities. This beautiful hidden beach is a unique natural wonder, which tourists must visit. It's a great place for sunbath, snorkeling, swimming and picnic. The government of Mexico has declared this place as a Natural park, so it's totally an uninhabited place. To visit this place you have to hire authorized boat service providers.
"Playa Solmar"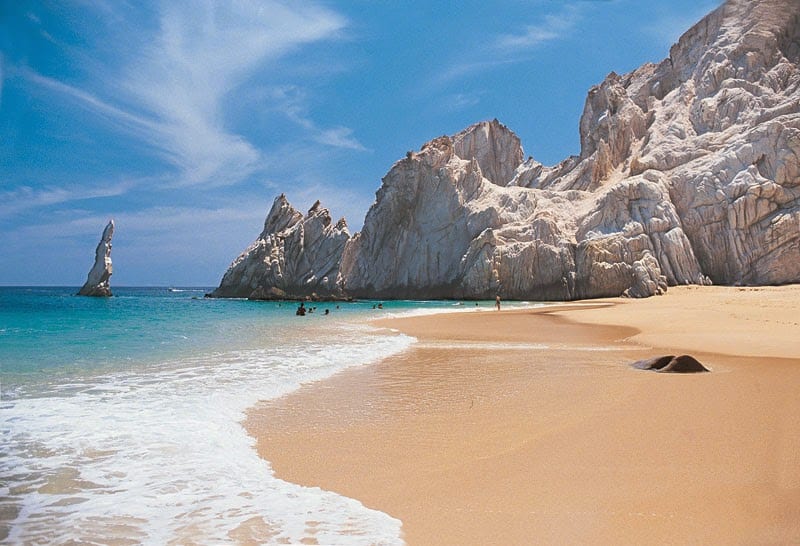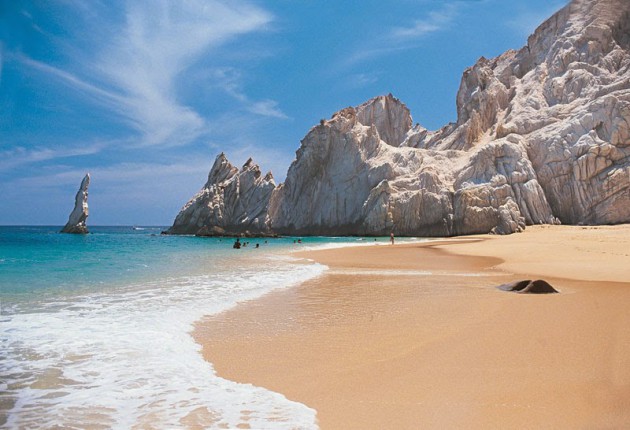 A beautiful wide stretch of white sand beach which faces Pacific Ocean, which starts from the rocks at Land's End to the base of Pedregal to the west. One of very less crowded beaches in Mexico, which is a destination place for sunset lovers, whale watching and long walks except for swimming, the currents are very strong and dangerous, not suitable for swimming. In Playa Solmar you will also find some of the finest all-inclusive resorts alongside the beach.
"Playa el Médano"
Medano beach or Playa el Medano is the popular and the safest beach for swimming in Cabo San Lucas. It starts from east side of the harbor and extends all the way to Villa del Palmar. As its one of the closest beach to the town, this place is the prime location and the crowded one among all the destinations. This beach offers activities like jet skiing, kayaking, waterskiing, banana boating, parasailing, volleyball, you can also enjoy the beach parties or buy some local handicrafts from Chicklets, blankets, silver jewelry, sombreros and try some temporary tattoos or hair braiding.
"Cabo Wabo Cantina"
This is one of the best places for tourists who are looking for good live rock music. Cabo Wabo Cantina which is located in Cabo San Lucas, Mexico, which is part of a night club chain with same name founded by rock musician Sammy Hagar. The night club is not only famous for live rock music from top celebrities and music artists from all around the world but also serves outstanding seafood to Mexican food, Cerveza to Tequila, from bar to rooftop, there are plenty of reasons for tourists to visit Cantina in Cabo.. They also have their own tequila brand with the name "Cabo Wabo".
"San Jose Del Cabo"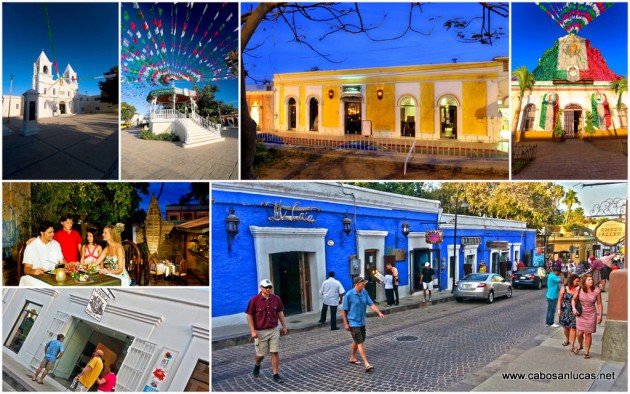 San Jose Del Cabo which is situated 32 kms from Cabo San Lucas, is a historic town full of beautiful architectures which have a very calm and charming atmosphere in comparison of her wild sister "Cabo San Lucas". This place is best for tourists who want witness the Mexican culture more closely. This place is famous for its historic restaurants with beautiful courtyards, shops offering beautiful handicrafts and jewelry and varieties of art galleries. Other places in San Jose Del Cabo are "Estero San José", a beautiful palm lined wild life sanctuary and estuary , which is home of many bird species, Reserva de la Biosféra Sierra de la Laguna, god for hiking and Iglesia San José, a landmark in the city with beautiful naval architecture.
Apart from above destinations, this place is also famous for its world class all-inclusive resorts and hotels, which make your stay Los Cabos definitely a memorable one. These resorts offer best rooms featured with all facilities and all-inclusive programs which takes care of tourist every single need. "Barcelo Grand Faro Los Cabos" is one of the finest all-inclusive Barcelo resort in Los Cabos. A premium 5-star resort in Los Cabos located near the spectacular waters of Caribbean Sea. The hotel 350 luxurious rooms and suites spread across 3 buildings: Luna, Estrella and Torre Sol. All the rooms feature a private balcony with scenic view of the Caribbean Sea fully equipped with all kind of features to make your stay pleasant and memorable one. The hotel also offers 5 restaurants and 3 bars (pool bar, lobby bar and sky bar) with variety of culinary options featuring international, Mexican and Italian food. Other facilities like swimming pools, spa, fitness centers, racquet ball court, lounge, kid's club, shopping centers etc. Here are some of the other top resorts and hotels in Los Cabos, Pueblo Bonito Pacifica Resort & Spa, Grand Solmar Land's End Resort & Spa, Riu Palace Cabo San Lucas, Marina Fiesta Resort & Spa and Melia Cabo Beach & Golf Resort.

Spot the differences! your all inclusive resorts vacations are waiting