Would you like to freshen up your student room during holidays? In this article, we will offer you some ideas on the design of a study corner.
Sometimes it takes some time and practical research in order to understand what is wrong in the student's room, what prevents or distracts from classes and home tasks. There's actually a powerful psychological impact of interior organization on the owner. Specifically, the main elements that influence the mood are interior illumination, ergonomics, wall color, decorations, and so on.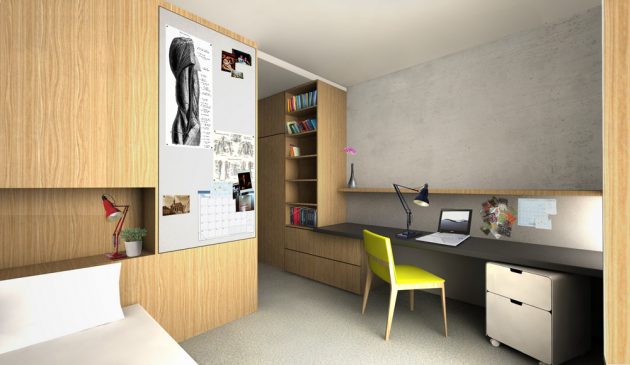 So, what's the best way to transform the room to feel 100 percent cozily there?
1. Carefully Inspect the Room
To get started, make a thorough examination of the room: is it comfortable? Is it well lit? Does the desk correspond to your height, or is it too small for you? After analyzing the arrangement of the student room, make a list of everything that needs to be replaced and what to get rid of. This way, you can free lots of space for new necessary things. As for room space optimization, there is a plethora of ways you can use. For example, even if the desk stands close to the bed, this corner can be utilized as a comfortable place for productive studies. Moreover, wardrobe and bed joined together save a lot of space. Likewise, different functional areas can be divided using a simple room screen, or by mounting a fixed partition.
2. Think of the Best Location for Furniture
The main elements of the study area are a comfortable desk where you can write your academic assignments, chair, preferably located near the window, and a good desk lamp. You can also consider using hanging fixtures as an additional source of illumination. You also can't do without cupboards and shelves for books and documents. Besides, it is necessary to provide a place in advance for the necessary equipment – a computer, a printer and other devices for productive work. All these things need to be placed in easily accessible places so that they are comfortable to use anytime you want.
3. Don't Forget About Decor
While choosing the right spots for furniture and electronic devices, you can move on to decorating the room. A study room, like any other private room, must reflect the owner's personality. However, maximalism should be avoided here, since too provocative design will distract you from studies. Choose colors that inspire you to work most — fresh and vibrant, but not too bright. The room must be maintained in order, so that there are no scattered things that'll need to be taken in order. Small pots with indoor plants and a few decorative pillows on the bed will not interfere – everything that creates an atmosphere of comfort and brings you aesthetic pleasure will be appropriate. A little creativity and effort will help you create a comfortable area for study, research, work and development of the student.
4. Pay Attention to Color Schemes
Apart from the proper arrangement of furniture and decorations, color selection plays a significant role in setting the right tone for the entire room. For instance, decorating a room in red color shades is an excellent variant, especially for those who want to create a space for studying and doing homework. The reason why it works well is because red color is associated with intellectual activity.
For girls, delicate and soft colors on a par with elegant shelves make the room very good looking. As for light green color, it gives a suggestion of a cheerful and lively atmosphere. Yellow color imbues the space with light and energy, while pink color can also be very tender. Overall, if you aim at natural materials and colors, they are very soothing and can help you reduce nerves during the studies.
Freshness and cleanliness are the key to making an extra comfortable student's room. Both furniture and decor define the mood and setting of the interior space, while the right color combination adds to the unique ambience which is ideal both for work and leisure. Knowing how to arrange these elements into one, you can make sure that comfort and beauty will always dominate in your room.