If you've always wanted to incorporate natural and eco-friendly materials throughout your home, you're definitely in luck. Indeed, there's no shortage of sustainable materials you can use in your home design, as well as ways to recycle any older items you own, to help reduce your carbon footprint.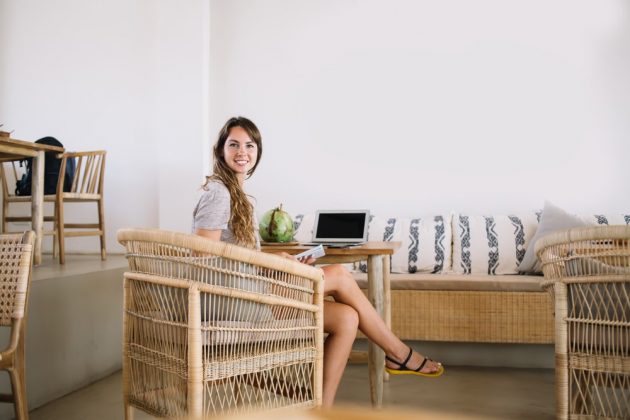 The following examples may help inspire you to bring some of Mother Nature's glory into your home:
Reclaimed Wood
Instead of cutting down new trees for flooring, walls and beams inside the home, homeowners can now use reclaimed wood for their home decorating projects. You have a number of options for using this type of recycled wood that's chock full of character.
For instance, reclaimed wood looks amazing when it's transformed into wide plank floors. You can also transform it into a rustic looking door frame. Additionally, reclaimed wood is a great option for an accent wall or to cover the side of a kitchen island, as well as for providing eye-catching interest in any room of the home when it's used for ceiling beams.
Bamboo
Bamboo is one of the most sustainable natural materials you can use throughout your home. From window treatments to flooring, bamboo is pristine and is also exceptionally durable.
If you're going for an Asian flair in your home décor, bamboo blinds over the windows can do just that, all while keeping the hot sun out of the room.
Travertine Tiles
If you're looking for a gorgeous, highly-durable and easy-to-care-for stone tile, you can't go wrong with travertine. You can also use this super resilient and beautiful stone in a backsplash and as a countertop in your kitchen or bathroom. All travertine really needs to look incredible all year is a weekly cleaning and an annual sealing. With these two simple steps, this natural material will last virtually forever.
Iron
Another natural material that looks terrific in home design is iron. For instance, if your staircase is old and has a rickety faux wood railing that you want to upgrade, a wrought iron option will look great.
While iron can have a "manly" look to it, it also offers a classic feel, allowing you to utilize it in any room. For instance, in the guest room, a headboard made with wood and iron accents will complement just about any colors and styles.
Don't Forget to Recycle Along the Way
In order to be as eco-friendly as you can in your home remodel, strive to recycle or donate as much of your old materials as possible. For instance, if your existing mattress is eight to 10 years old and you tend to toss and turn all night, then it's definitely time to buy a new one.
An Eco-Friendly Home is a Lovely Home
For those who enjoy and appreciate the look of natural and eco-friendly materials in their homes, now is definitely the right time to start redecorating. There's a wide selection of natural materials that are readily available and can be used in a number of ways. This, combined with Earth-friendly recycling of your old household items, means your home will be both beautiful and "green."