There is something light, airy and spacious looking about those houses with bi-fold and sliding doors. They instantly appear to let in the light and give that perfect link from the inside of your home to straight through to the garden.
Bi-folding and sliding doors can be seen as a luxury option of doors for your home, mainly due to their modern appearance. You don't have to have a full-on extension built to experience having these doors – they can simply be installed when renovating your home.
Choosing the right bi-fold or sliding doors for your home is important. To make sure you make the right decision, follow our guide to choosing the perfect glazed doors for your project.
What exactly are bi-folding doors?
Bi-fold doors – which are also known as folding-sliding doors – work by sliding open with a simple pull movement. They come as a collection of door and glass panels concertinaing neatly together. For some bigger homes, bi-fold doors can be fitted including a door at one end, which you can use to go in and out without having to fold the panels. This gives practicality during the summer or winter months.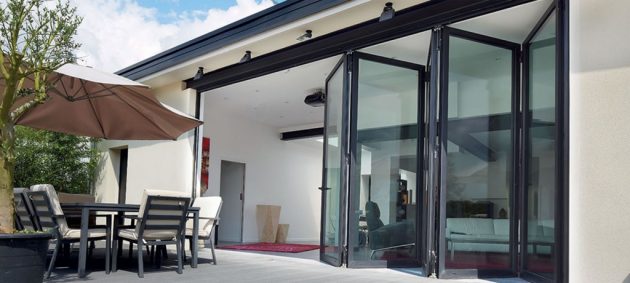 Bi-folding doors can either open inwards or outwards, where you'll find most people choose to have the opening outward to maximise space inside. This way, doors that open outward go straight out to the external space – i.e the garden or conservatory – meaning you don't need to worry about moving around the furniture to accommodate the doors.
The beauty of bi-fold doors is that they instantly open up a whole wall, giving exterior space you potentially didn't have before.
How do they differ from sliding doors?
Sliding doors open up by moving to the side. You'll notice that they are made up of panes, which fit neatly behind one another. They differ from bi-folding as with sliding, you won't be able to fully open the room in which they're fitted to the outside.
Again, in bigger homes, a more expensive option is to have hidden pocket versions of these doors. These allow the sliding doors to be inserted into the wall and creating much more space.
One of the main advantages with sliding doors is that they are very much made up of glass, whereas bi-fold feature more panel. Therefore, sliding doors make great options for when you need the doors to show a nice view outside. Also, because they don't need any space to open inwards or outwards, a lot of smaller houses will opt to have these instead of bi-folding options.
What should I be looking to pay?
With both door options, it's important to note that the frame material and its dimensions will influence the cost. As a rule, uPVC offers the least expensive option for either bi-fold or sliding, and aluminium is the most expensive.
Panel sizes also affect the final cost of your selection. The larger the panels and the larger the glass size, then obviously this reflects the price. One thing to also bear in mind is the use of blinds. Will your sliding doors need specially fitted blinds?
It also depends on the retailer. Generally, a good rule is to budget from approx. £450 per square metre for bi-fold doors with an aluminium frame, and £600 per square metre for sliding doors.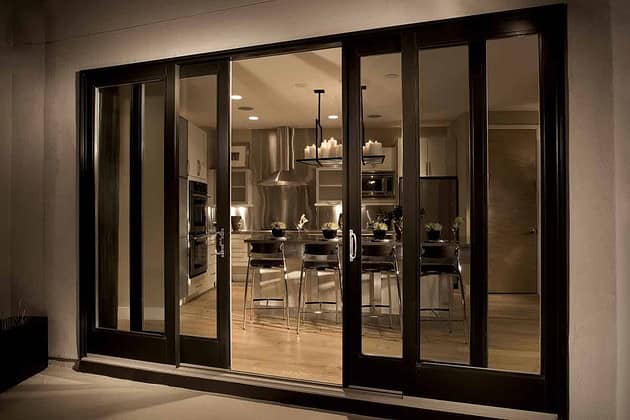 How long should installation take?
The style and size of the doors will determine how long your doors take to put in. If you are having a large renovation or extension carried out to your home, the door installation should be one of the lasts things to be touched.
What designs should I look at?
Before you start to look at the 'pretty' side of choosing these doors, the type of material you choose is the most important consideration. The material you need largely depends on the style of house you live in, and whether you want a bold or minimal look, and obviously the colour scheme you're looking for.
At present, there has been a huge rise in demand for aluminium designs because of its strength, stylish minimal look, and its low maintenance requirements. However, this year has seen that fresh wooden look come forward, where timber can also be used for a more traditional-style finish.
The negative of wood/timber doors is that this isn't as durable, and needs much more upkeep in terms of treating and painting. Wood is prone to rotting much faster than aluminium.
For both bi-folding and sliding, you can get a top-hung system, which needs a steel lintel to take the doors' weight at the top. Then you have a sliding system, which uses doors that run on parallel tracks where doors slide behind each other. The beauty of these is that there are no hinging issues with these because the weight bears down on the floor-mounted tracks.
Some other design features to look out for include higher performance glazing, blinds, textured paint finishes, moveable corner posts and even cat flaps. You would be surprised at how many amendments can be done to personalise your doors.
Remember to take your time when choosing, and make sure you find a quality retailer and professional fitting company.