Project: Hayloft
Architects: Loft Buro
Location: Kyiv, Ukraine
Area: 2,120 sf
Photographs by: Andrey Avdeenko Photographer
Hayloft by Loft Buro
Hayloft space was found as a derelict commercial uninhabitable building, with a potential for creating a truly exciting loft. After the two-year roof, facade and interior refurbishment, an arrangement of utility lines, terracing and gardening, the building took on a contemporary accommodation, with state-of-the-art heating technologies and energy-efficient solutions. Interior design was coordinated alongside with cavity design, the search of antiques and art objects. A few antiques became the icon for Hayloft and shaped a remarkable atmosphere. Hayloft tells about tradition and memory, the ability to preserve history and create legends, family values, creativity and art objects as a life philosophy.
An ironic welcome starts from a rusty door and a picture with Belka and Strelka, Soviet space dogs. Black ceramic handmade hallway walls link today with vanished traditions of the Etruscans or ancient civilizations in Ukraine. Herbs, flowers and foliage, along with zephyrian feathers are imprinted on the wall tile. Disruptive "dancing" carved panelled woodwork visually softens the industrial interior and hide the secret bedroom entrance. The changes of panel levels are nothing else than changes of the top floor levels. The heart of the house is beating in a living-
room with absorbing ceiling height and the fireplace. Its space is formed by massive metal and glass dimensions of the kitchen and the bathroom, cable-stayed staircase rotating around the centre column and the bridge inviting to the lobby and the owners' private zone.
HayLoft is not only a dwelling. It's a cocktail restaurant, experimental kitchen, bar counter, exposition, showroom, DJ place and a friendly atmosphere both for kin and a great many friends. The kitchen is an independent kingdom. Stainless steel, natural wood and well-textured marble set up a triple harmony of materials. Whenever cocktails aren't being shaken, the bar counter is hidden under a huge cutting wooden board. Emerald green-tiled furnaces remind of the 17-18th centuries' Kyiv housing tradition. This is the visual centre with the kitchen zone and serves as the instrument for the cooking show. The latest technological V ZUG appliances and traditional cooking in the furnace reanimate the family hearth culture, evoke delicious scents and bring us to a large dining table shared with your family. Archaic gates provide a stunning entrance to the hosts' private zone, including a master bedroom, a closet and a bathroom.
A feeling of colonial interior is enhanced by four living room ceiling ventilators and the second stage brick wall, which reminds us of tropical countries, as well as became an ingenious element of nighttime
lighting. There's a hidden story behind every piece of furniture. A bicentennial horsey is the centre of visual loft contact. Ceiling lamp illuminant over the dining table is an Art object created by Oleg Volosovskyi. It consists of vintage carved hooks and massive stained-glass drops (long-standing blown furnace tradition of Western Ukraine). A floor lamp of two glass the colour types is also designed by Loft Buro.
What has humanity accumulated for the last centuries and most significantly, decades? High-quality simplicity. Handmade value. Open space to the air. Natural materials. Up-to-date technologies combined with a green mind. Even so, individuality has always been above all. Something touching and thought-provoking that distinguishes you, tell your outstanding story. What did we want to obtain? Timeless interior. Preserving stories, cherishing traditions and memories. The link between yesterday and today, Europe and Asia.
-Project description and images provided by Loft Buro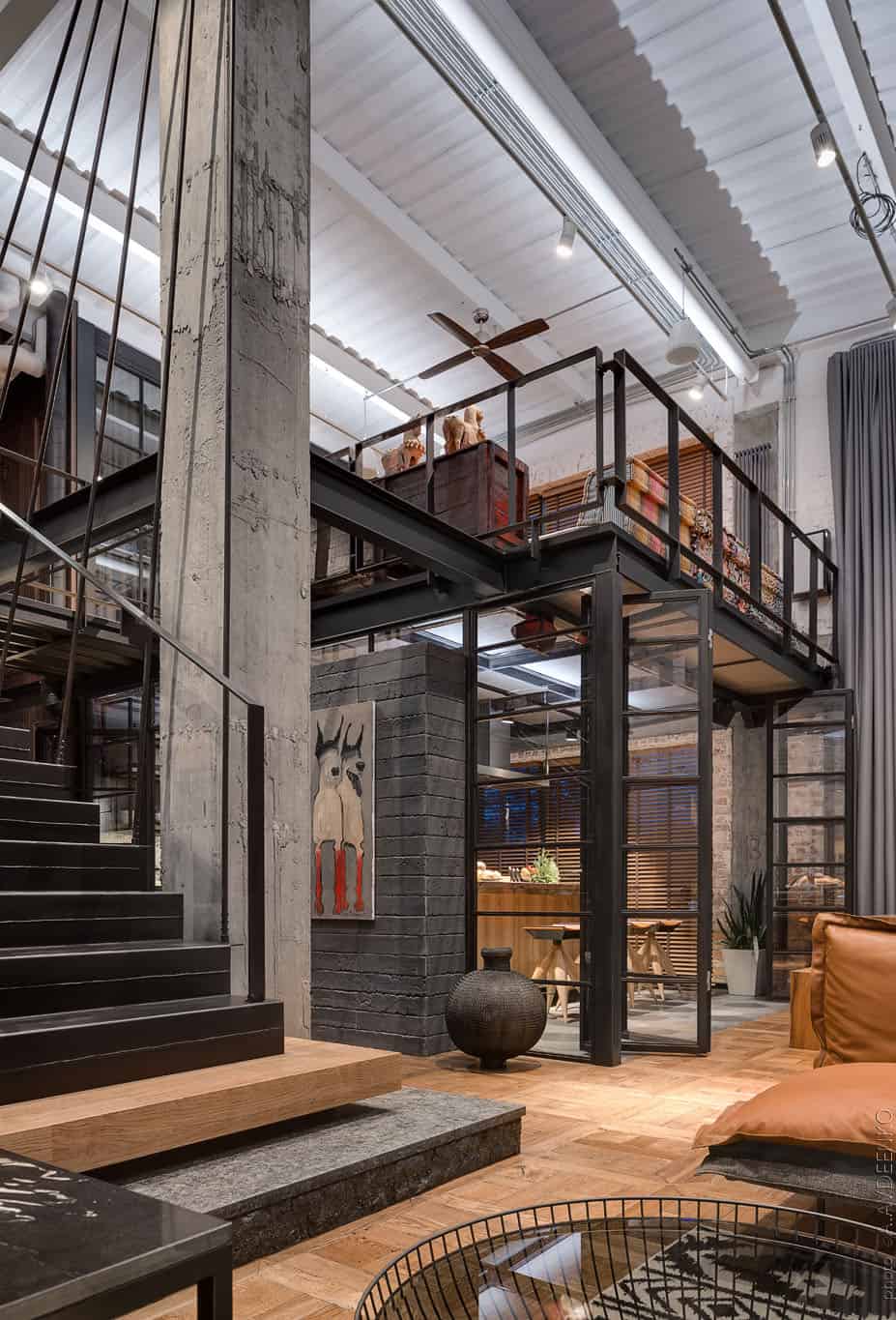 Plans