We often spend our entire time understanding and decorating our living room that we consider as the prime location of the house. There are two places where guests seem to visit more frequently, the living room and kitchen. Hence, we try to decorate it with our best quality furniture, wall hangings and show pieces. Coming to the kitchen, it will always have shining cutlery set and latest equipment, completely neat and clean and hygienic.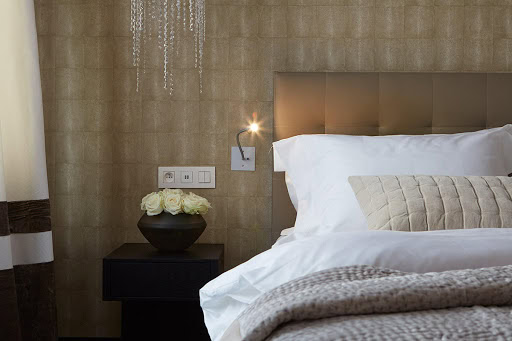 Since our investment is devoted to these two areas therefore, we are left with limited budget for other rooms. The most important area where we spend maximum time of our life is the neglected part of the house which is your bedroom, where you spend your quality time, reading novels, listening to music, watching your favorite movie, etc. So, keeping it shabby and untidy with old furniture would not be right.
The most important thing that you should pay attention to is your wardrobe. It shouldn't be too big or dull looking or occupy a lot of space making your room look congested. If you've a small room, then buy a wardrobe that has a sliding door; if you buy a closet that opens outwards, then it can occupy too much space. You will also have to leave some space in front for the door to open properly.
If you've a congested room, then adjust a mirror on your wardrobe to leave some space for your other furniture. However, even if you have a large room, you might prefer to fix the mirror on the wall or on the wardrobe to be sure that you have room for other tasks. Ensuring these small things can help you benefit from your decor.
When you purchase a new mattress and bed frame, most people prefer a high bed when they have high ceilings or a low bed for a low ceiling and compact room. Therefore, a moderate size of bed is important, with the right size of mattress so you don't feel that you're touching the ceiling or putting strain on your knees while getting up.
If you wish to know about the best mattress to buy for the bed, you should visit online on Newsweek website. They write blogs on products related to sleep. Since the writers believe in sleep science therefore, they are very strict about all things that can hamper your night's rest. Hence, all reviews and feedback related to mattress, bed, and other items are purely unbiased.
Since your bed is the place where you spend a third of your life, its surroundings should be created in such a way that it gives you tremendous relief. It isn't necessary that whenever you buy a bed it should have all accessories. There can be a fixed budget, but you can always modulate things to make your surroundings friendlier and more comfortable.
Here are wide range of accessories available in the market to assure you a convenient night –
Bed rails
Standing aids
Repositioning aids
Mattress elevator
Bed safety devices
Bedding protectors
Over bed tables
Bed rails
Bed rails are meant for those who roll in their sleep. This is mainly meant for young kids and senior citizens. It helps them to prevent falling from bed. It also aids as a support when somebody has to stand up from bed and is looking for support. Perfect choices for those who're suffering from any sickness or have recently had a surgery or injury and aren't supposed to put stress on their joints and back.
Standing aids
Standing poles or small table-like equipment which is perfect for people who have joint problems. Often those who suffer from arthritis feel stiffness in their joints in the morning when they wake up. This happens because while they were asleep, their body started cooling down which slowly stiffened their joints.
However, the moment there is movement in their body this stiffness goes away. Hence, early morning when someone has a problem in getting up from bed, this standing rail provides them support to get up on their own. These poles are either fixed to the head side of the bed or it is kept beside the bed for their convenience.
Repositioning aids
These are ceiling, wall or bed mounted ladders that are meant to help a person to get up and rest back on the bed. This way, any surgical patient will not have to put stress on their body. There are handles which give you proper grip to stand up from the cot. You can also get an electrical lifter if you're unable to move your bottom part of the body properly. These devices are meant to give you the option to sit independently.
Mattress elevator
Sometimes even if you keep two or three pillows behind your back to sit straight, you don't feel comfortable. You look for something more comfortable which will not only allow you to sit back and also help you in doing other tasks like writing or reading. Hence, adjustable beds are made with special care to assure that all your needs are met properly.
Even if you can't afford an adjustable bed, then you can surely buy a mattress elevator. It is attached to the head of your bed under your mattress and with the assistance of a remote you can lift your mattress to an extent. Now for this, your mattress should also be foldable because a firm mattress can break leaving lumps, damaged coils and holes.
Bed safety devices
If you have an infant at your home, then safety devices are meant for you. Same logic applies to growing children and seniors. There are various products in the market from which you can decide for yourself, kid or elderly ones.
You can get the railings that have a soft pad on it which prevents your loved ones from banging their head on it. It also doesn't have iron rods where your kid can entangle their hands or legs and break it.
Fall mats that are safe for your kids when they're all grown up and try to jump out of their cot, this falling mat helps in protecting them from any injury.
Emergency alarms or call bells during an emergency can be utilized as a signal by your aged grandfather when he wants to go to the washroom.
A sensor that can hear your toddlers voice and signal you that he or she's awake and needs immediate assistance before they fall from bed.
These devices and many more can be bought at a reasonable price from any electronic store.
Bedding protectors
Protectors are the best product to save your mattress from getting stained. It is not only for your toddlers who urinate on the bed or seniors who unknowingly wet their bed, but it is also for your partner who carelessly spills any liquid like coffee or drink on bed.
These bedding protectors are waterproof and washable. Instead of staining the mattress, you can protect it and keep it hygienic and stain free. Your bed sheet might get dirty, but that can be washed in the washing machine. You can get it in any size that is appropriate for the bed that you're bothered about. Some are also disposable, so there is no driving tension to wash it regularly.
Over bed tables
These are perfect for those who love watching television while eating. They're also good to work at home with by keeping your laptop and coffee mug on it. The table is also perfect for those who aren't able to get up from bed and have to do all their personal work lying on it.
These tables come in various adjustable sizes. Some are also foldable. You can usually get it customized in some stores. However, there should be proper space under your bed for the table wheels to slide in properly.
All these products not only make your life easy, but give you a feeling of independence. You can customize some of them depending upon your convenience and get something of your choice.