This amazing project is masterpiece made by KASIA ORWAT home design. It is a residence designed for men. The interior is dark, dramatic and masculine with some details highlighted in yellow color, that give extra charm and uniqueness to the space.
Description by KASIA ORWAT home design: Apartment for a single man – raw, modern, very masculine. However, the three women preparing the photo shoot immediately felt at home here. Despite the raw materials and strong contrasts, a very homey and warm climate prevails, and the variety of design elements makes you want to stay for longer.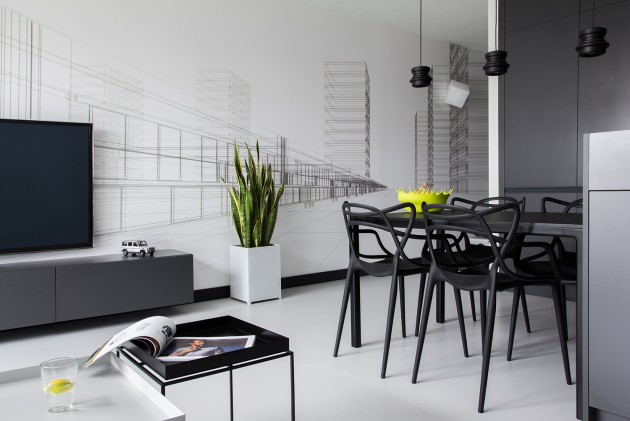 View from the living room to the dining-kitchen area. In the background, a custom made wallpaper: a 7 meters long perspective that gives depth and an unique character.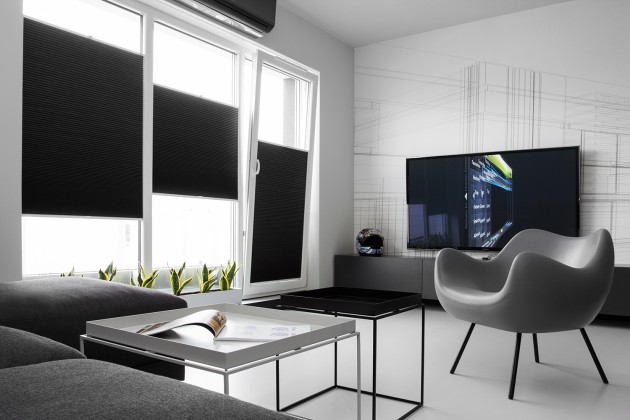 The living room is not big, but very comfortable. Armchair RM58 by Vzor is an example of the good polish design from the 50s. Its timeless shape fits perfectly in this raw and manly interior design.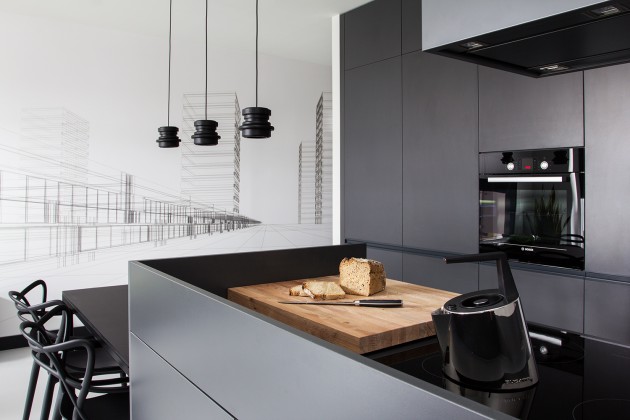 Kitchen is 100% custom made with laminated panels. Although it does not take up much room, it is very spacious and practical. It flows into the dining area, where the first iconic element appears, Masters' chair by Kartell.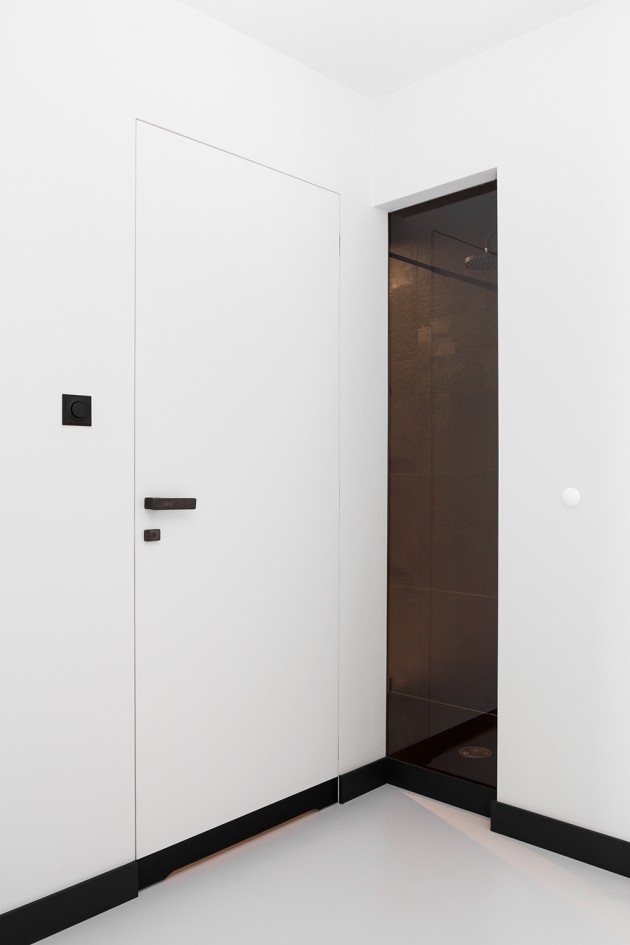 Every single detail in this apartment is chosen with great precision. Accurately aligned doors with rectangular black door handles and matching switches and power sockets form a cohesive composition. A glass panel separates the hall from the shower. This unusual solution works well in a single apartment, adding natural light to the bathroom.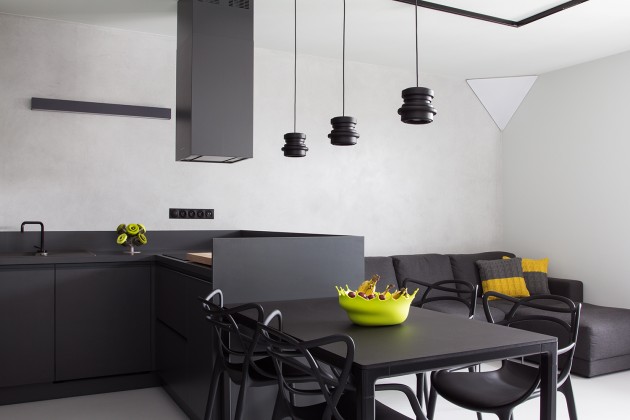 Different shades of gray and black, and consequently simple solid furniture form a cohesive composition.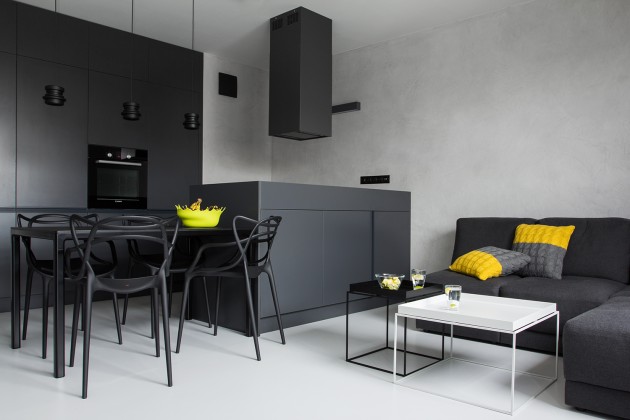 Varied wall finishings show many modern solutions. Concrete wall in the kitchen is a good background for simple modern furniture.Functionally designed kitchen allows you to cook comfortably.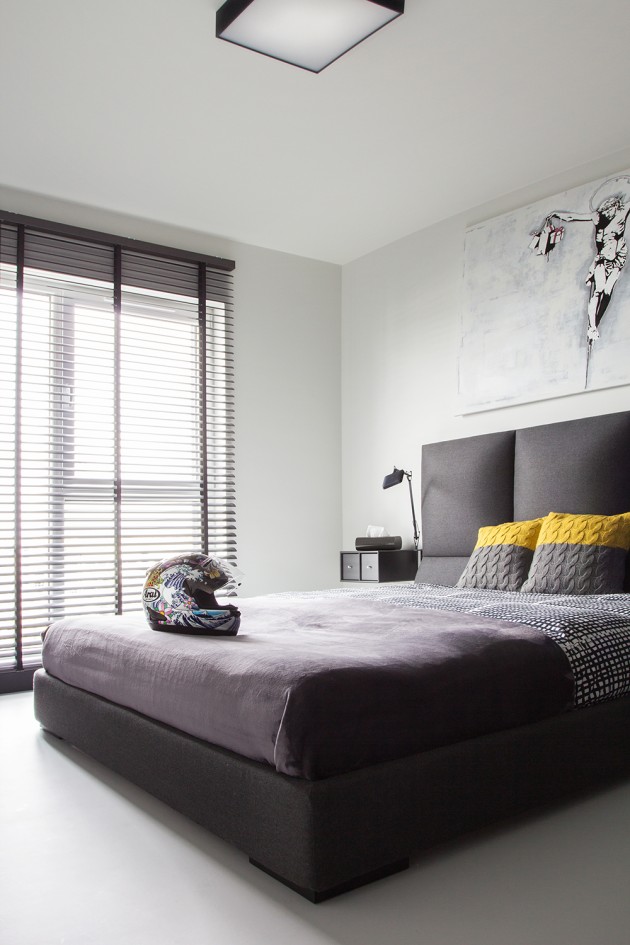 In the bedroom, a controversial reproduction of a Banksy's artwork hangs over the comfortable upholstered bed, contrasting with the crude nature of the room.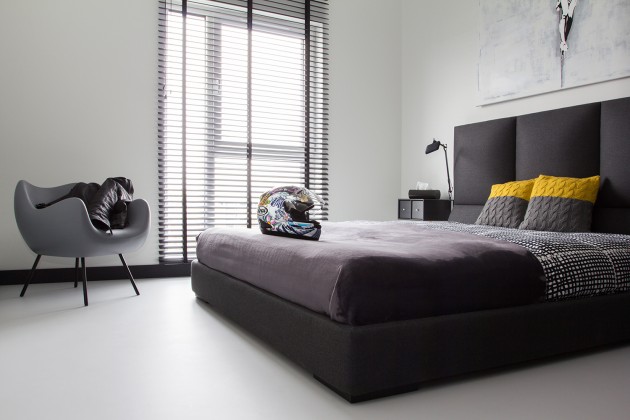 Very light gray resin flooring throughout the apartment feels warmer and fresher than sterile white. It is a perfectly smooth and pleasantly warm surface with underfloor heating system.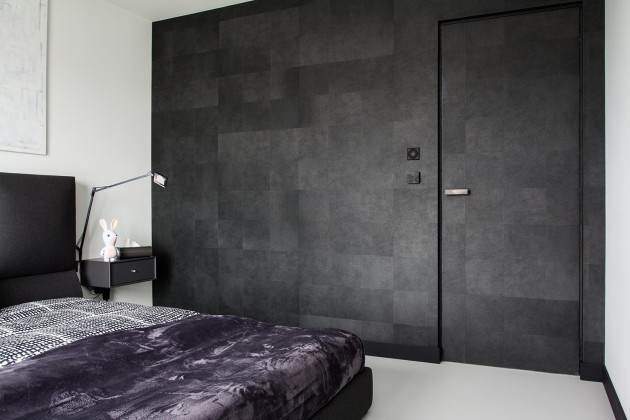 For one of the bedroom walls a texturized wallpaper resembling horsehair in dark gray tones beautifully warms this masculine space.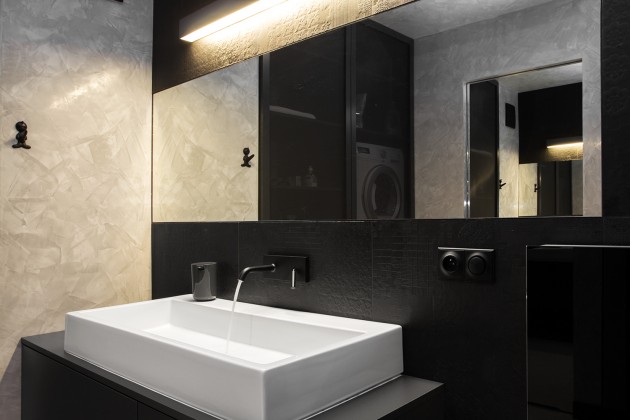 The bathroom shows diversity of textures in walls and floor. Stucco combines perfectly with the unique black tiles.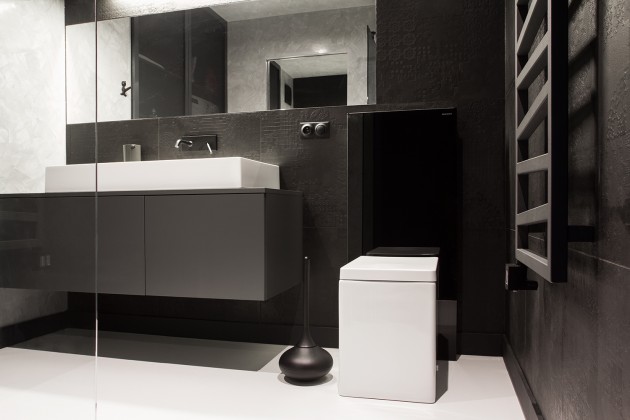 Different solutions can be used to visually increase the space in a small bathroom. Large mirrors and a big glass in the shower give a feeling of spaciousness.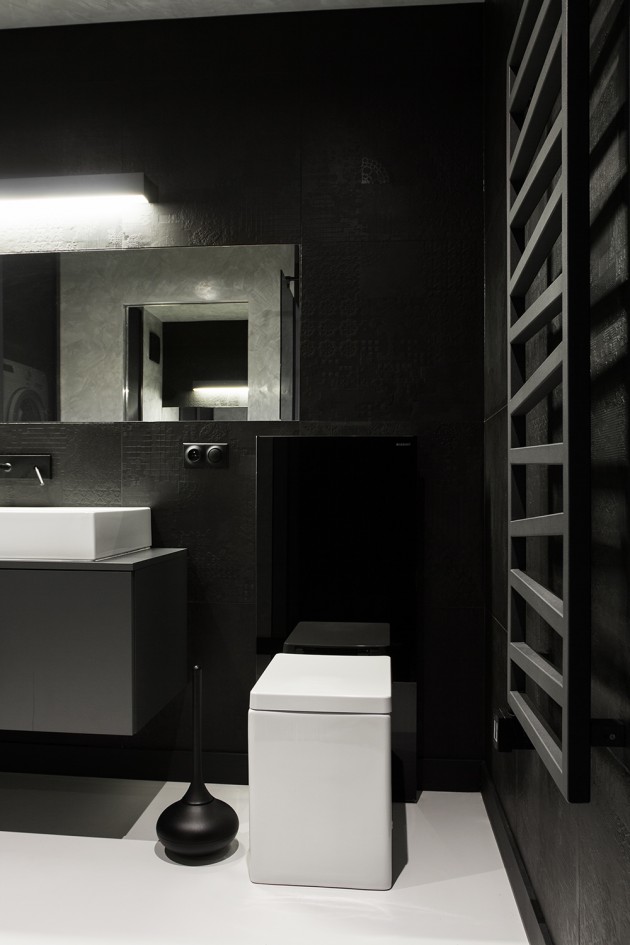 View from the shower to the hall. Divided but just simple transparent glass.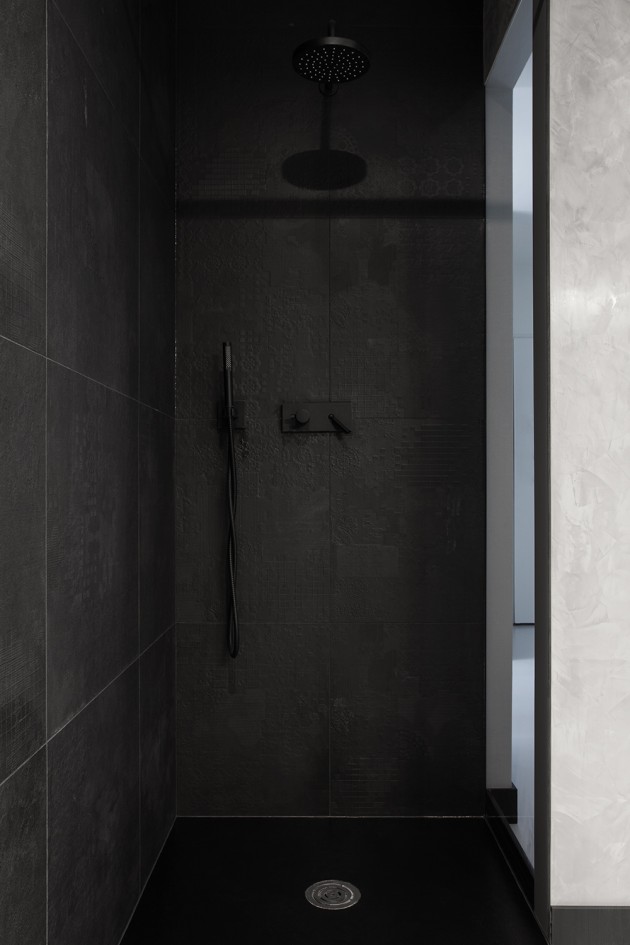 View from the shower to the hall. Divided but just simple transparent glass.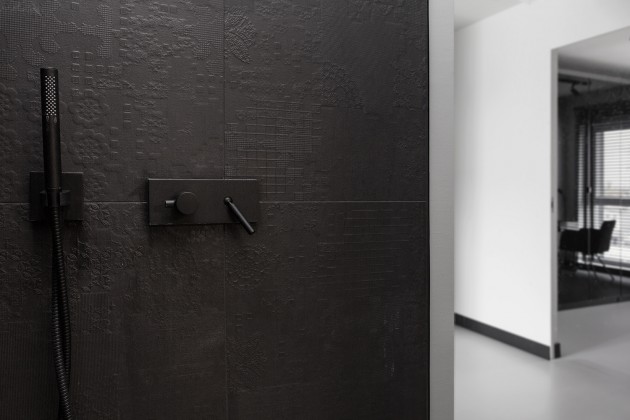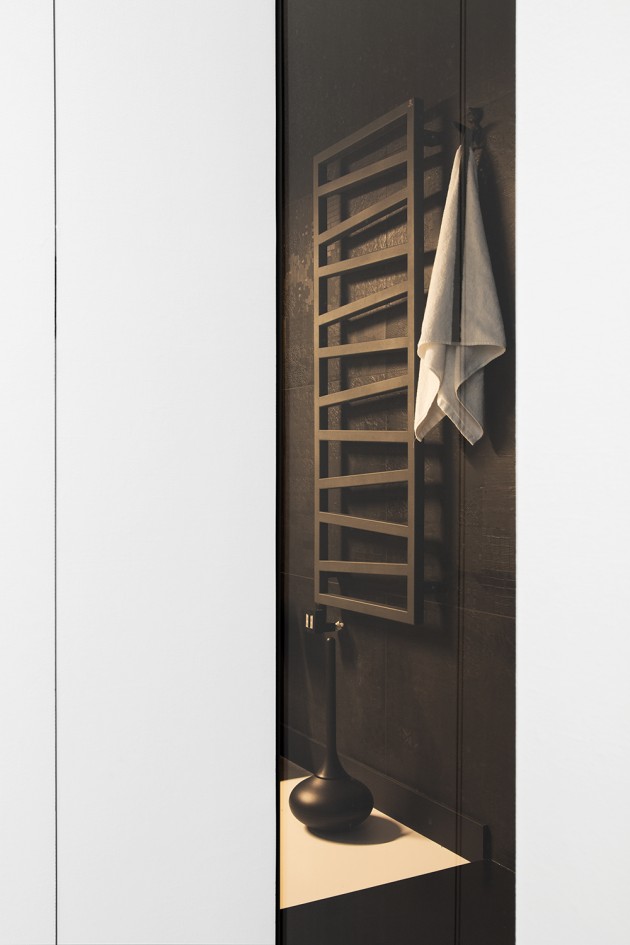 In this unique interior nothing is accidental, even the toilet brush looks like a work of art.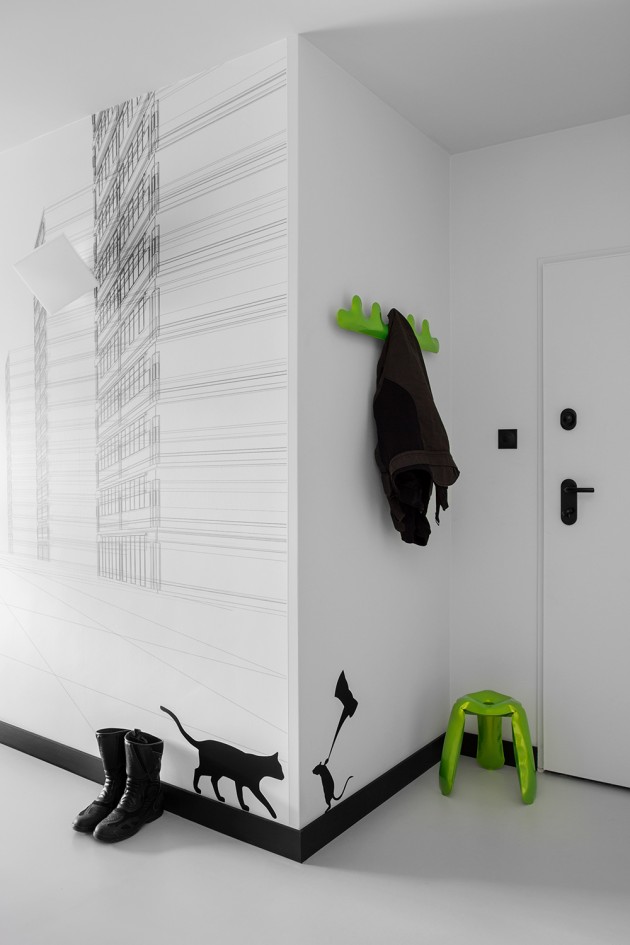 The entrance hall has also been refined in every detail. In the foreground, a hanger and stool by Zięta. Funny stickers bring a note of tasteful extravagance.
Design Studio – KASIA ORWAT home design (www.kasiaorwat.pl)
Photos Credit – Weronika Trojanowska (www.werqe.pl)