Your kitchen floor should be resilient enough to cope with daily family wear and tear. But add a cat or dog to the equation and, suddenly, choosing practical kitchen flooring is a critical decision not to be taken lightly. So what makes a floor pet friendly?
A new kitchen floor is an investment into your home that should give you many years' enjoyment. If you have a cat or dog (or even a puppy) in the house, the extra wear and tear as well as accidents may lead to permanent floor damage if the wrong flooring surface has been installed.
Choose a kitchen floor that's easy to clean and look after. The occasional liquid spill should be easy to mop up and not leave an unsightly permanent stain. Make sure the floor is robust and highly scratch resistant, but also bear in mind your pet's comfort. A slippery kitchen floor can mean your furry friend has insufficient traction, which is unsafe and can be downright dangerous for the animal.
Here are 4 pet friendly kitchen floor options for you to consider.
1. Floor tiles
Natural stone tiles such as slate, granite or limestone can look wonderful in traditional and contemporary kitchens. More importantly, the hard tile material is super durable and won't scratch easily. Spills and accidents are easy to clean up but do check if your choice of stone requires sealing; some are naturally porous. Marble floors, for instance, will require more maintenance and treatment.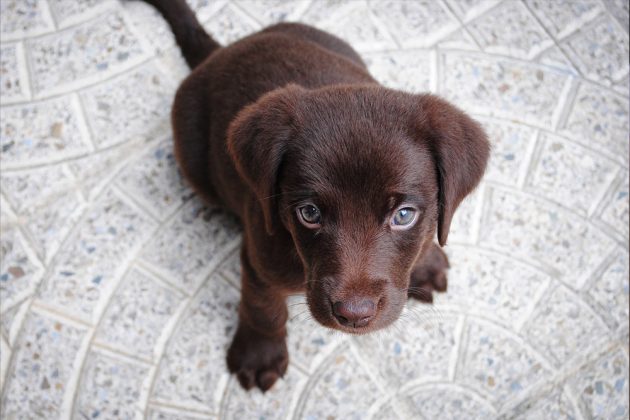 Ceramic or porcelain tiles are typically made from a clay mix and fired to create a tough, durable flooring material. Glazed or coated for extra strength, tiles come in a vast array of styles and designs. Ceramic tiles are virtually impervious to water penetration, stains, pet accidents and scratches. Since floor tiles are cold underfoot, adding underfloor heating will provide extra comfort for everyone in the family. Cats and dogs in particular will love the warmth coming through the floor.
2. Vinyl flooring
A vinyl floor provides a highly practical solution for your kitchen and indeed anywhere in the home, and is a great choice for families with pets. A budget friendly option compared to many other solutions, vinyl is resistant to pet scratches and won't stain if the spill is cleaned up promptly. A daily mop over is all that's required to keep your vinyl floor looking good.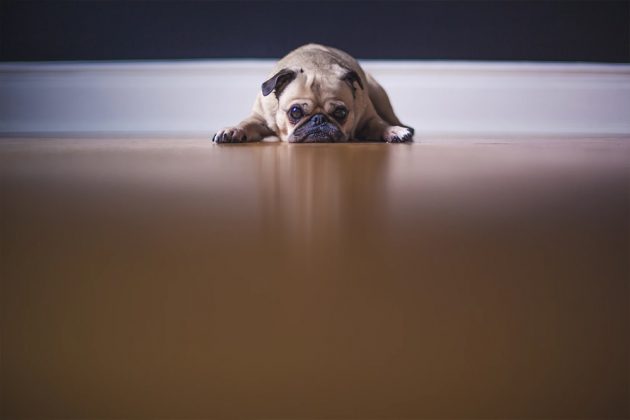 Vinyl flooring provides good traction for your pets. Choose from sheet vinyl flooring or luxury vinyl tile (LVT) flooring in a wide range of designs, including realistic wood effect, concrete & stone effect, photo effect and sparkle flooring tiles. In fact, tiles can be printed to match any look or décor.
3. Hardwood flooring
Hardwood floors are often chosen as the ultimate practical home floor. Available in a broad choice of colours and finishes, with many gorgeous premium hardwoods to choose from, who wouldn't want a stylishly beautiful wooden floor?
Pet owners need to take extra care, though, since wooden floors are prone to stains and water damage. Mop up any spills straight away to minimise any lasting damage, and add a urethane coating for extra scratch and stain resistance. Salt crystals in pet urine can leave an unpleasant smell as well as stains that can reappear over time.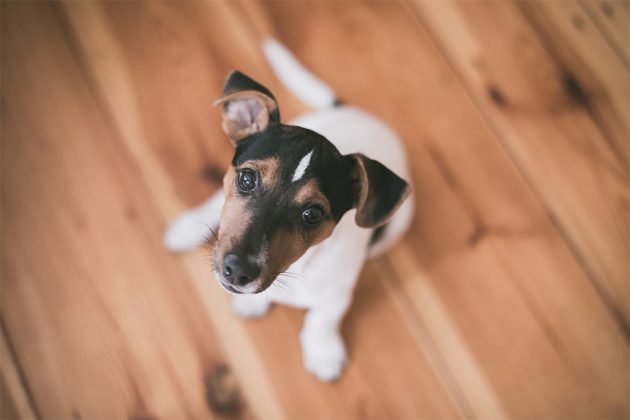 For the greatest resilience, make sure you choose the hardest possible type of wood. Check the Janka Hardness Scale, the industry standard used to determine the hardness of a particular wood; any rating above 1250 is considered to be a hardwood. The most pet suitable materials are oak, cherry, maple, walnut, mahogany, sycamore and bamboo, while softwoods such as pine are more prone to dents and scratches. In terms of hardness, stain and scratch resistance, bamboo (technically a grass rather than a wood) is a firm favourite with pet owners looking for a sustainable and very durable flooring option.
4. Laminate flooring
Wood effect laminate flooring is generally cheaper than hardwood floors while giving a similar look. It is not as long lasting as real wood and budget ranges can be quite disappointing both in performance and in aesthetics.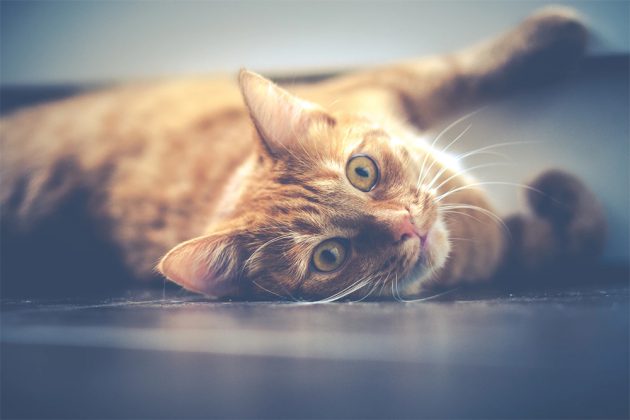 That said, laminate flooring is hard, durable, water and scratch resistant, so cleaning up after your pet shouldn't be any problems. For the most practical and safe solution, choose a textured or embossed finish since high gloss laminate floors can be rather slippery.