So, your household is getting bigger. Whether it's a new baby on the way, your parents are moving in, your children are moving back or you're getting a pet, if you're wondering how you're going to accommodate everyone, you needn't worry; we have some tips for you.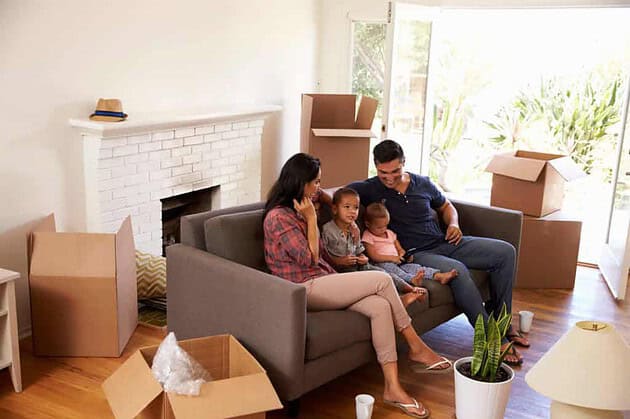 Is that room in use?
Firstly, making space in your home doesn't mean extensions and building walls to halve the size of the rooms. It can be as simple as asking, "am I using that room?". If, for example, you have a living room, and another room which also happens to have a sofa and television in, is it needed? Utilising rooms and space you already have is a great way to save money and reduce the need for home renovations or the need to pack up and move altogether.
Do a home inventory
This may seem simple, but you could save plenty of room just by sorting through some of your belongings. By doing a home inventory you'll be able to make room in wardrobes, cupboards, draws and shelves for the new addition in your home to store some of their things. Not only will you free up space, but you could sell some of the items you no longer want on online selling sites or at a car boot.
Put items into storage
This is a big one. How many people have a draw or a cupboard where they place miscellaneous items? The objects which don't have a place, but you might need them later so can't bear to throw them away. Some people may even use a whole room for things they 'might' need. Instead of having a storage room, cupboard or a draw, invest in appropriate storage. There are many benefits to this, with the big one being that it frees up so much space. If you take out a storage unit, you won't be confined to one little space in your home anymore, so may find yourself putting things from other rooms into storage – freeing up even more space.
You should research storage providers to find one perfect for you. Cubic Storage, for example, offers exceptional security external and internal CCTV monitoring, 24-hours a day seven days a week, so you can rest assured that your belongings are protected. Look for providers in your area and find one that suits your needs.
Multifunctional rooms
One easy way to free up space is to have multifunctional rooms. If you have a dressing room, look at moving any wardrobes and mirrors into your bedroom. If you have an office, consider putting your desk in another room which has space for it. Multifunctional rooms will allow you to make full use of the space available in your home.
Multifunctional furniture
If you enjoy playing host and have a spare room set up for when guests come to stay, invest in multifunctional furniture instead. A sofa bed in the living room is a great way of utilising space and means you can still offer guests a place to rest their head while freeing up a whole room. Designs have come a long way so you can be sure to find a stylish sofa bed which can match your home's style and still be comfortable for you and your guests.
Invest in shelving
If you have funds available to ramp up your storage space, but don't want to have walls removed or an extension added, you can invest in having storage added to your home. While free-standing shelves are good, they waste a lot of space. If you have an area of your home which is wasted due to the shape of it, such as under the stairs, you can have made-to-measure shelves fitted to that space – not wasting a single area.
Love the loft/attic
If you have invested in a storage unit, a loft/attic conversion is the perfect opportunity for you. Move the Christmas tree, old childhood toys and any other items which have found a home in the loft and store them in your newly-acquired storage unit. You can then transform your loft space into another room. This is much more challenging than some of the other space-saving tips we've suggested, so take plenty of time to research costs and if your home can withstand the conversion.
There's no need to panic about your household growing as there are plenty of ways to make room for the new addition. If you do want to make your home bigger, you can go down the path of having a whole extension added. But if you want a quick and affordable solution, we hope you've found the perfect way to make room for your new arrivals in this article.