Beauty is in the eye of the beholder, but most people would agree that nursing homes and care facilities are usually lacking in aesthetics. However, luxury facilities seem to get the aesthetics right.
Here are 7 aesthetics that luxury personal care facilities have mastered.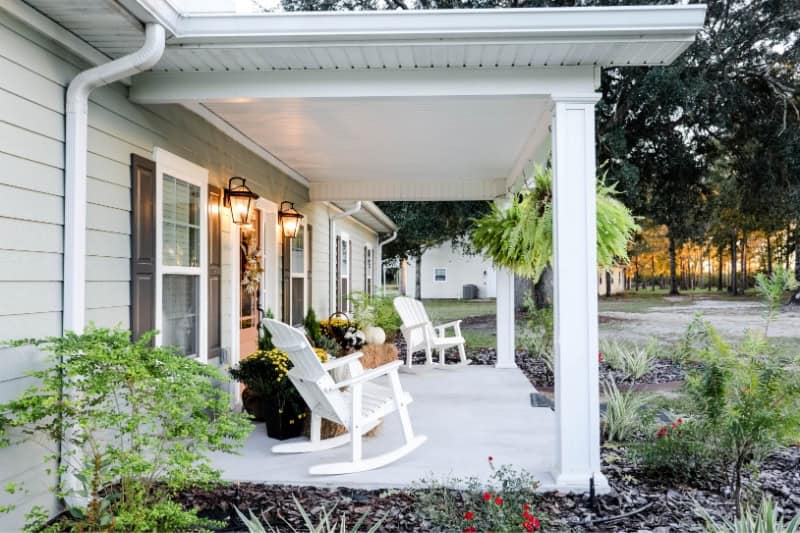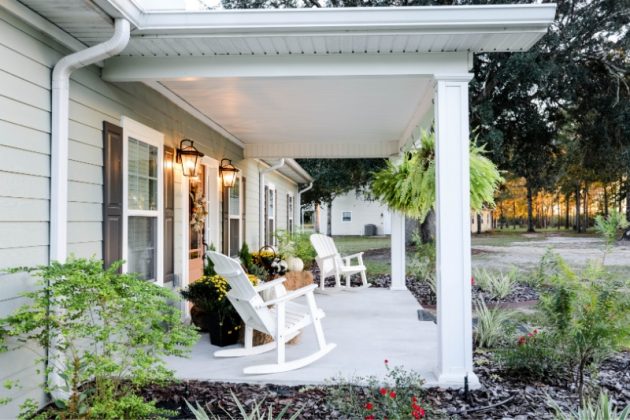 1.Bedrooms that look exactly like bedrooms
A bedroom should look and feel like a bedroom, especially in a care facility with older and disabled residents who spend the majority of their time in their room.
It's hard to imagine a bedroom not looking like a bedroom, but that's an unfortunate reality for some care facility residents. Many assisted living facilities have bedrooms that look more like closets or little squares with a small window and little to no closet space. Some even look like nursing homes and carry that "hospital vibe."
Luxury personal care homes go the extra mile to make bedrooms look and feel like bedrooms. Even without any furniture or décor, you can tell you're in a bedroom. For example, the McLean House in Cotton Grove Estate provides residents with cozy bedroom spaces that have closets and plenty of space for personal furniture.
2.A cozy, welcoming front porch
Most care facilities have covered entrances and potted plants, but few have a real front porch. There's something warm and welcoming about having a real front porch filled with potted plants, rocking chairs, hanging flower pots, and country style décor.
Although residents don't always hang out in front of their building, they do get picked up for outings with their friends and family. When returning home, it's a great feeling to see a cozy front porch as opposed to a boring entry way.
Having an authentic front porch also makes it possible for residents to sit outside and enjoy the sun or have a glass of sweet tea with a companion.
3.Decorative and overhead lighting
Standard assisted living facilities don't go out of their way to install decorative lighting. They tend to keep the basic lights that were installed when the facility was built. Unfortunately, sometimes there aren't any overhead light fixtures in certain areas.
Many buildings aren't built with overhead lighting and floor lamps just don't provide the same type of light. Luxury personal care homes go the extra mile to install beautiful light fixtures in the common areas and upgrade the overhead lighting in bathrooms and bedrooms.
Another reason luxury facilities install extra lighting is to prevent trips and falls. Extra lighting helps residents make safe late-night trips to the restroom or shower.
4.A backyard patio with a fire pit
Can you imagine a senior living center with a backyard fire pit? Many luxury facilities have added this amenity and it's a hit. There's something special about gathering around a fire with other people, even people you've just met.
Having a fire pit is a great way for new residents to get to know other residents over dinner. Fire pits foster connections and community interactions. You won't find a fire pit in a state-run nursing home, that's for sure.
5.Entertainment amenities
For those living in a care facility who don't drive, it's crucial to have on-site entertainment. Luxury assisted living facilities often have movie theaters, miniature golf courses, and areas to play croquet.
For those who are used to living in luxury, being surrounded by luxury in a retirement home is ideal.
6.Real bedding
Most facilities use blankets that don't look or feel like blankets. They're usually the kind of blankets used by hospitals and ordered in bulk to save money. They're not very warm and they're usually too short, so you need at least three to feel any kind of warmth.
Luxury personal care facilities make sure residents have real bedding, including real blankets to keep them warm. Residents are always welcome to bring in their own bedding, but if they don't have anything, they'll be provided with something good.
7.An appetizing kitchen area
The kitchen areas in standard care facilities look sterile and hospital-like. The kitchen areas in luxury facilities look more like the kind of kitchen you'd see at your grandma's house. There's plenty of kitchen décor and some kind of snack for everyone to share.
Luxury personal care facilities feel more like home
There's no point in living in a facility that doesn't feel like home. When a care facility feels sterile and boring, it's understandable that residents would feel depressed and indifferent. Thankfully, the luxury personal care industry is changing that reality