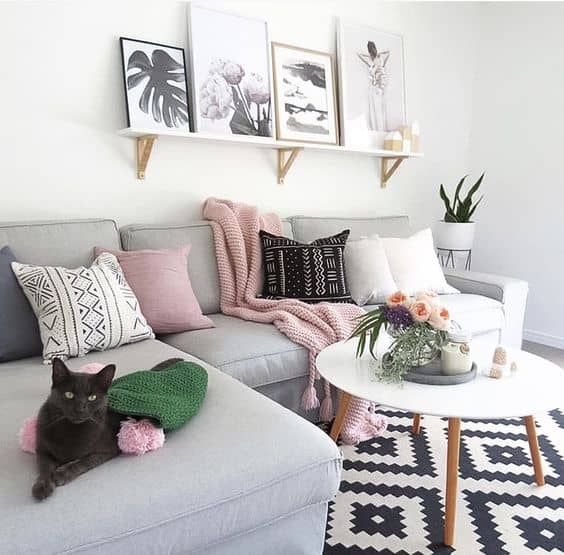 We understand that decorating your home can be expensive. But there are some clever ways to add style and flair to your home without it breaking the bank. We're going to explore the ways in which you can decorate every aspect of your home, from the ceils and walls to the floor and the doors.
Wonderful walls
If you're wanting to spruce up the walls there are some really cost-effective ways to do this. Firstly we can paint them. You don't have to opt for premium-branded paint with Wickes or Wilko own-brand paint being able to do a good job. However, while paint is cheaper than wallpaper, it does tend to get scuffed or chipped much more easily and may need a top-up. Wallpaper, while the initial upfront cost is more, it tends to have a longer lifespan. That being said, if you are someone who gets bored of your interior easily, paint is recommended as it's cheaper to switch.
Once you've painted your walls, you are going to need decorations. How would you feel if we told you these can be created from the comfort of your home using just your printer? Feature walls are creative and bring a room to life using a range of brights colours, quotes and memories. Invest in high-quality printer ink for your printer and we're good to go. Simply download a free design app on your smartphone or tablet and you can create your favourite motivational quotes to print out and frame. Depending on your printer, if you grab some photo paper, you can even print out your favourite holiday snaps to hang on the wall too. To create your feature wall, use a variety of frames in a range of different colours and shapes.
Creative ceiling
"How do you decorate the ceiling?" You may be wondering. There are a few ways you can make your ceiling a statement. Firstly, you can paint the ceiling a colour. While most will opt for white or magnolia, nothing is stopping you from making a bold statement and adding a silver or gold ceiling to your room.
If you don't want to paint your ceiling, another affordable way to decorate it would be to add a statement light. Whether you want to add a chandelier or a simple light shade, find one which brings the room to life.
Fabulous flooring
If you want to carpet your cold room with wooden flooring, don't worry. Instead of paying hundreds for new carpet, add a large rug to the space you want to make cosier. Area rugs have many benefits. They can make a room warmer, reduce noise and of course, add style and complete a room. Don't feel like rugs can only go on a wood floor either, rugs on carpets are a great way to frame a coffee table, cover a wine stain or just hide an old carpet.
Don't forget the doors
Unless they're severely damaged, there's nothing that a lick of paint and some new handles can't do to transform your doors. And this can be applied to all doors and drawers in your home. Can't afford a new kitchen just yet? Remove the doors from the hinges and the handles, give them a clean to remove any dirt, find the correct paint (for the door's material) and get to work. You can transform your kitchen without breaking the bank.
Shop thrifty
Decorating your home isn't just about breaking out the paint and roller; you also need to think about furniture. You want to be smart when it comes finding the perfect pieces for your house in order to save some money. We recommend checking out local charity shops to see if you can grab any bits. The British Heart Foundation, for example, has furniture stores across the country with preloved items arriving in their stores every day. These items are in excellent condition, yet you'll get them for a fantastic price while helping a charity. You can also check out online pages such as Facebook selling sites and Gumtree which often have items available free of charge.
Appreciate the smaller details
Depending on your budget, the smaller details can make a huge difference. If you can't afford to paint or wallpaper the whole house – you don't have the funds or the ability to take time off work to do it – you can look at "decorating" in other ways. Hang large pictures or mirrors to fill the room with colour and light. Throw cushions on the sofa and chairs to add patterns to the space. Add photo frames to your shelves to make them pop. You can decorate a whole room this way for under £50.
Feeling motivated to decorate your home now? We hope we've shown you some great ways you can decorate your house without it costing an arm and leg.