It's incredible how much time we spend perfecting our living spaces and investing in our kitchens, only to leave our bedrooms purely fit for sleep without any personality injected into this restful space. Your bedroom deserves to be prioritised and treated to some new furnishings and features that are going to promote sleep but also be an extension of you and your unique design identity. If inspiration has failed to strike, then consider these seven tips to beautifully personalising your bedroom.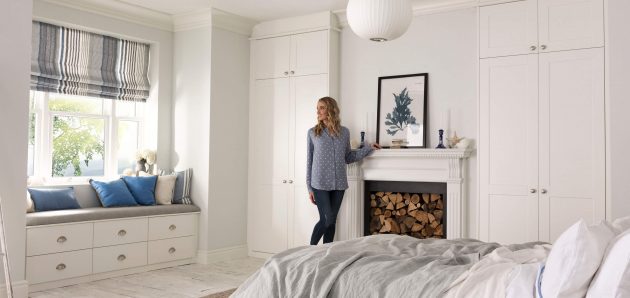 1.Bring flair to function
Design complacency manifests when we believe we have to choose function or flair, rather than finding a bedside table that meets our storage needs but also commands its own stylish presence. Take the time to find pieces that bring both function and flair to your bedroom, as designers are much more intentional about furniture and decor design, and you and your bedroom shouldn't have to settle. We are also seeing homemakers bringing some drama to the bedroom, with the token floor length mirror being replaced with large vintage mirrors with luxurious trims. Who says you can't have it all?
2.Hang artwork
Most homes feature their hero art pieces in shared spaces, but what room is more sacred and deserving than the bedroom? The four walls in which you sleep, relax and recharge should be filled with inspiring pieces that draw on colours and shapes that occupy in your room, as well as artwork that speaks to your personality and interior preferences. You can also have fun with the size of your artwork and the frame you choose.
3.Incorporate mixed textures
Having a one-dimensional room is going to take away from the overall tone and feel of the room, with textures adding more dimensions as well as making it feel more comfortable. You can incorporate different textures through rugs, throws for your bed and even the manchester and pillows you use. Another way to play with textures and dimensions is to note what surfaces you have in your room – metals, glass, wood and even plastic. The last thing you want is a chaotic room that you can't bear to be in, let alone sleep in, but do challenge yourself in bringing some new textures to your bedroom.
4.Stick to a colour scheme
'Less is more' is an adage which has long been used in the design world, and it couldn't be truer than when applied to your colour scheme. You want to be using about 2-3 colours in your bedroom that you can highlight through your manchester, furniture and even the artwork in your room if it doesn't mean you sacrifice what you like. Not only does a clearly defined colour palette tie the room together, but it also makes looking for new pieces so much easier when you can rule out colours you aren't looking for. Want some examples? White, navy and baby blue is a timeless selection. If you want something more feminine and edgy, you might choose black pink and white. A good rule of thumb is building on what you already have in your room.
5.Introduce some scents and restful touches
A beautifully personalised bedroom does only include those visual and tactile touches, it also extends to those scents that make us feel rested and at ease in our bedrooms. Lavender is popular for signalling sleep, jasmine has calming and anti-stress properties, and geranium is fantastic for insomnia. Get familiar with these bedroom scents and what might work for you, and take a look at bringing some room mists or candles to your room. A bedroom scent will immediately relax you when you enter your room and smell those notes, allowing you to wind down quickly.
6.A touch of green
What's an inviting bedroom without a Monstera or Devil's Ivy on your bedside or crawling along your window sill? Plants can be a gorgeous way to bring some beautiful personalisation to your bedroom, and if you choose the right ones then you won't have too much responsibility in keeping them alive and thriving. Also, be mindful of seasonal plants and which ones can really do well indoors.
7.Control over lighting and the elements
This might not be something you categorise as design and styling. Still, lighting and temperature go a long way in actually enhancing the atmosphere in your room, and you have more control over these factors than you might think. Replacing your blinds and curtains can allow you to block or filter your natural light as you would like it, and you can even bring some compact cooling and heating systems to manage the temperature in the room so avoid any discomfort. Who says you can't create your own sub-climate in your bedroom?
Get started with these seven tips and then add or subtract as you go until you have the perfect bedroom vibe that has you lingering in there a little longer in the morning and evening.