It is natural for new home owners to get grand dreams of extensive renovations when they move into their new home. But this is a time where they are running up against all the costs of buying a new home, plus their monthly mortgage payments. It is ironic, but the time when you move into a new house is often the most difficult time to make improvements. Nonetheless there are many simple and inexpensive ways to renovate your house, making it a nicer place to live, or more valuable should you sell it.
Make Your Home Eco-Friendly. One of the best improvements you can do on your new home is to make sure that it is eco-friendly. Green renovations not only increase the value of a house, but they can also save you on energy costs, so the sooner you make them, the more you save. Simple things like weather stripping doors and windows can make a huge difference in the long run, or if you are feeling ambitious you could add things like solar panels or a tankless water heater.
Change the Paint Job. Putting up a new coat of paint can be one of the easiest and most cost effective ways to transform your new house. If you are planning on selling reasonably soon it is a good idea to use neutral colors, which will appeal to the widest pool of buyers. Otherwise go crazy and paint it whatever color you like, it's your house! Painting cabinets can also be a great way to instantly liven up kitchens or bedrooms.
Install New Flooring. If you have carpets or linoleum which you can never get clean, or that look like they are from another decade, an investment in new flooring could also be worthwhile. While hardwood flooring can be expensive, it doesn't seem to go out of style, and can increase the value of a house immensely. Laminate can also give the look of hardwood without the price, and there are any number of other options like cork, vinyl, carpet squares, and the like.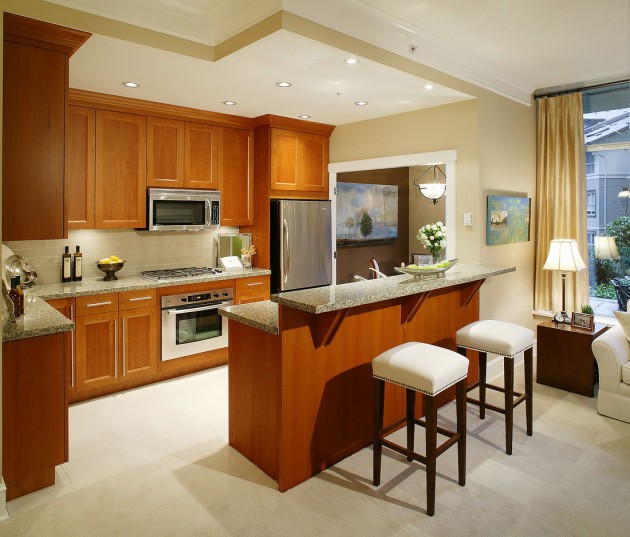 Or Just Change the Ceiling. While Stucco 'popcorn' ceilings were once immensely popular, they have now fallen out of fashion, but are easy to replace. Using water or a special solution you can soften the stucco, and then just scrape it off with a putty knife.
Landscape on the Cheap. Adding some plants, shrubs, or trees – or even terraces and walkways, if you feel ambitious – can be a great way to add beauty and value to your home. If you want to plant something that takes time to grow, it's good to start early, especially if you want to have it grown up and bushy when you want to sell. If you are worried about the maintenance, choose plants that need less water or that are native to your region.
Replace Fixtures and Hardware. Outdated doorknobs, lighting, faucets, and the like may seem unimportant, but you would be amazed at how much they can affect the overall look and feel of your home. Even cheap modern fixtures can make your house feel much more contemporary in a flash. Again, if you are planning on selling in the near future it can be a good idea to choose understated, neutral fixtures, as you don't know what the next owner's taste will be.
Get Around to Those Little Repairs. The little improvements can often be those we put off the longest. Fix that window that doesn't quite close properly, or that torn screen door, or the all-or-nothing faucet. Little things like that can subtly effect a buyer's perception of a house, effecting the selling price, and if you are going to be living there its best to just get all that stuff fixed up right away so it doesn't drive you crazy.