Concrete or wood is usually the immediate choice for both commercial and residential buildings. Today, however, metal has become a strong contender too!
Whether you're building metal garages, storage facilities, or commercial retail spaces, metal buildings are currently growing in popularity due to their many benefits. That said, most people think that opting for a metal building means settling for a cold, bare, and generic-looking structure.
Metal is also becoming more popular for residential construction, particularly for roofing and garages. This material is a wonderful investment, especially for metal garages, because of its longevity and fire resistance.
In reality, though, metal buildings are highly customizable, allowing you to add some personal touches and features to make them truly your own. This article shares different ways of customizing your metal building.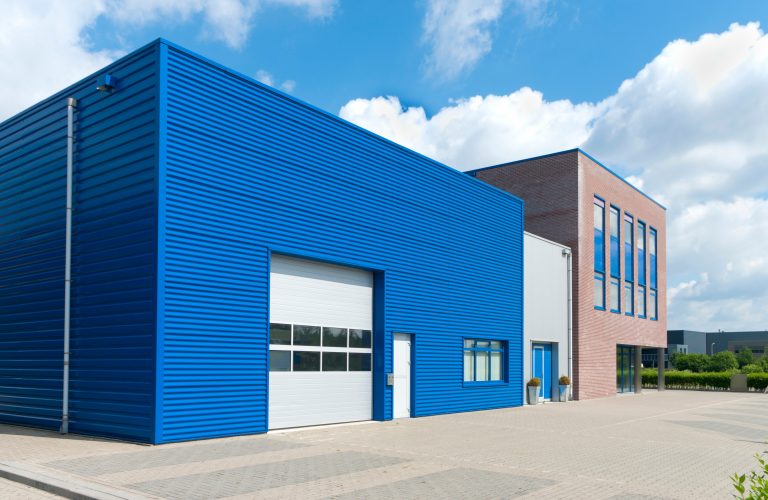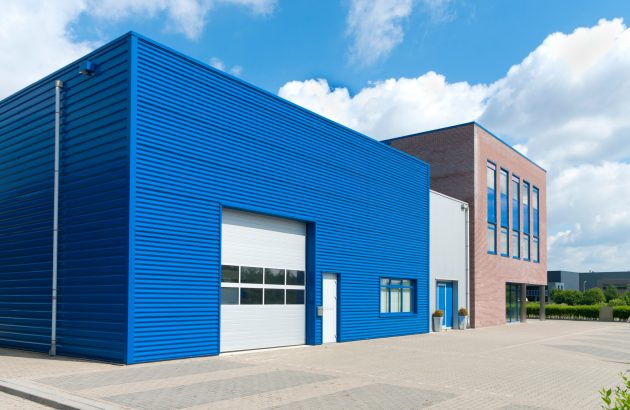 1. Use Pops Of Colors
Perhaps one of the easiest ways to make your metal building unique and stand out from the rest is to add color. Like with most construction materials, metal can be painted any color you like.
You can paint it in your brand's color theme or go wild with bold colors such as bright red, cool blue, or emerald green. If you want something subtle, classic white or a simple charcoal shade can still add some personality to your building.
While the standard steel color looks great on its own, you don't have to stick with this bare and boring shade of pale grey. Regardless of which color you choose, painting your metal building can make it distinctive and special.
2. Combine With Other Building Material
As mentioned before, raw metal buildings often look cold and bare, which deters people from installing one. However, it doesn't have to be an 'all-metal' building. Metal buildings can go well with different exterior materials and textures to make them less 'industrialized.'
On the other hand, you have different options to customize your metal building's exterior, which include:
Glass
Stone panels and faux rocks
Bricks
Concrete blocks
Wood
In particular, the most commonly used materials to create a unique look on a metal building's exterior are stucco and veneer.
Stucco is used as a decorative and artistic coating for exterior metal walls. Veneers, depending on the material you use, can add a classic look, a rustic style, or a modern feel to your building. There's a wide variety of veneer materials available, so don't be afraid to be creative.
You can combine and use these different materials with your metal building to create a more custom and upscale exterior.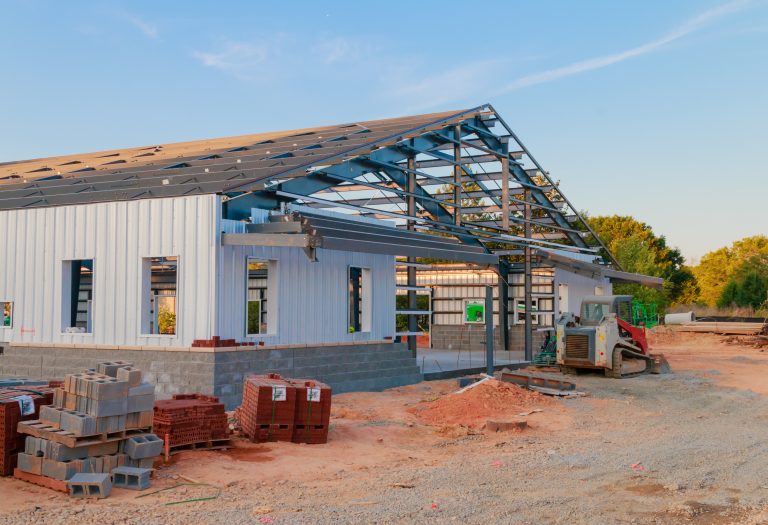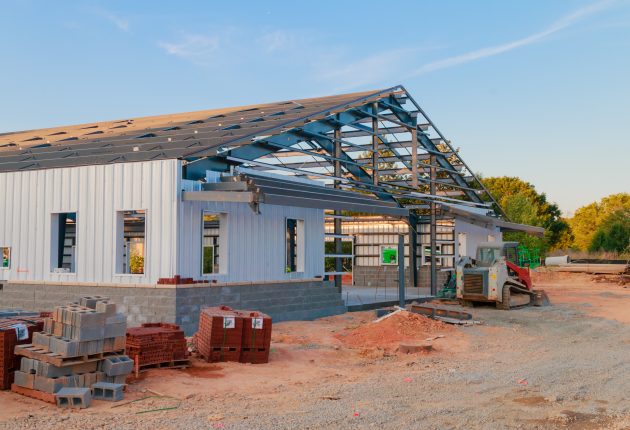 3. Style With Windows And Doors
Doors and windows are often overlooked when planning for your metal building. However, customizing your doors and windows can show off your unique style.
In addition, doors are an easy way to make a strong impact. Let visitors know your style and be amazed the moment they walk through your door. There are several door styles to choose from, including but not limited to:
Overhead doors
Barn doors
Metal walk doors
Embellished doors
French doors
Double doors
Sliding doors
Wood doors
Whether you're looking for a sleek and contemporary entryway or a traditional door, your options are endless.
Likewise, the building's windows are also important in creating a distinctive look. The right window will allow natural light in, but a customized one can also turn the heads of passersby.
Furthermore, your windows can be customized to match your metal building perfectly, from their shape and size to their color and functional style.
4. Think About The Roof
To top off this list, another great way of enhancing the look of your metal building is by re-thinking the roof design. Traditionally, most steel buildings feature a gable roof. However, you shouldn't limit yourself to something plain.
For instance, you can opt for a hip roof instead. Or you can simply change the pitch of your roof, which can significantly change the look of your metal building. A flat pitch can give your metal building a 'boxy' look. Higher pitch, on the other hand, can create a more dramatic effect.
In addition, roof customization options like awnings and overhangs can also add visual interest and dimension to the metal building. You can add a large awning to provide shade for your outdoor patio area.
Meanwhile, a custom overhang can add some flair to your front entrance. Extended overhangs also help create eye-catching sightlines that follow the edge of your metal building. In addition, don't forget to customize your fascia board for both function and style.
Take Away
That's it! Regardless of the type of metal building you have, there are various possible combinations to make it unique and stand out from other steel structures. Also, with steel buildings made to be versatile and adaptable, you gain total control over how your final building looks.