Organizing your bathroom essentials is not a challenging task. If you are having a hard time thinking of organizing your bathroom without spending a lot, you can consider these ten creative bathroom storage ideas that are easy on your pocket. If there is one place in your house that you need to clean regularly and keep as hygienic as possible, it's the bathroom. How will you do it? Below are cool bathroom storage ideas you can try.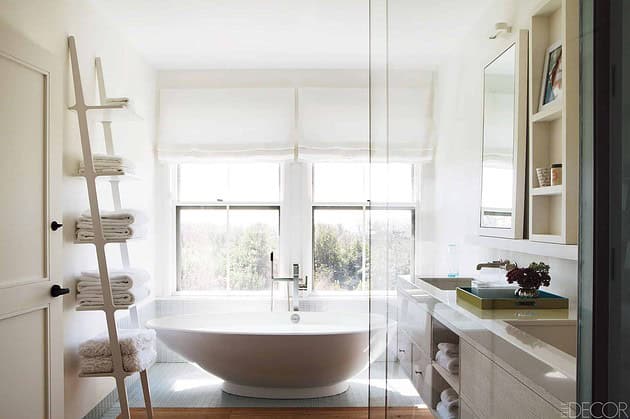 Install an Etagere for Bathroom Essentials
Etagere is one of the popular bathroom furniture ideas you can consider. It is a piece of furniture with open shelves to display or store your bathroom essentials. The best way to add a ton of storage without the need to drill holes on your walls to install cabinets and shelves is by placing an etagere.
This furniture can accommodate your bathroom essentials arranged well according to use. You can put a six shelves etagere or a smaller one with less number of shelves.
Putting Additional Storage in the Medicine Cabinet
Take advantage of the spaces in your bathroom. Adding more cabinets can boost your bathroom storage capacity. You can add them below or above the medicine cabinet and behind the door. Adding a magnetic memo board where you can hang some of your small grooming tools and other essentials is a good idea. To keep them in place, you can use slim magnetic containers and hooks in holding the items. Attaching magnets at the back of the products and stick them on the door. Just make sure you arrange the things well so the door can still shut completely.
Categorized Bathroom Storage Items
One of the common problems you encounter in the bathroom when taking a bath is finding the essentials you need like shampoo, soaps, moisturizers, etc. Instead of digging into your drawers to find them, it is best to store them according to their category. Assign a storage bin for each type. You can categorize them into items used for bathing, beauty products, towels, and others. Each compartment is pretty enough to place it on top of the shelves so that you can free some spaces in the drawer. Place items that you use less frequently in the drawer.
Add a Bar Stool
"A shower stool makes one enjoy the bathroom moments because You can enhance the stool by arranging your shampoo, conditioner, lotion, and soap attractively," said a professional bathroom remodeler Justin Roberts, who is working with the Shower Park to publish research on the efficacy of a versatile shower room solutions and the best bathroom Assoccaries ideas.
When you need to hide something, you can do so by covering it with an attractive stool. If you don't have enough money to spend on cabinets or shelves or don't have enough space, you can add a bar stool for your bathroom essentials. Be creative. You can buy a stool, or you can redecorate your old stools at home.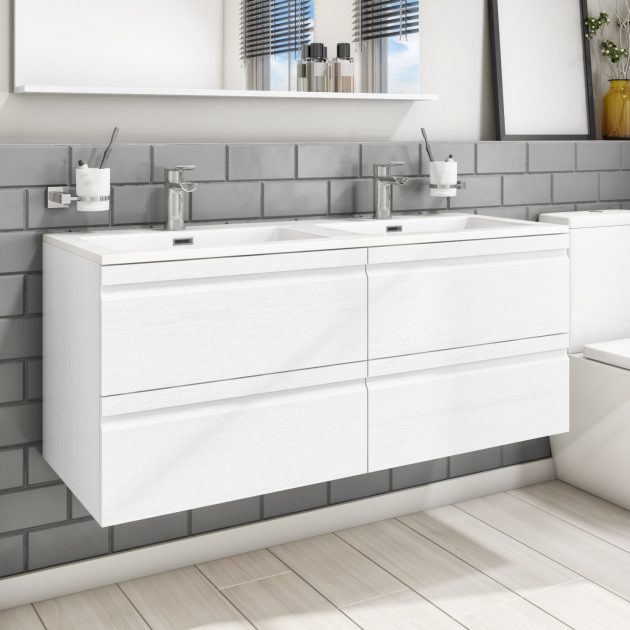 Go for Handle-Free Drawers
For powder room storage, you can use handle-free drawers. It is best to position it under the sink. This is the best way to keep the area clear of clutter. You can assign one drawer for your powder and other dry essentials. Another drawer is for your hot tools. This will prevent injuries if you accidentally touch it while allowing it to cool down on the counter. Compliment your bathroom interior with these classy handle-free drawers.
Tall and Slim Cabinet
Several bathroom cabinet ideas involve tall and slim cabinets. The narrow cabinet provides an added bathroom storage even in the smallest area between the shower and bath. The tall cabinet will make the room look spacious, and the floor-to-ceiling design attracts the eye up in the room. If your bathroom has a white-tiled wall, it is best to choose a dark wood finish for your cabinet.
Cover the Sink with Pleated Fabric Skirt
If your bathroom does not have any built-in storage, you can add a pleated fabric skirt under the sink. It enhances the area, adding color to your dull bathroom, and most essentially, it hides unattractive views like plastic storage containers without spending a lot. Choose the color of the curtain that will complement the bathroom interior.
Use Weave Baskets for your Essentials
Many homeowners have been using weave baskets to organize their bathroom essentials. It is one of the old bathroom vanity ideas that people love. You can arrange the baskets attractively and put your toilet papers and other necessities on them. Make sure you placed them where you can reach them with ease. It helps organize your bathroom needs and at the same makes the area attractive.
Make Use of Your Old Furniture
If you do not want to spend your money buying shelves, you can always use your old furniture. For those renting, this is very helpful to you. Installing built-in shelves may cost you a lot, and if you are renting, there are some limitations. So, repurposing old furniture like an old cabinet is good enough. Your outdated cabinet's design may not fit your bathroom's motif, but if you use your creativeness, you can come up with something.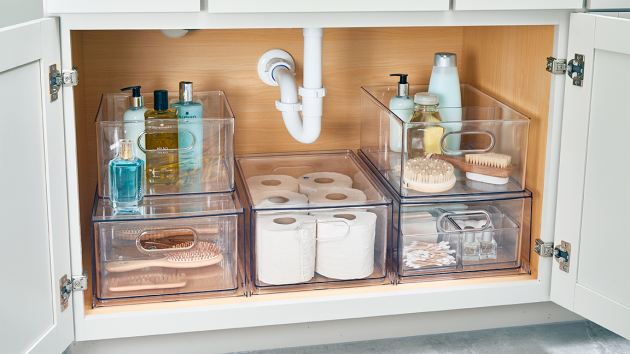 Build Shelves Under the Sink
If you have a small bathroom, you will have a limited space to install extra storage. The best thing you can do is to build a wall-to-wall floating shelf below the sink. The frames will serve as storage for your bathroom essentials. You don't just put them as you want. Arrange them according to their category.
Conclusion
Organizing a bathroom is not as hard as you think it is. Use your creativeness and the bathroom materials you have or buy and start placing your essentials in their best position. Baskets, old furniture, functional shelves, etc., are very helpful in organizing your bathroom essentials. It does not matter how big or small your bathroom is. There are lots of creative bathroom storage ideas you can consider to help you organize the area. Choose the design that will fit your interior and will make your bathroom clutter-free. If you have new or fresh ideas you want to share, please comment below. We want to know your thoughts about the designs we shared with you.