The trend of Microcement Bathroom is moving across the globe. They have appeared as an ideal architect's choice for accomplishing a rough look without pouring thick chunks of concrete. Moreover, they work well with under floor warming systems. Also, give a beautiful and mechanical look.
Why Microcement Bathroom is preferred these days? The Microcement coating is characterized with striking features. That's why; it has led interior designers, architects, and builders to choose microcement for bathrooms increasingly. This is becoming a trend due to its durability, moist resistance and convenient coating. Here, we have shared the salient features of a microcement bathroom that will give a new and trendy look to your bathroom.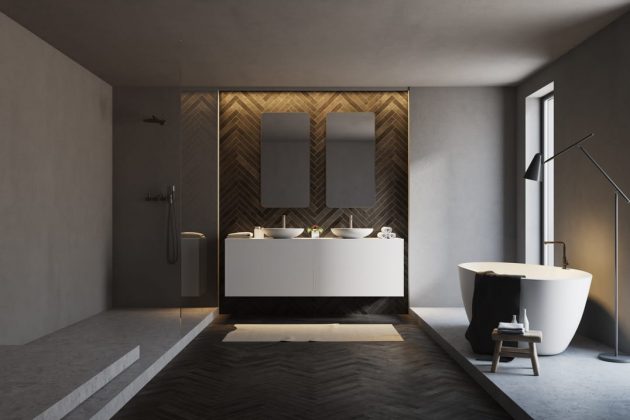 More spacious feeling
The Bathroom is the most compact area of the home, so making it as spacious as possible is the goal of renovating the Bathroom. The continuous microcement creates a feeling of openness, which can be even more impressive when paired with light colors on walls and floors.
This happens with white, a color that is ideal for making the Bathroom with microcement appear larger than it is, and it also blends perfectly with other materials like wood.
Resistance to humidity
One of the greatest advantages of using microcement for bathrooms is its remarkable resistance to humidity in the environment.
Bathrooms are a place where there is a lot of constant moisture, and that's why it is crucial to choose the right products that can be used properly. Microcement can resolve this issue.
Versatility
A characteristic that is the best way to describe microcement bathrooms the most is their versatility because this coating offers great adhesion to almost any surface, including tiles, which is one of the main materials used in bathrooms.
That's why we can use microcement in bathrooms in different ways, not just on floors and walls. It is not uncommon to find bathroom furniture covered in microcement, basins, bathtubs, and shower trays.
The versatility allows endless designs with any color you desire, as microcement has a broad range of colors.
Fast Drying
Micro concrete is commonly utilized because it is quick-drying that gives designers and people looking to revamp their Bathroom the option of a surface that causes little disruption.
It can dry quickly enough that the surface is functional in just one day. The rapid drying speed implies that the final surface is also of a high quality that is controlled
Since it can dry so quickly, it can be used on one day, and the product can be used the next day, making it a perfect option for those who want to complete projects quickly. It is also simple to apply and appears professional – without the need for costly professional equipment.
Other Advantages
There is no need for compaction, so it is not required heavy machinery.
Low permeability means it can be used outside as well as inside bathrooms.
It bonds well to nearly any surface.
Fast and powerful immediately after it is used
Chloride-free surface, making it an extremely durable and safe feeling.
The material will not shrink after application. This means that there will be no wrinkles or cracks that will develop.
The Bathroom with microcement is simple to keep clean. The finish is elegant and smooth and without any unevenness.
A concrete bathroom could suit any design, from minimalist bathrooms to industrial spaces with minimalist furniture and luxurious designs that hint at rawness from factories.
Microcement Bathroom Cost
Your microcement cost is difficult to estimate. The price for the actual product may vary between PS20 up to PS120 for each unit. If you purchase directly from your contractor, the bigger the task, the lower you'll have to pay to acquire each bucket.The cost of labor will range between PS80 and PS150 per square meter. There is a lot of craftsmanship when implementing this product, which means you, will pay for artistic skill and manual labor.
If you compare the price to other kinds of flooring or tiles, microcement could prove to be cheaper when you consider the absence of demolition costs. Based on a project that is at least 50 square meters over concrete.
The supply and installation costs of premium microcement finishes may be as low as $100 to $180 with GST.
For flooring installations and $130 to $220 plus GST when wall-mounted installations are made, and $250-$400 plus GST for joinery installation.
Conclusion
Microcement bathroom is an easy to clean, scratch-free, and aesthetically pleasing finishing choice. So if you're avoiding DIY, do not have any hesitation; use Microcement. Microcement offers a variety of showers and will give you what you're looking for to get from your bathroom remodeling.