As everybody knows, there are two ways one can become a homeowner: You can either buy a property or build your own from scratch.
But how do people decide between these two options?
Do they consider the cost of both and go with the option that best fits their budget? Or is there an ultimate guide somewhere people follow?
Honestly, deciding whether to buy a home or build one is not a straightforward decision.
However, there are some considerations that can help you understand the option that best suits your situation better.
These considerations are what we want to talk about in this post.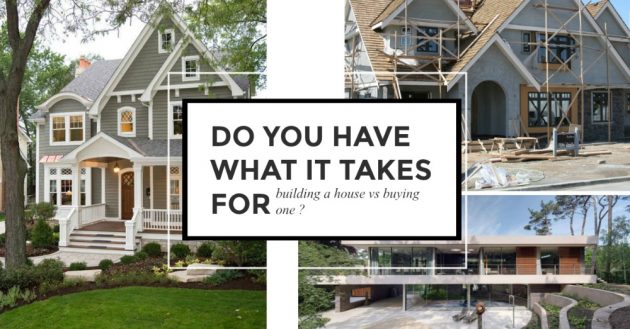 Do you have a specific design and theme in mind?
If you do, it may be hard finding an already built home that suits your taste. Not because your taste might be so unique that no one has ever thought about such before, but the style and theme you have in mind may not exist in the locality you're eyeing.
In that case, your best bet to realize the home of your dreams is to call in a reputable builder and build your own from scratch.
Note: In order to know whether your builder is good enough to handle the building of your house, here are some questions to ask your builder.
Are you up for an adventure?
Like with every project construction, building your own house will take you through some neck-cracking ups and downs.
The process is more or less a journey. So you'll experience your own fair share of challenges.
The question then is: are you ready for this? And if you are, do you have the time to spare? If you think you do, then it makes sense to sacrifice your time and efforts for the house of your dream.
If you aren't made for such adventures, buying a home can save you stress.
Won't you mind the cost difference?
According to data from the Realtor.com website, the median price of constructing a single-family home is $289,415.
However, this can vary widely based on where you live. If you want to know the cost estimate of building a house in any area, go to realtor.com®/local.
According to the same source, the median cost of buying an existing single-family house is $223,000. That said, the exact price can vary widely based on where you live. (Go to realtor.com/local to see the price per square foot in your area.)
Comparing the two median prices, you can see that building a house costs you $66,415 more than the cost of an existing home!
Not to forget that this cost difference might even go higher, depending on the localities.
But one thing is certain; it always costs more to build a house from scratch than to buy an already existing one.
Are you buoyant enough to manage emergencies?
Buying a home is as easy as identifying a property, checking it out, and making a one-time payment. Once this is done, the home is yours!
Building a home, on the other hand, is a lot more complicated than this. Just when you thought you're done with spending on plumbing, for instance, your plumber might identify a new need that requires you to pump in more money.
The same might happen with electrical works, bricklaying, painting, home décor, etc.
Even if you do a good cost estimate before commencing construction, unexpected costs and price increases are bound to rear their ugly heads.
If you aren't buoyant enough financially to lead these emergencies, your home construction may suffer a lot of stop-start.
Do you need a home urgently?
It's pretty obvious that if you need a place to call home urgently, you can't embark on building a house from scratch.
Although we now have some prebuilt house materials that make building constructions a lot faster, buying a home is still going to be a faster process than building one.
Are you hell-bent on modern designs and features?
If so, then you want to call a builder and build your own house.
Most houses you'll find on the market may not boast the most recent modern state-of-the-art facilities. While you may be willing to compromise on your taste, you should never forget that with modern designs come a lot of cost-cutting opportunities.
For example, most existing homes lack modern heating and cooling systems. And with older systems come a lot of energy and utility consumption issues, resulting in higher energy costs throughout the year.
And that's not even all.
If you're compromising on modern designs, it means you're settling for older designs, and with older designs come older appliances, pipes, and electrical systems, many of which may require more maintenance, repairs, and replacements to function at the level you want.