If you live in an overly spacious house, where the rooms are big enough to hold an entire family, catering to your kids' bed demands will obviously not be a problem.
However, for homes where "space" is hard to come by, parents have no choice than to improvise with bunk and loft beds.
With bunk beds, parents can have two or more kids staying in a single room without compromising the existing décor, theme, and comfort of that room.
The only challenge with this bedding option is that there are so many factors to consider before you can go into the market and make a purchase.
However, with the tips in this guide, choosing the perfect bunk beds for your kids should be an easy thing.
Expert Advice: When you're ready to shop for bunk beds, it's recommended that you do your searches on trusted websites like Amaze Furniture. They sell the best bunk beds in Australia.
Think safety first
Unlike adults who understand the risks associated with sleeping in bunks, kids are less concerned about things like this.
Typically, many of them would jump, play, and roll in a bunk bed as though they were in regular beds. Eventually, they would fall over and injure themselves.
This is why the onus is on you, as the parent, to protect them ahead of time.
You can choose semi-high bunk beds that have strong guyed rails to avoid the child from falling on the ground.
An additional security tip is to go for staired bunk beds rather than laddered bunk beds, as stairs are much easier to climb and generally have actually security rails connected to them.
And if you think all these are not enough to protect your little boy from falling over, you can ask the provider to add extra security measures in the beds.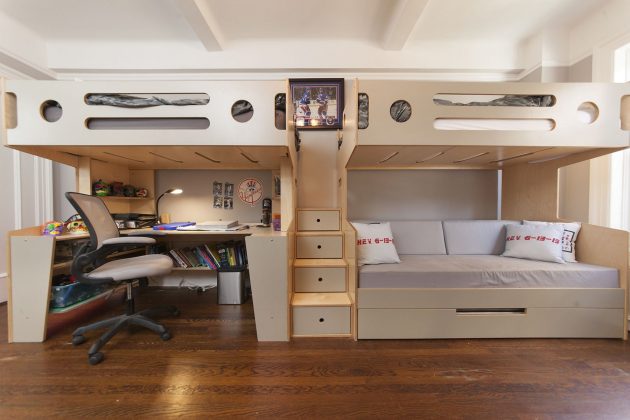 Choose the material carefully
When it comes to deciding on the material you want your bed to be made of, your options should be restricted to metal and wood. Both are stylish, strong, reliable, and durable.
However, wood is often preferred to metal because metal is contemporary, commercial, and carries greater risks than wood, no thanks to its sharpness and slipperiness.
Wood, on the other hand, is stable, carries lesser risks, and never goes out of design.
Choose something that grows with your kids
One of the mistakes many parents make is that they choose bunk beds based on the current age and state of their kids.
Now, while this might seem like the most logical thing to do at first, you should remember that your kids will grow. And if you're still staying in the same house by the time they do, the current bunk bed design and size may not work for them by then.
As a general rule of thumb, parents should search for bunk beds that work for kids of all ages – something that will serve your kids from when they are 3 years of age to when they clock 10.
Do not forget the room size
By now, you know what to search for the next time you go online to shop for bunk beds.
But before you do that search, please measure your room first.
Remember that bunk beds work in heights, and each design comes with varying heights. If you're getting one for your kids, it has to be something with a height that works with your room size.
Otherwise, you might end up bringing in a bunk bed that is too close to the room ceiling, which may harm your kids when he's standing up.
As a general rule of thumb, you have to ensure that there is a minimum of two feet of extra area in between the bed mattress and the ceiling.
Consider the height between beds
In terms of the distance between beds, not all bunk beds are the same. Some bunk beds have a very short distance between beds, while others are well spaced, so much so that even a 3-year old can stand upright in the bottom bunk and not hit their head.
It is important to consider that while beds are for sleeping, they are also for sitting up, so the height between the bottom and top bunk needs to be enough for your child to do so comfortably without hitting their head.
Choose the Right Built Style
There are five designs to be thought about: twin on twin; complete twin; futon twin; desk twin; or rotates. When deciding, you should decide based on the age difference between the kids that will be sleeping in them.