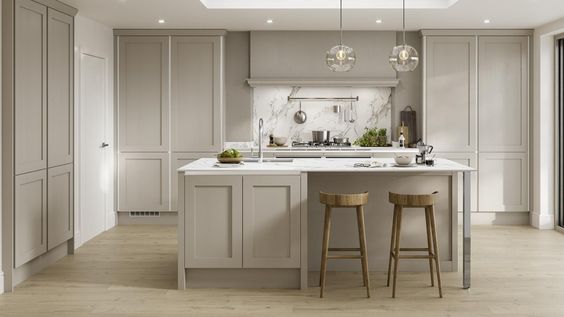 The Shaker kitchen has a special place in the world of interior design. The timeless style and elegant simplicity have captivated design enthusiasts for decades.
Discover the world of Shaker kitchens and why they are still so trendy today.
The Origin of the Shaker Kitchen
Shaker kitchens take their name from the religious community of Shakers, founded in the 18th century in the United States. The Shakers advocated a simple and functional way of life, and this was reflected in their furniture and architecture. Because of this, Shaker kitchens have been designed to be practical, durable, and aesthetically pleasing, with particular attention paid to the quality of materials and craftsmanship.
The characteristics of the Shaker style
Shaker kitchens are characterized by clean lines, natural materials, and sober colors. Furniture is often made of solid wood, with flat panel doors also known as ' framed fronts '.
The most commonly used colors are white, beige, gray, and black: perfect shades to create a calm and serene atmosphere. But current decorative trends come to modernize Shaker kitchens by offering new ranges of muted colors. Thus, anthracite grey, deep green, and midnight blue now adorn these resolutely classic kitchens.
To accessorize the doors, we will choose shell handles, very pleasant to hold. On the side of the sink, we will adopt a pantry stamp in white ceramic: wide and deep, it evokes country houses and lends itself perfectly to the game. This is moreover in this way that the Shaker kitchens have invested in the most beautiful English cottage!
Functionality first
One of the fundamental principles of Shaker design is functionality. The Shaker Kitchen is designed for convenience and efficient workspace. Cabinets usually have plenty of shelves and drawers, providing optimal storage.
Kitchen islands are often present, providing an additional work surface for preparing meals and also serving as a gathering place for family and friends.
Durability and craftsmanship
The Shaker kitchen is renowned for its durability and quality craftsmanship. The furniture is made with care, favoring natural materials such as solid wood. This approach emphasizes the longevity of kitchen units, avoiding short-lived trends. Investing in a Shaker kitchen means creating a timeless space that will stand the test of time.