Known for its artsy culture, beautiful canals and bicycle lined streets, Amsterdam is an unmissable city break destination regardless of your age. Show off your latest adventures in the stunning capital of the Netherlands by exploring all of the Instagram worthy locations on our list below. From beautiful floral arrangements to modern architecture, you'll find it all in Amsterdam.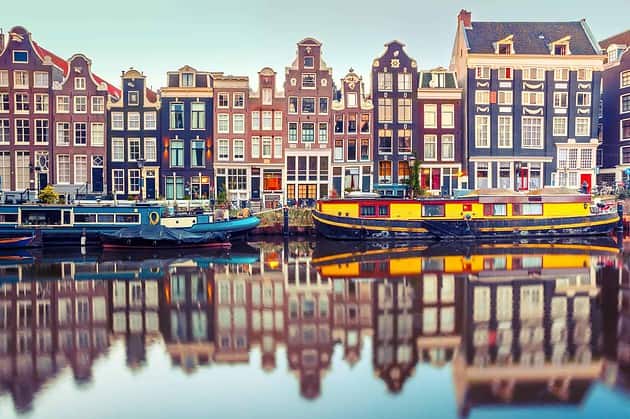 The famous Canals
Surrounded by bikes and the instantly recognizable Dutch houses, the famous canals are undoubtedly a hotspot for tourists. Close to many of the best Amsterdam hotels, Prinsengracht is particularly iconic due to its central location and the stunning view of rippling waters, topped with traditional canal boats.
Located close to the 9 Streets, there's plenty of pretty spots to take your snaps beside. You'll find quaint coffee shops, independent shops and, of course, multiple canals on this famous part of Amsterdam.
Wisteria Walk
If you're heading to Amsterdam during Spring or Summer, you simply can't miss out on the Wisteria Walk. The streets you'll explore are adorned with pretty purple Wisteria flowers as well as hanging Laburnum, perfect for those who enjoy a combination of architectural and natural beauty. Stop and take a snap or two while you make your way around this particularly scenic route.
Vondelpark
This charming 19th-century park consists of sprawling greenery, a free open-air theatre and the rose garden. Featuring over 70 different types of flower and a fairy tale-like river, Vondelpark is an unmissable part of the Amsterdam experience.
Why not take a picnic and relax by the water after taking your photos or enjoy a bike ride around this beautiful area? You'll be able to escape the fast-paced city center and soak up the sun amongst nature's best offerings.
I Amsterdam, Schipol Airport
You can't visit this beautiful Dutch city without taking a photo outside the 'I Amsterdam' letters. As the sign is based outside of Schipol airport, it's often the first photo people upload to the 'Gram to announce their arrival. At two meters tall and 23.5 meters wide, it's impossible to miss these enormous letters that have quickly become an iconic part of the City's culture.
De Hallen
Now a striking indoor market, De Hallen has a past life as a tram depot. With a beautifully industrial high windowed ceiling and modern hipster vibe, this bustling hall is a hub for culture, food and fashion. There are various vendors, a great busy atmosphere and – most importantly of all, in this case – some prime photo opportunities.
De Hallen is a must visit for tourists who want to enjoy the laid back Amsterdam culture. As well as having some time to take some trendy photos, you can enjoy a bite to eat before heading to the cinema complex located inside the art inspired building.
Hortus Botanicus
Despite being more-so known for its busy city center, Amsterdam is home to one of the world's oldest botanical gardens. Hortus Botanicus hosts plants as old as 2000 years, as well as a 300-year-old Eastern Kape giant cycad. There's plenty of tropical plants to pose beside, making you appear like you're in a rain forest rather than a busy capital city. With over 6,000 unusual plants, you won't want to leave your camera at home for this one.
Albert Cuyp Market
Tasting the local delicacies is an important part of any trip, particularly when documenting a trip. There's only so many canal photos Instagram can take, so turn your attention to all of the street food on offer. Albert Cuyp Market has a large selection of fresh food, including fresh syrup waffles. You'll get to tuck into some delicious food while showing off your snack on Instagram – what could be better?
Amsterdam is full of Instagram-worthy spots, some of which you'll find as you explore the city independently. Visit some of the stops above on your way and you're sure to have a feed to envy.