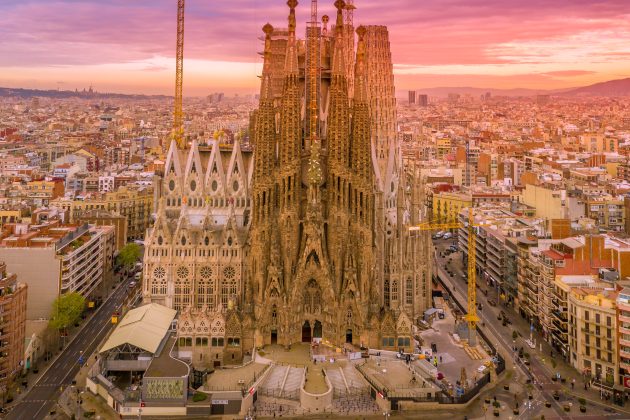 Photo by Ken Cheung on Unsplash
If you're a lover of architecture and have always wanted to visit Europe to take in some of its most breathtaking buildings, you're in luck! From awe-inspiring cathedrals to iconic structures and much more, Europe is home to some of the most beautiful architecture in the world. In this blog post, we'll explore the best places for architecture sightseeing in Europe and what you can expect to see when you visit each destination. So, if you're ready to get your architectural fix, read on to discover the best places in Europe for architecture sightseeing!
Barcelona, Spain
Barcelona is a beautiful city filled with amazing architecture, making it one of the best places for architecture sightseeing in Europe. From its iconic Gothic Quarter to the modern buildings of Antoni Gaudí, Barcelona is a unique mix of old and new, and its architectural wonders have made it a must-see destination for any traveler.
The most iconic building in Barcelona is the Sagrada Família, the masterpiece of Antoni Gaudí. This enormous basilica has been under construction since 1882 and will likely be completed by 2026. Even incomplete, it is an awe-inspiring sight, with its surreal spires and intricately carved sculptures. Inside, the stained glass windows and intricate designs are sure to impress.
Venice, Italy
Venice is a beautiful Italian city, renowned for its stunning architecture and picturesque canals. With a rich history of art and culture, it's no wonder why it has been so popular with tourists over the years.
One of the must-see sites in Venice is the Piazza San Marco. This bustling square is home to many architectural treasures, including the famous basilica of St Mark's, a 12th-century Roman Catholic cathedral. In addition to its impressive design, the piazza also offers a beautiful view of the Grand Canal.
For those interested in exploring more of Italy's rich architectural heritage, there are plenty of other nearby cities to explore. Within an hour's journey by car or train, tourists can visit Padua, Bologna, and Verona. Those looking for a longer trip can easily make their way from Venice to Milan or take a ferry from Italy to Malta for a truly unique experience.
Paris, France
The City of Lights is home to some of the most iconic architecture in the world. From the classic Parisian Haussmann architecture, to the Gothic style of Notre Dame, to the modern and contemporary structures such as the Pompidou Centre, Paris has something for everyone.
No trip to Paris would be complete without a visit to Montmartre, home to some of the most unique buildings in the city. As you wander around this hilltop area, take time to explore its winding streets and gaze at its many spectacular pieces of architecture – including the Sacré Coeur Basilica and Place du Tertre.
Prague, Czech Republic
Prague is an amazing destination for architecture sightseeing, as it's filled with stunning structures from a variety of architectural periods. The city's historical center is part of the UNESCO World Heritage List, making it one of the best places to visit in Europe for architecture enthusiasts.
One of the most iconic buildings in Prague is Charles Bridge. This bridge is a famous landmark that has been standing since the 15th century and connects the two sides of Prague's Old Town. It features sculptures of saints, with the oldest one being St. Luthgard, which dates back to 1683. Other noteworthy architectural sights on Charles Bridge include the Baroque statues, gothic towers, and gothic buildings.