Worried about the old and peeling ceiling? Planning to change or jazz up the ceiling? Well, the stretch fabric ceiling lighting can be a good option to opt for.
There might be a lot of options in terms of designs and colours that are available for the stretch fabric ceiling.
Do you know the stretch fabric system is a way to control the sound and noise that helps with soundproofing purposes?
But before getting started, you must know what stretch wall is.
For people who are looking for a budget-friendly option for changing up the look of their wall, they can opt for the stretch wall option. These stretch walls have small clips that will easily secure the fabric on the wall and make it durable for a couple of years.
The good thing about the stretch wall is that it offers multiple customizations and options that ensure you with a better-looking wall in no time and also without spending a lot of money on the paint and other material.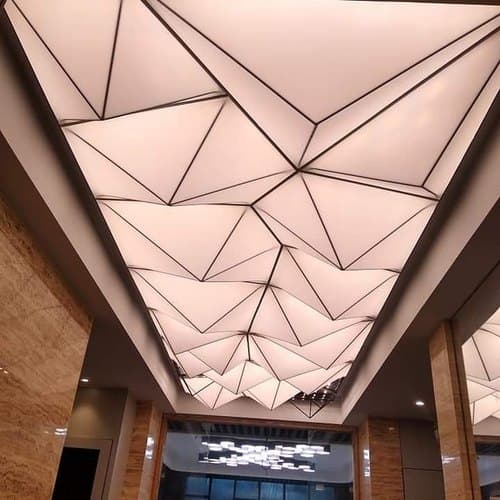 It is great for large spaces.
If you are not planning to invest a good amount of money in changing the look of your large room, you can always use the stretch fabric ceiling lighting option that will not cost you a lot of money and will also provide you with a better chance that you want.
It can also provide a soundproofing solution.
One other thing that you will find a lot more amusing about the best stretch wall system is that they offer a soundproofing solution. The extensive spaces and the various living halls might require a soundproofing solution, and the stretch wall will provide you with what you have been looking for. It is also highly beneficial for crowded places.
It offers greater functionality.
If you are not using it for domestic use, you can always use the stretch wall for the offices and for the university halls. Even for the practice areas of Music and some dance studios, this stretch wall can work in an immense manner. Moreover, the high-end quality stretch wall can last for a few years without wear and Tear. You will not have to worry about the quality and the changing up of the colour every now and then.
Stretch walls are durable
If you are sceptical about whether or not the stretch wall is durable, you should know that it is definitely long-lasting if you are maintaining the wall properly. The location and the environment also matters a lot on the lasting nature of the wall. If it is adequately placed and maintained, it can last for a decade as well. You should also know that there is not a lot of maintenance required, but you should keep the wall cleaned and make sure that you are checking the status off the wall every six months. If you spot any issues, it is important to get them maintained and fixed, and if not, it can go for years just like that.