We use our homes to help distinguish ourselves from others. For many, their homes are a part of their self-definition. Simply put, the way you perceive yourself reflects the way you live. Chances are that if your house bores you it also bores your visitors. Maybe it is time for a change.
Home decor could be expensive and a luxury interior design can be costly, however, a tight budget should never stop someone from designing his or her own home for comfort and luxury. After all, home is where you really are yourself. Read below for steps to make your home look luxurious!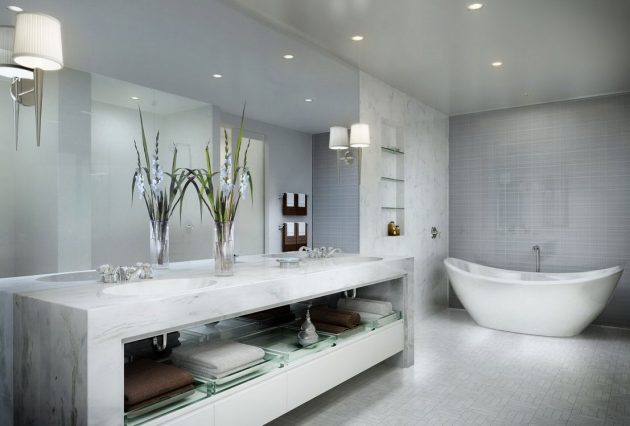 Update windows with elegant drapery
Those drab curtains have to go. Bring an instant update to a room with new window treatments like curtains, Roman shades or blinds. Or, if you have attractive window trim and privacy shades of some kind and you like the minimalist look, you can skip window treatments altogether.
Add some flowers and greenery
Flowers are an easy and inexpensive way to add a pop of color and texture into various rooms in your home. By adding a decorative vase, filled with store-bought or local garden flowers, you add a level of hospitality and comfort to your space. Since the cost of buying fresh flower arrangements can add up, try your hand at arranging your own bouquet from grocery store flowers. If you're looking for more neutral colors in your home, try buying greenery, which not only allows more decorative opportunity, it's also pretty easy to care for – even if you don't have a green thumb!
Layer your décor
Introduce layering for an expensive look in your decor. For example, decorate your coffee table with candles or a vase, cover your floor with a rug, add cushions and pillows to your sofa and bed, get your ceilings and walls crown molding designs. Some of these additions can make a difference in how your home appears.
Include lavish lighting features
There are few things as effective at making a home feel truly luxurious like lavish lighting. Start by having some large and beautiful overhead pieces in your living room, dining room and, if you have space, in the kitchen as well. These can take your rooms to the next level and make a statement in your home. Then, you can get some beautiful decorative table lamps to bring in some beautiful touches to your space.
Incorporate a Sculptural Item
Prevent your room from becoming a sea of straight lines and circular forms by introducing an element with an interesting shape or unique silhouette. A tree-root coffee table or unusual side chair will feel like a piece of art in your living room, adding an unexpected and wholly artistic component to your design (even on a budget).