A recent survey found that 40 percent of realtors believe smart homes sell faster no matter what they're priced at, in part due to better energy efficiency something that millennials consider to be one of the most important factors when searching for a home.
These smart home features in particular are said to be the best for drastically increasingly the value of your home.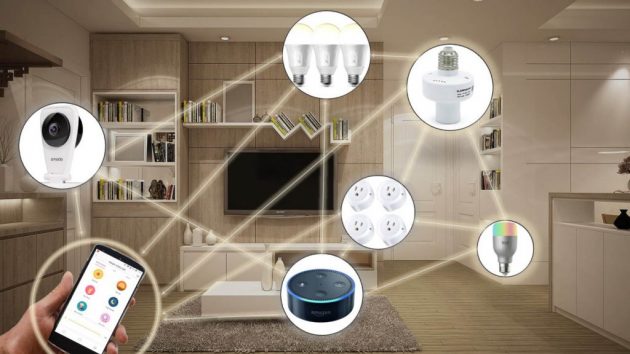 Smart Appliances
Smart appliances may one of the most significant differences in the value of your home, increasing the average return on investment (ROI) by 11 percent over standard appliances. Their becoming more and more popular with consumers who enjoy a connected lifestyle thanks to their energy efficiency, greater convenience and increased comfort. These appliances are able to provide feedback on energy use, allowing one to monitor energy consumption. By conserving energy, the cost of running those appliances is reduced too. They can even reveal problems that can affect overall efficiency, such a refrigerator alerting you if the internal temperature is too high or too low, or a dryer that alerts you that the lint trap needs to be emptied.
Smart Locks
Smart locks offer lots when it comes to convenience. A smart door lock comes with Wi-Fi or Bluetooth, which means you'll know longer have to worry about hiding a spare key. They can automatically unlock when you come home or unlock remotely. You can even program them to give family members, guests and repair people special access. The aforementioned survey found that nearly two-thirds of homebuyers prefer homes with a smart lock.
When it comes time to sell that home a device called the August Smart Lock can be of particular good use. It has a special Guestbook function that allows you to send a message through its app to real estate agents with instructions for showing your home or other notes. The realtor can also use it to leave feedback for you.
Home Security
Another one of the most desirable features in smart home technology is home security, with the above referenced survey revealing that more than a third of homebuyers are looking for smart home security. It provides peace of mind to know that wherever you are your home is secure.
Solar Panels
Solar panels are already "smart," but with the latest technology they can not only drastically increase the value of your home, they can be made even smarter. The latest developments in this industry include gadgets like smart junction boxes, allowing you to monitor panel performance and switch of individual panels, or all of them in case of emergency like a tornado or fire. Installing solar panels and dimmer switches can save you a significant amount of money on your utility bills and increase the resale value of your home by $15,000. While the initial investment isn't cheap, you can offset that cost by around 30% through federal tax credit programs. The latest technology even provides information on where your power is being used, so you know where your energy is going, what it's costing you and where you can cut back.