We all want our kitchens to look like they came out of a glossy home & décor magazine, but unfortunately, not all of us have the time and money resources to embark on a full kitchen remodel. When we browse through Pinterest boards or check out interior design accounts on Instagram and see those picture-perfect kitchens, we usually assume that we have to break the bank in order to achieve a similar look.
But what most people don't realize is that they don't have to go through a complete kitchen renovation process to turn a dull and lifeless kitchen into a lively and exciting space. Small updates can make a huge difference if done properly. It is therefore very much possible to dramatically change the appearance of your kitchen even if you're on a tight budget. All it takes is a bit of inspiration and creativity to make it happen.
So, if you're dreaming about having a more Instagrammable kitchen, but you don't want to spend a fortune in this regard, here are seven simple yet very effective ideas that can help you out.
Paint the walls
Probably the easiest and most impactful way to brighten and refresh any room of your house is to paint the walls in a different colour. There's nothing like a fresh coat of paint to breathe new life into your kitchen. This gives you the opportunity to start with a clean slate. Even if everything inside your kitchen, from furniture to appliances, stays the same, it will look completely different on a new background.
If you want to create a blank canvas and go for a clean look, you can choose bright white or some warm neutral tones to paint your kitchen walls. However, if you want something a bit more dramatic to add a bit of character to your space, you can opt for darker hues. Just make sure that the colour you choose complements the rest of the elements in your kitchen.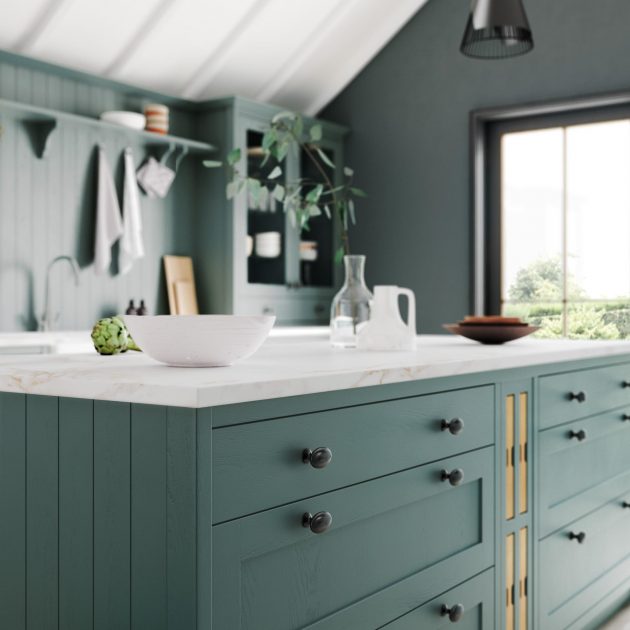 Update your cabinets
No money to invest in new kitchen furniture? No problem. Who says you have to replace all your kitchen units to improve its look? There's a much simpler and more cost-effective solution to do that: update your existing kitchen cabinets at a fraction of the cost. There are a few different ways you can give your cabinets a makeover, as follows:
The first solution is to paint them. Yes, you'll have to roll up your sleeves and put some effort into it, but when you think of all the money that you'll be saving and the amazing results you can achieve, you'll realize it's worth it.
If painting won't do the trick, you can replace the doors, drawer fronts, and hardware with new pieces like the ones you can find at Kitchen Warehouse UK Ltd. You won't believe what a big difference this can make. After you finish, no one will even be able to tell it's the same furniture.
For a more radical change, you can remove some of the cupboard doors to create a modern open shelving look. This also gives you the opportunity to put your pretty kitchen utensils on display.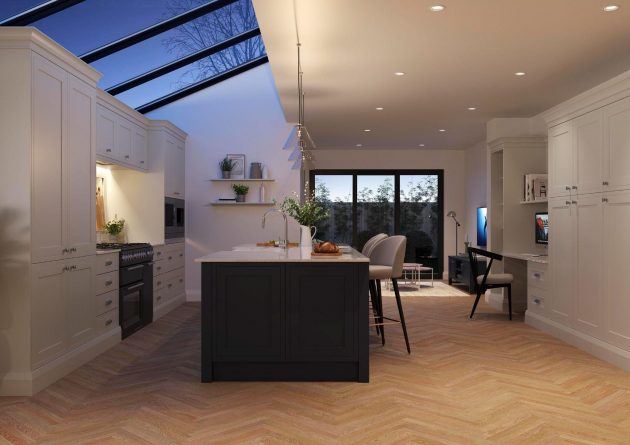 Use decorative lighting
It's a well-known fact that lighting fixtures have the power to completely transform a space, and kitchens make no exception. A dull kitchen can instantly be upgraded with the help of decorative lighting.
There's no need to splurge on a fancy chandelier to hang above your kitchen table unless you really want to. You can install decorative lighting fixtures strategically in certain parts of your kitchen to brighten it up a bit and place focus on certain elements, like the cooking area or dining table. Under-cabinet lighting is another great idea if you want to create a cosy and warm ambiance in your kitchen.
Add fun accessories
Small things can make a big impact, and that's also the case with kitchen accessories. If your kitchen looks a bit sterile, you can always spice things up and add a bit of warmth to your space by choosing a few fun accessories. From cups and glassware to kitchen bowls, aprons, or cutting boards, there are tons of cute kitchen utensils that you can put on display on open shelve units.
Another solution to break a monotonous kitchen look is to choose a statement appliance, like a bright-colored fridge, kettle, microwave, or toaster. We can't think of a better way to combine functionality with aesthetics.
Install some shelves
For those of you who want to improve your kitchen design while also solving storage problems, we have one simple solution that can check both these boxes: open shelving. That's definitely not the first thing that comes to mind when you think about giving your kitchen a makeover, but it's definitely an idea worth taking into consideration.
Open shelves can fill large empty walls, bringing some balance to your kitchen, and also providing extra storage space. You can use these shelves to show off some of your beautiful kitchenware that would otherwise crowd your countertops.
Get creative with wallpaper
How about some wallpaper to bring an outdated kitchen into the present and brighten up the atmosphere? For some people, covering all the walls in a bold, graphic paper can seem a bit too much, but there are different ways to use wallpaper in a kitchen.
You can either create a feature wall, so if you get tired of the print you won't go through too much trouble to remove it, or you can cover the front of your fridge in wallpaper. Either way, this will make your kitchen look stunning.
Reorganize
Now, for the cheapest makeover trick, we have something that might surprise you: reorganizing. Kitchens get very crowded easily with all the objects that we gather over the years, and sometimes we forget how important it is to de-clutter it regularly.
So, our last suggestion is to take a look around your kitchen, get rid of all the unnecessary items, and reorganize the rest of them so you can make the most out of your space. we guarantee that the result will surprise you.