A bedroom is a place where you go to sleep and wake up. It's also the place where you can be most comfortable with yourself, so why not take some time to think about how your room could be improved? You want it to look its best at all times. There are plenty of ways in which you can make your bedroom feel more like home and less like a generic space that has been used by many people before. You may want to start by looking at these ideas:
Paint your Walls Different Colors
Painting your walls will help change the atmosphere of the room and allow for an environment that reflects who you really are. If you have been living in the same room for a long time, then it could be due to the fact that your walls are holding you back from experiencing something new and exciting. Whether you want to paint them all one color or add splashes of different colors into the mix, the end result will benefit not only your bedroom but also your self-confidence. If choosing colors seems too difficult, try using paint chips or online color palettes. These will give you a good idea of what colors look the best together.
Choose the Right Size Furniture
If your furniture is large, and you have limited space, then there are a few things that you can do. Try getting rid of any extra chairs or tables that aren't being used. Where there's a sofa, you can get pink cushions to bring a pop of blush in your room. If your bed is too big for the room, there's an easy solution – replace it with a smaller one! They suggest this simply because most people use their beds more than anything else.
If you do not want to replace your bed, try getting a futon and putting it in the corner of your room. This way, if you have company over – they can sleep on your couch, and you can retire to your room for the night. If this sounds like something that would be best suited for your room, then buy it in a color that matches the rest of your furniture.
Add Some Greens
Plants are a great way to make your bedroom more luxurious. Some easy-to-care-for low light plants are Snake Plants, Succulents, and Pothos. If you're worried about your plants dying, simply buy fake ones. They also suggest adding "foliage" to your room instead of flowers – this gives you the feeling of luxury without the cost (or headache of killing them) of fresh flowers. To cover up unsightly corners, try adding some plant stands or mountable shelves near these areas to give them a little height and style.
A Rug can Change your Room
If your flooring is looking a little "tired", you may need to change it. However, there's no need to hire an expensive contractor – simply purchase a rug! Rugs are easy to change out, and they give your room that extra kick. If you're looking to warm your bedroom up a little, try buying various shades of brown for the rug. Also, if you have wood flooring and don't want to change its outlook for a rug with a floral pattern or one that matches the color of your bedding. You could even consider an area rug for the area around your bed. Rugs are also great because they can even downplay a worn carpet, so consider this option if your budget is severely limited.
Get Rid of The Clutter in Your Room
Having too much in your bedroom can be overwhelming, and it may prevent you from doing what you would like to do. Remember, your bedroom is for sleeping and relaxing. They suggest removing the television from the room if you have one, or at least putting it in a different place that isn't so visible. You should also keep all of your clothes hung up in your closet to remove clutter.
This will help you get ready faster since getting dressed will be easier – just remember to keep your room organized, so it is easy to find things. If there's not enough space for you to move around, then try getting rid of items that don't bring any joy or happiness into your life. Having lots of "things" in your bedroom may also affect the amount of sleep you get.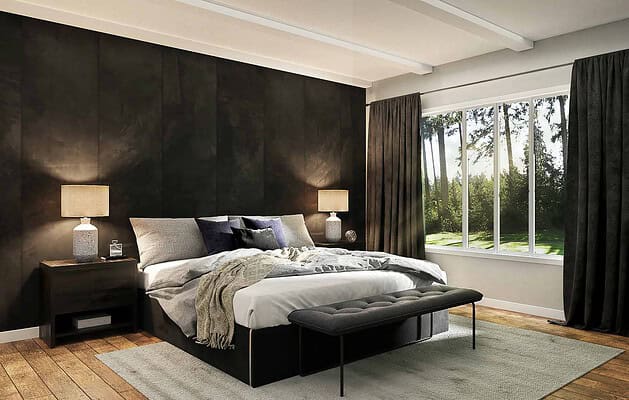 Have Plenty of Storage
Everyone hates clutter – but you probably also hate having to move furniture around just to find something. The best way to solve this problem is by adding storage spaces. If you are concerned about an item clashing with the color scheme in your room, try painting it the same color as your wall to keep it concealed. If you need more storage, then they suggest getting a valet stand or adding shelves. They also recommend hiding objects behind paintings if there isn't enough space for storage spaces. You can purchase a dresser that will fit in your room, or try getting some baskets to store items under your bed.
The goal is to create a space that's relaxing, inspiring, and reflective of your personality. Whether you want to go all out or make small changes over time, there are plenty of ways to transform your bedroom into an oasis just for you. Take some inspiration from these ideas below, which include everything from remodeling kitchen cabinets to painting old dressers to give them a fresh new look.