For those who enjoy outdoor activities such as shooting, interior design may seem like the opposite of their interests. While interior design may not seem like something worth exploring, it can be an excellent way to make your home comfortable and welcoming.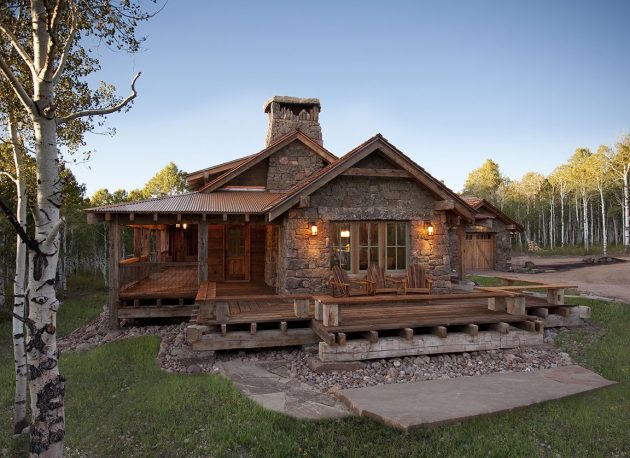 When interior design reflects the passions and lifestyle of its owners, a dwelling becomes a home rather than just a house. This article will touch on elements of rustic interior design and why this style would be an excellent choice for those who enjoy shooting.
Utility
Rustic homes are designed to utilize space as efficiently as possible. You'll find that this design inspires the use of space to be much different than in other homes. Elements such as open cabinets allow for maximization of space, while also adding a visual element to the kitchen.
This utility can be especially welcomed by people that enjoy shooting and other sports. Shooting is a sport that tends to attract individuals who enjoy finding usefulness and efficiency in what they do. This feeling is echoed in the layout of a rustic home.
A Touch of Personality
Many homes with modern design have the tendency to look devoid of personality. While you may be able to choose your furniture and wall colors, there is still an element is monotony to most modern and contemporary design.
Rustic decor is a great way to express your love of the outdoors. With colors, textures, and accents inspired by nature, your home will be an excellent expression of your interests. Choosing furniture with wooden accents is one way you can give your home a rustic feeling. Another way is to choose furniture and appliances in earth tones, to bring the look of nature into your home. You could also choose to expose the beams in the ceiling or your kitchen or living room. Exposing beams adds a wooden accent to a room, without having to find coordinating furniture! The exposed beams also add warmth to a room, which can work well in rooms with a number of windows.
If your home does not already have wood flooring, this would be a great addition. You can choose either laminate or hardwood, depending on preference. On a similar note, you can elect to install barn doors in your home, which adds to the wood design. Barn doors are inspired by designs found on farms and ranches, which can be an excellent style choice for people who enjoy those motifs.
Your Possessions Won't Clash
If you are a passionate shooter, you're likely to have some decor that reflects your interests. Whether it's a favorite gun or photos from your adventures, you probably want to have these items displayed in your home.
In a home with modern design, these items will probably be in sharp contrast with the rest of the decor. In a farmhouse design, however, this couldn't be further from the truth. The rustic design of your home will pair nicely with any firearms or hunting memorabilia you may wish to display, as both reflect elements of nature.
You'll also find that the rustic design of your home will create a wonderful contrast with any metal items you may own. Most shooters own a firearm safe, to ensure that their guns are stored safely. A solid steel gun safe would contrast wonderfully with the simplistic design of your home. The industrial look of the stainless steel contrasts nicely with the natural design of a rustic home. This same effect will occur if you display any steel equipment or memorabilia in your home.
Many passionate shooters are interested in historical guns and shooting equipment. If you're an antique gun collector, you'll find that these antiques will blend in well in your rustic home. Because rustic design reflects elements of simplicity, any antiques that you display will match your home well.
Outdoor Spaces
Homes with a rustic design make excellent use of outdoor spaces. Designed for those that enjoy spending time outdoors, this style uses natural light and exterior areas well. You'll be able to entertain guests on your deck or other outdoor space, making your home perfect for gatherings.
Having outdoor space also means that you will be able to enjoy your nature. After all, a home wtih no place to relax outside isn't quite as inviting to those who love the great outdoors.
All in All
Interior design can be a bit daunting for people that aren't in the field. For those with a passion for the outdoors, interior design can be even more challenging. While it may seem like no home can replace the comfort of being outside, there are design choices that can make being inside more comfortable. Utilizing rustic or farmhouse design can make your home reflect your love of shooting and being outdoors. With these design elements in your home, you'll feel at ease on those days that you can't get outside to shoot.