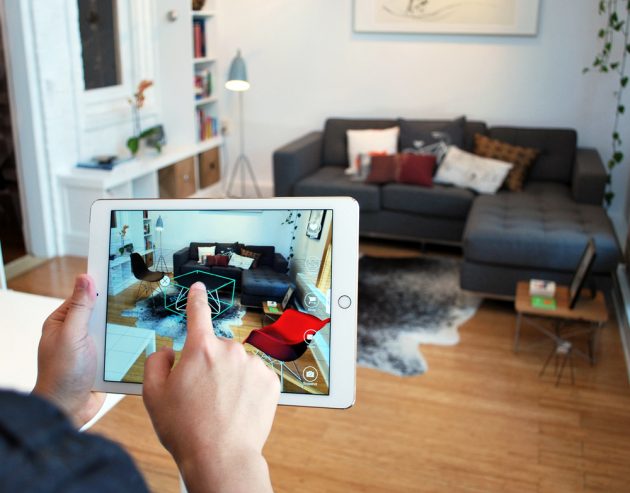 The art of shopping from home has progressed in leaps and bounds over the years. People transitioned from using the phone to order from catalogues and TV commercials to preliminary forms of shopping online using a modem. Later came the rise of m-commerce, or browsing and buying on a mobile device.
So, what's next?
It's only natural for innovators to push for more convenient and immersive shopping experiences. That's why a number of companies are hard at work developing virtual reality for online shopping. With this in mind, it's only natural to wonder: how might the future of virtual reality in furniture ecommerce look?
One London-based startup called Improbable has developed a VR platform for simulated world building. While it has been mostly used in gaming thus far, the concept has major potential to crossover into industries like ecommerce. And, TechCrunch reports they've secured the additional funding needed to focus on expanding their ecosystem. Their platform, called SpatialOS, "lets developers design and build massively detailed environments by using distributed cloud computing infrastructure, incorporating machine learning technology and other advances."
Imagine buying and selling in a virtual world, rather than through a screen. Right now, it takes a responsive website and quality product listings to sell your furniture online. The more transparent and convenient your online store, the more likely customers are to stick around and complete transactions. But someday soon, this entire process may look a lot different.
Imagine if customers could virtually inspect your furniture up close and personally before buying. Being able to really see how it works in a room would be a game-changer. What if customers could swap pieces in and out of their virtual landscapes with a single gesture? Any useful information you can provide to customers reduces their purchase anxiety, which in turn drives conversions. Providing such a strong visual and spatial experience would be a huge confidence-booster when it comes to choosing the right furniture. Put emphasize to ecommerce website design; a beautiful design allows consumers to purchase the things you're promoting.
Another way virtual reality is poised to revolutionize ecommerce is changing how we interact with technology altogether. Gone would be the days of typing on a keyboard or clicking on a mouse to make a purchase. One company called Leap Motion is actively working on hand-tracking technology for our VR-powered future. Its CEO notes just as touchscreens have fueled the ascendance of mobile popularity; this "human interface technology for AR/VR" could fuel exponential growth in this field.
Removing customer barriers and hurdles means better sales. If the physical motions of buying are more intuitive, retailers would remove another layer of separation and hassle from the buying experience. Instead of reaching for their phone or tablet, people may soon be reaching through the air to command shopping outcomes.
Virtual reality has the potential to combine the remote convenience of online shopping with the sensory experience of shopping in a brick-and-mortar store. One Forbes contributor sees a major goal of virtual reality as "delivering a full-fledged brick-and-mortar shopping experience from your couch." This is particularly relevant for furniture. It's a tale as old as time: People want to see and/or try it before they buy it. Virtual reality could be the best of both worlds—a true omni-channel solution. It makes sense that applications with augmented reality already aim to give customers real-world product previews before they buy, no headset required.
When you're considering how the future of virtual reality in furniture ecommerce might look, think of how shopping technology has shaped habits and expectations in the past. With the advent of mobile devices and touchscreens, people started to shop more on the go. They also expected quick loading times and a user-friendly interface. When VR technology becomes widely available for ecommerce use, it may forever change the very nature of online shopping.