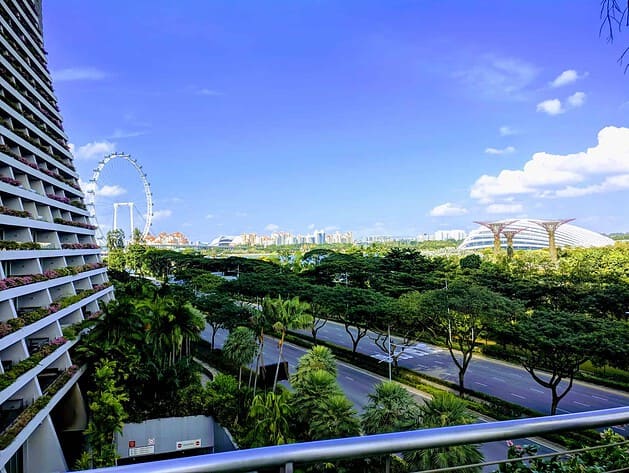 In a world where sustainability is becoming the defining issue, green cities and the transformation of metropolitan areas are also becoming more relevant. Accordingly, many cities are judged by their green spaces and sustainability. Landscape architecture in Thailand gives a first impression of how to bring green into cities. At the same time, metropolises are confronted with incessant growth as more and more people crowd into urban areas. How will it be possible in the future to reconcile the lack of housing with more green and open spaces? Architectural projects give an impression of what green and sustainable urban development can look like.
The reorientation has begun in Thailand, moving from manufacturing and a focus on labor to thinking and living in an environmentally friendly way. One example can be seen in the seal of the city of Syracuse. In the late 1980s, the old smokestacks of the industrial plant had been replaced with a stylization of the city's skyline. According to this, cities no longer want to be associated only with their industry, smoke, factories and dirt. Faced with a lack of housing, people in metropolitan areas have to come up with ways to convert homes, apartments and real estate to integrate them into the city. This task will be much easier an architect company in Phuket Thailand, because the planning, management, conceptual design and implementation of the real estate is a multi-layered process that is directly related to the environment and the requirements of the surroundings.
The new demands on cities
Successful metropolises are transforming into multifunctional cities, full of opportunities for their inhabitants and focused on sustainability. In the West in particular, the change in mentality has long since taken place or is in full swing. At the same time, in recent years, Asian cities have been struggling with problems of strong growth of their inhabitants, which has led to an ever-decreasing amount of green space.
The process of finding space still plays a very large role in Asia's metropolises. City planners and administrators are aware of the fact that the need for green spaces and urban spaces will mark a crucial turning point in the future. Accordingly, Bangkok's agenda includes a great many green projects. For example, a number of city parks have been built in recent years.
The city has set itself the goal of bringing an average of 9 m² of green space per inhabitant into the city. Currently, there is only 6 m² of green space per inhabitant in Bangkok. More success and rethinking is offered by the construction of the city parks, which we see playing to the city's strengths in other areas as well. They increase the quality of life of their inhabitants, are perceived as safe and significantly enhance property values.
Plan examples for more green in Thailand metropolises
In many Asian cities, trees have had to give way to very wide main roads with overpasses and elevated railroads as well as expressways. The Bangkok Vienna Network project is intended to be an impetus for change in Thailand. Trees will be planted along the streets to make the cityscape greener. The area around Sathorn Road will be used as a pilot study. This will turn the Sathorn Canal into a shaded recreational space.
The bike lanes, recreation space, and sidewalk will be connected through various parks, such as Lumphini Park and Benchasiri Park. Bangkok residents have long understood the importance of green spaces to their city. Many want to get out into the fresh air after work and enjoy their free time outside. If this is now possible without having to travel to the outlying provinces, it enhances Bangkok as a city as a whole.
What do residents think of the green transformation?
It's already evident in the popularity of Bangkok's green spaces. For example, 15,000 people regularly walk, run and jog in Lumphini Park. Equally popular is the centrally located Bangkok City Park, which at the same time still offers an excellent view. In the southern bend near the Chao Phraya River is a nature reserve that stretches for 20 km. Thus, more and more residents and visitors associate the attractiveness of your city with the number of green spaces. Bangkok's city hall continues to show itself open to new sustainable ideas, which will probably make the metropolis greener and greener in the future.
International companies are implementing innovative projects for entrepreneurs, investors and private individuals all over the world. Thus, landscape architecture & garden design in particular is gaining in importance, because it provides free space, more quality of life and at the same time enhances the properties in the immediate vicinity.
More and more real estate owners decide to restructure their green areas, the small parks and gardens and to give them into professional hands. The investments in real estate and architecture are increasing unceasingly, which may be in the growing prices and the positive as well as safe development of the values. Instead of leaving one's wealth in the bank account and being satisfied with low interest rates or minus interest rates, many invest their money in houses, apartments, condos and green properties profitably. Especially in Phuket Thailand, Real Estate & Land and Property prices are developing steady even in pandemic times.
Green spaces and vertical planting
Numerous publications deal with the increasing urbanization and the focus, which is mainly on urban density. Conversely, this means that urban space is becoming denser and that research is primarily concerned with the development of future cities. In order to limit the maximum consumption of land, it is necessary to rethink and make better use of the current existing areas. In Asia in particular, new urban development projects offer the opportunity to redefine green spaces in dense cities. In this way, green space can grow in height. Therefore, densely built-up cities are developing vertical green projects that contribute to sustainability, their own health and resilience.
Especially in Asia, Singapore has been a pioneer in developing green and dense cities. What stands out is the variety of different dimensions and the potential that exists in a densely populated but green city. The population in Singapore is growing ceaselessly, which limits building space and has led companies to provide adequate housing and promote the urban environment with innovative building types. WOHAs School of the Arts from 2012 and Kampung Admiralty from 2018 are among the impressive vertical height projects with a combination of green space and modern architecture.