Solardome Industries, Southampton, UK, is thrilled to announce the official opening of an extraordinary new building on the shores of Lake Attersee, Austria. Kristall Salz Welt who specialises in wellbeing, in particular salt healing, has designed and built a contemporary new facility. Featuring a striking 9m diameter SOLARDOME® PRO geodesic dome skylight, the structure provides the finishing touch over the central two-storey atrium.
Forward-thinking architect Diana Hollacher, who designed the facility, chose the SOLARDOME® PRO skylight as the perfect structure to complete her vision for the building. "The geodesic dome skylight is a striking feature that provides natural light in abundance, protection from the elements and creates that perfect calm space with views of the sky that I was looking for."
Founders Josef Hollacher, Gisela Hollacher, Diana Hollacher and Theresa Schmauz opened the event on the 5th December, which was attended by over 50 guests representing all those involved. Josef thanked the guests saying, "Kristall Salz Welt is the first of its kind in Austria – a place where people can come to benefit from the healing powers of salt. We are delighted with the building that has been created and we are excited about the year ahead. This has been an inspirational project that has involved a huge number of people. The end result of the hard work is truly magnificent."
The atrium is used as central waiting and refreshments area from which guests go on to enjoy the salt healing therapy rooms, dining room and seminar room with stunning views of Lake Attersee. The SOLARDOME® PRO double glazed skylight provides optimum light transmission and heat retention over the atrium resulting in a light and airy space.
Pippa Bailey, Managing Director of Solardome Industries, comments: "It was a pleasure to be involved in the project, Kristall Salz Welt's new building is a truly stunning structure. Our skylight has helped create an innovative and unique environment and fulfils Diana's vision of somewhere restorative, peaceful and calm."
The SOLARDOME® PRO system is the latest development for Solardome Industries and offers an impressive design alternative to traditional buildings. The patent pending dome aluminium system enables the design and manufacture of bespoke domes up to 25m diameter, quickly and cost-effectively.
Solardome Industries is also partnering with Diana to create a bespoke dome home. The private house, next door to the Kristall Salz Welt facility, is a 10m SOLARDOME® PRO geodesic dome, with 2 thirds glass panels and 1 third traditional wood panels. Complete with a mezzanine level, wood burning stove and all the services and amenities needed, this modern and unique home is due to be completed in 2014.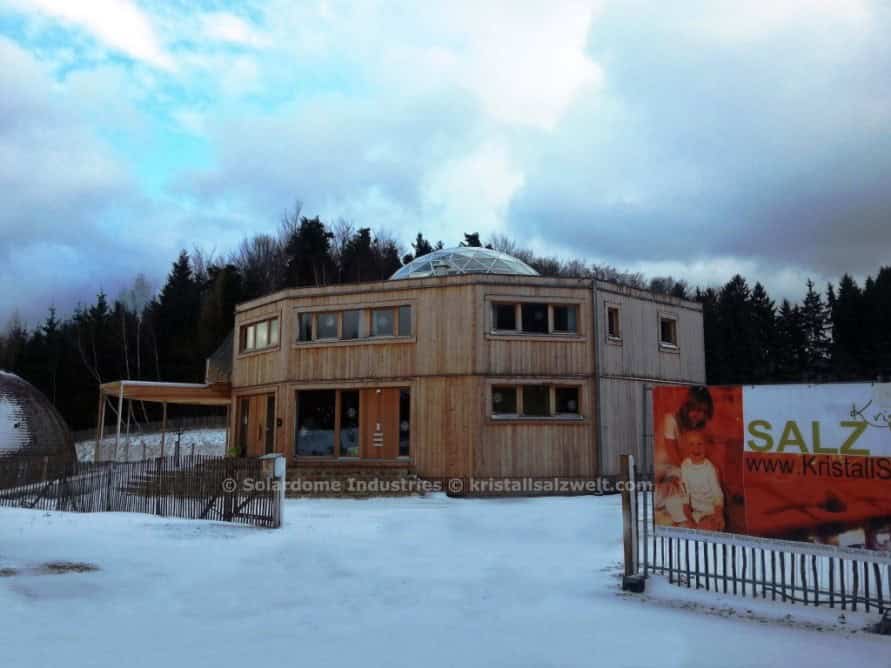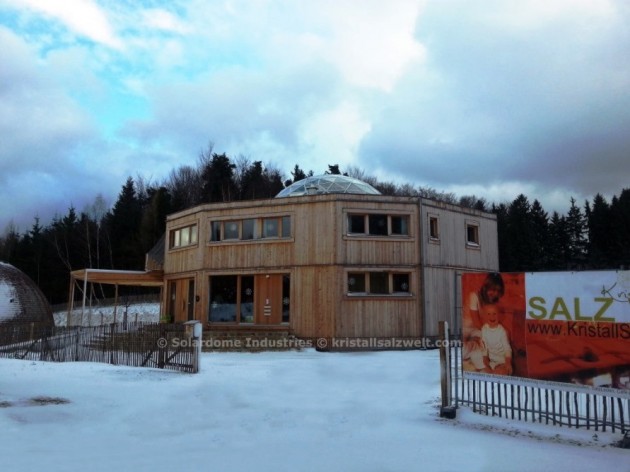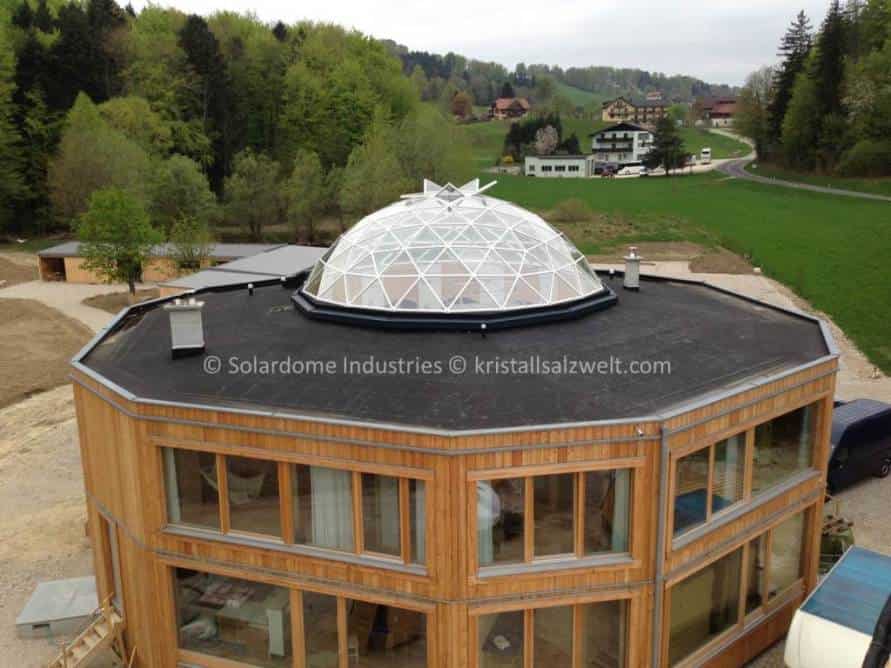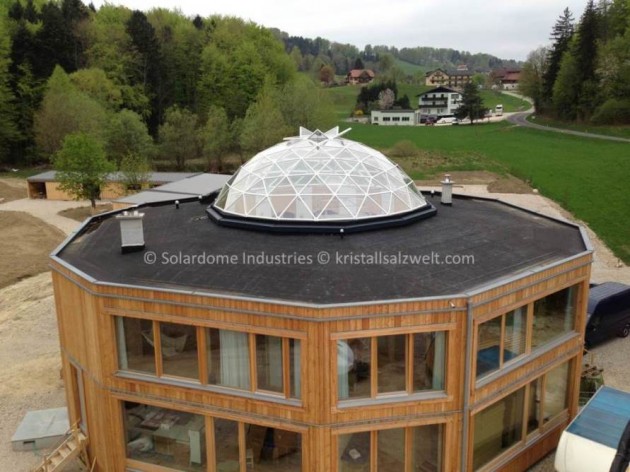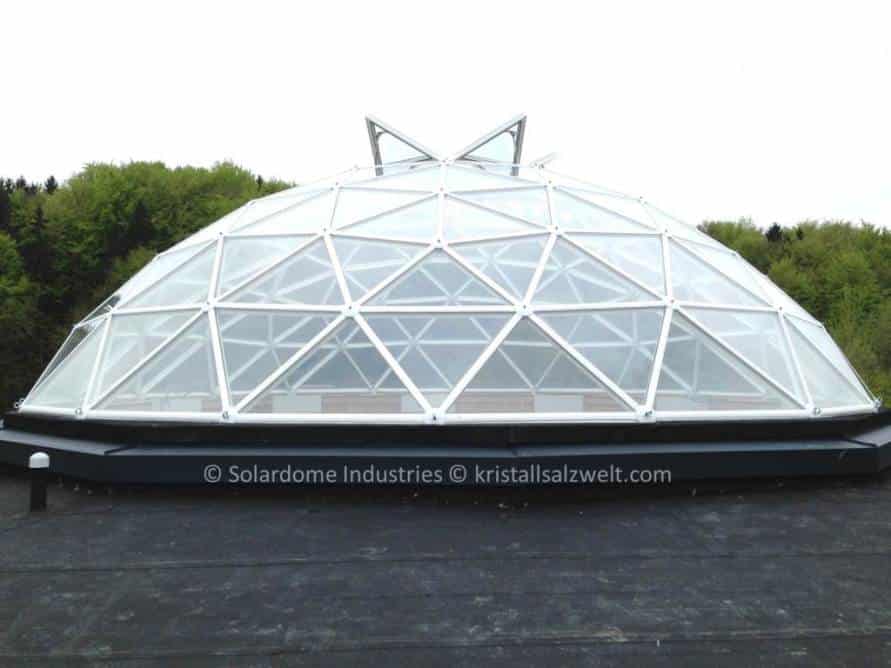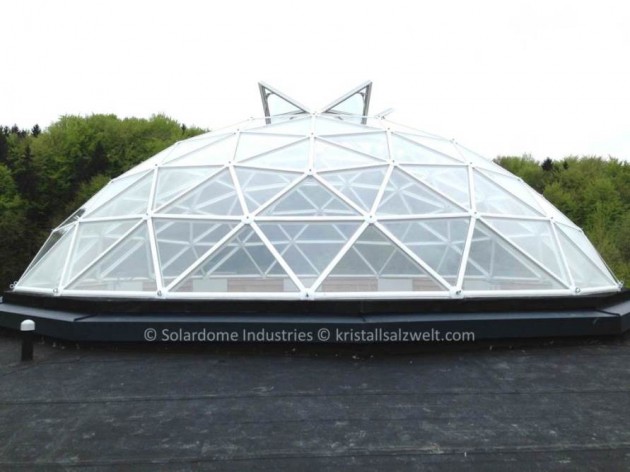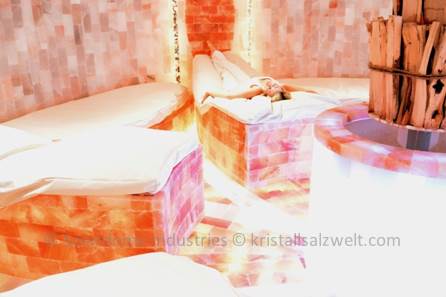 Project Title: Kristall Salz Welt (Crystal Salt World)
Client: Kristall Salz Welt www.KristallSalzWelt.com
Architect: Diana Hollacher, architect and one of the founders of Kristall Salz Welt
Site area: 9,000m2 site
Gross Floor area: 350m2 contemporary building, is the first salt therapy centre in Austria.
Location:, Lake Attersee, Austria ‎
Status: Now open for business
Project start date:
the planning permission and the start of building was in the middle of September 2012
the construction time was for the business building 14 month
start business was 15th November 2013
Collaborators:
Geodesic dome specialist: Solardome Industries Ltd www.solardome.co.uk/grand-designs
Building contractor: Schonleitner Bau GmbH
Timber contractor: Kraftholz Neuhofer GmbH
Address: Kristall Salz Welt, Innerlohen 12, Straß im Attergau, Wildenhag 4881, Austria